The story of WatchPilot started quite serendipitously back in 2019. When Tim Harrison wasn't taking to the skies as a commercial pilot, he was running a small enterprise trading watches and keeping a close eye on similar independent competitors. One day, a parcel of watches landed on his doorstep, however there was a problem: it wasn't meant for him.
Tracking down the intended recipient Akbar Hussain was effortless, and the mishap was swiftly resolved with a few text messages. Upon the discovery that Akbar was the mastermind of another successful indie e-commerce venture with 15 years of distribution, retail and wholesale experience, the two struck up a rapport and soon realised that their complimentary skills and wealth of experience should be combined. They channelled their interest into watches and embarked on developing a forward-thinking and modern digital company, focussed on implementing superior standards for growth, variety, and professionalism.
Tim Harrison and Akbar Hussain, founders of WatchPilot
WatchPilot first launched in 2020 during the early stages of the Covid-19 Pandemic and quickly exceeded its e-commerce targets. Tim and Akbar weren't beholden to anyone. They set their own standards, took a swipe at snobbery, and set about making shopping for a watch a pleasure, not a headache. More than 60 brands have since aligned themselves with the WatchPilot ethos. These include Swiss-made giants such as Baume & Mercier and Tissot, fashion juggernauts like Burberry and Michael Kors and niche brands that do not gain the visibility they deserve in major national retailers, among them Junghans and U-Boat.
Two years on, WatchPilot has recently opened its debut store in Richmond, thus becoming a bricks and mortar retail outlet to complement their online presence. Working with the Redd Retail Group, a leading international design and display company specialising in the watch, jewellery, and accessories categories, they collaborated to design and deliver a space where shoppers can browse with ease while also providing comfortable consultation areas where highly experienced and knowledgeable staff are on hand to offer a premium in-store experience. Alongside affordable and high-end timepieces, the new store also showcases a range of designer sunglasses.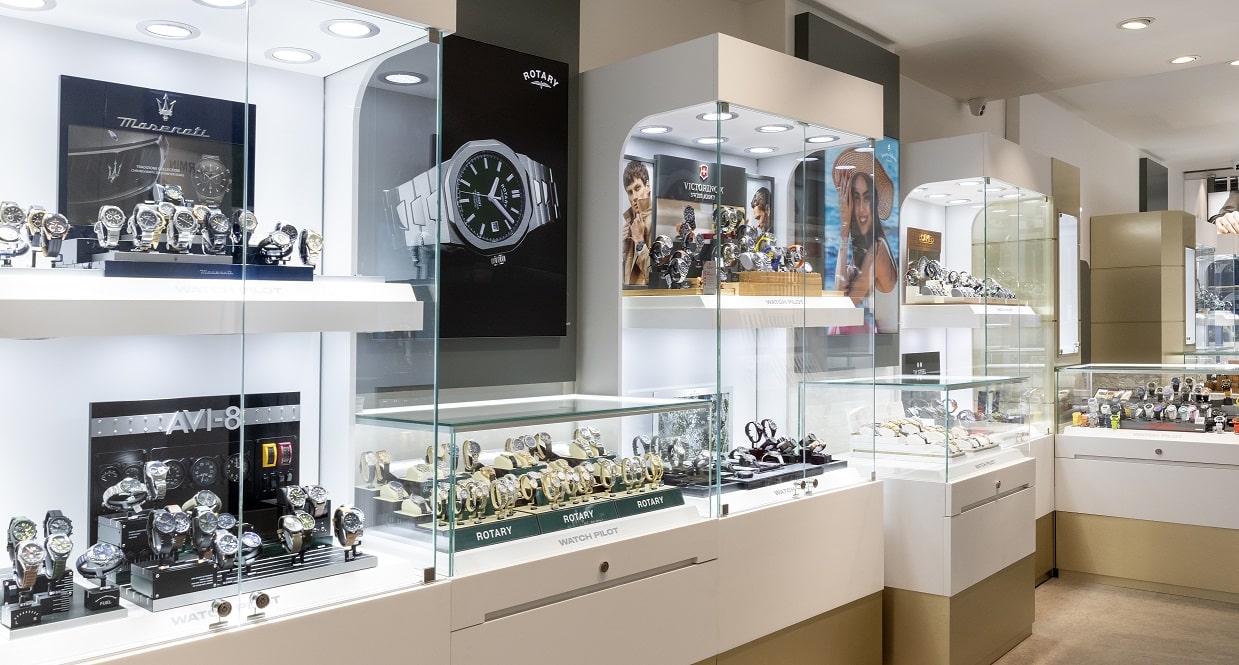 WatchPilot stocks a wide variety of timepieces, from traditional Swiss-made watches to funky fashion brands and artisanal niche brands.
To complement the new store, the website has also undergone a recent re-design and upgrade to deliver a "world class modern digital, and pleasurable shopping experience" including consultations with watch experts prior to purchasing a timepiece.
In addition to a clear division between designer watches and luxury timepieces, collection pages have been completely redesigned offering faster navigation and expanded filtering parameters to enhance the browsing experience. The WatchPilot Blog provides a diverse range of stories, videos, news, fashion, lifestyle and reviews by authors, journalists, bloggers and influencers, all with a common passion for watches.
"Our mission was to create a world-class shopping experience both online and on the high street. We have started in Richmond, London, but we have no intention of stopping there."

 – Akbar Hussain, Co-founder
Tim never went back to full-time flying and now assumes responsibility for the marketing, online growth, and development of brand partner relationships. Akbar is busier than ever overseeing the operations of the WatchPilot business including buying, distribution, and fulfilment – all thanks to a mutual passion for watches… and a postal mix-up!
6 George Street, Richmond, London, TW9 1JY
For more information and to book a consultation please see HERE