Organised by Tate Britain in collaboration with the Petit Palais, Paris, this is London's biggest retrospective of Walter Sickert (1860-1942) in almost 30 years featuring over 150 of his works from over 70 public and private collections, from scenes of rowdy music halls to ground-breaking nudes and narrative subjects. A master of self-invention and theatricality, Sickert took a radically modern approach to painting, transforming how everyday life was captured on canvas. Sickert is probably one of Britain's most distinctive, provocative and influential artists.
Highlights include ten of Sickert's iconic self-portraits, from the start of his career to his final years. Visitors will see the variety of different personas adopted by Sickert – a legacy of his early life as an actor – and how his complex personality evolved on the canvas throughout his career. Sickert's interest in the stage is also reflected in one of his favourite artistic subjects: the music hall, through more than 30 atmospheric paintings and drawings of halls in London and Paris, including The Old Bedford 1894-5, Gaité Montparnasse 1907 and Théâtre de Montmartre c.1906 and includes depictions of famous performers such as Minnie Cunningham and Little Dot Hetherington. His dramatic images of performers and audiences often captured together from unusual and spectacular angles, reflected the energy of working-class city nightlife. These subjects were deemed inappropriate by much of the British art world at the time, but they took inspiration from the café-concert subjects of celebrated French artists such as Edouard Manet and the ballet subjects of Edgar Degas, a close friend and key influence on Sickert after they met in Paris in the 1880s.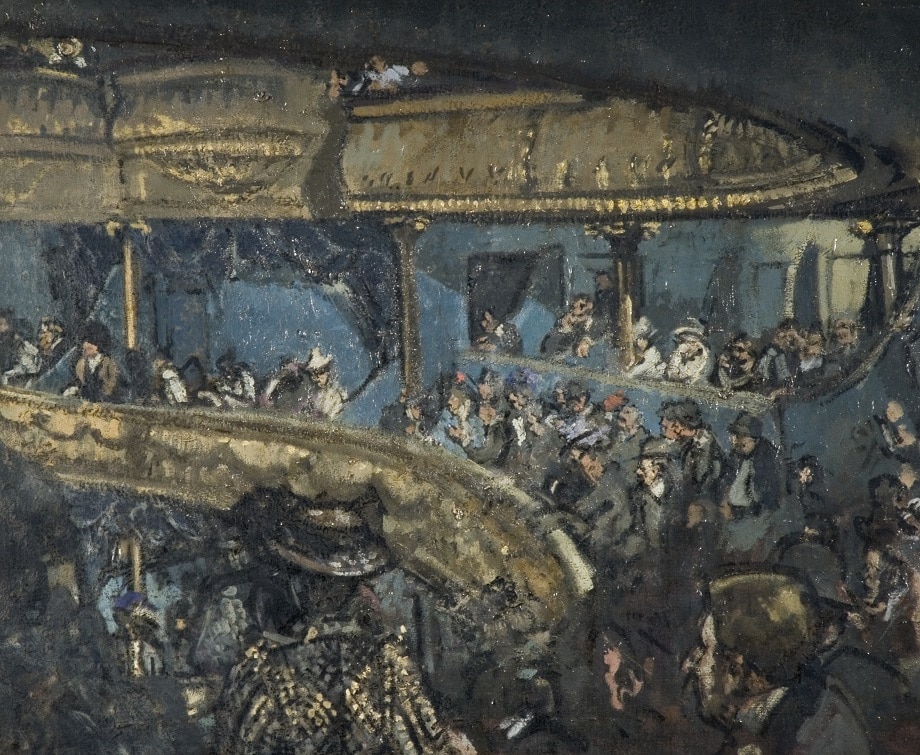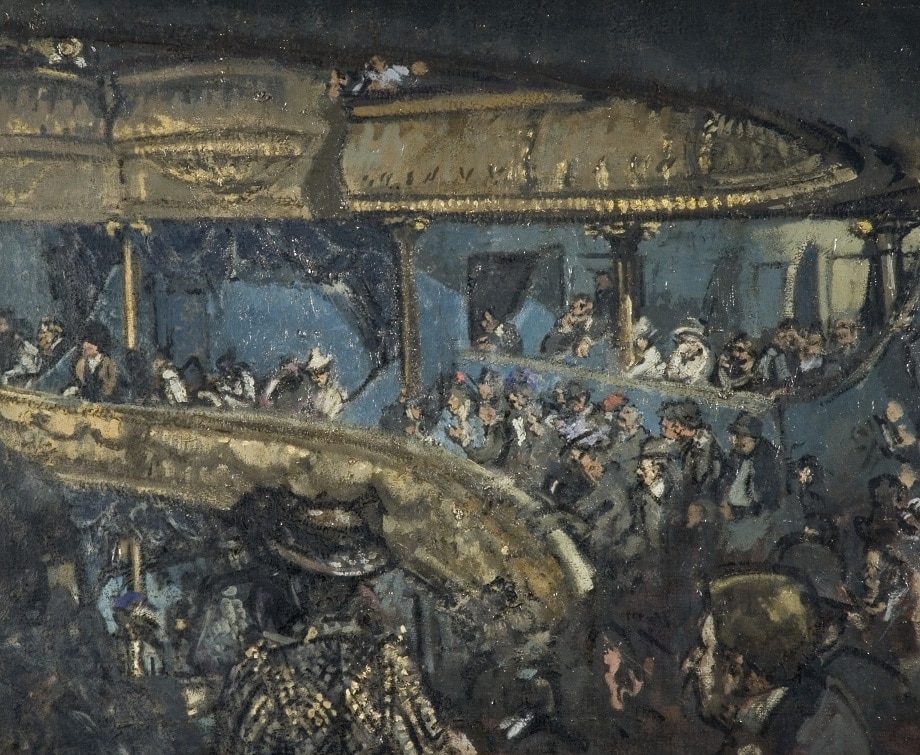 Walter Sickert, The Eldorado (c.1906) © The Henry Barber Trust, The Barber Institute of Fine Arts, University of Birmingham
The exhibition is the first to explore the impact of American artist James Abbott McNeill Whistler on Sickert's when the latter was an assistant in Whistler's studio. On display, visitors will find Whistler's A Shop 1884-90 and Sickert's A Shop in Dieppe 1886-8 as well as Whistler's 1895 portrait of Sickert himself, to reveal how the young artist was inspired by his mentor's atmospheric tonal style and urban subjects. The show examines how Sickert went on to create a series of works that experimented with how changing light transformed the facades of famous buildings in some of his favourite cities, including Dieppe and Venice.
Sickert went on to revolutionise the traditional genres of painting in ways that changed the course of British art. His nudes were admired in France but disapproved of in Britain, where they were considered immoral because of their unidealized bodies, contemporary settings and voyeuristic framings. They drew on the influence of artists such as Bonnard and Degas and paved the way for later painters like Lucian Freud. The Camden Town Murder series further transformed Sickert's nude subjects into narrative paintings by juxtaposing two figures in a claustrophobic interior, while his other domestic scenes such as Ennui 1914 and Off to the Pub 1911 continued this exploration of conflicted emotions and complex modern relationships.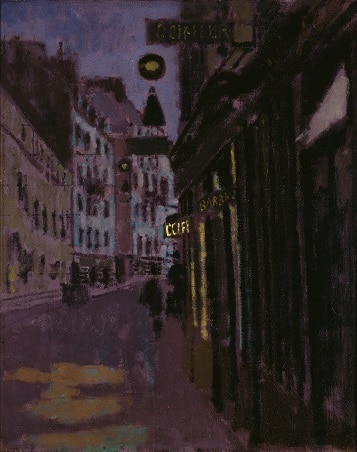 Walter Sickert's The rue Notre-Dame des Champs, Paris the Entrance to Sargent's Studio (1907). On loan from the Ashmolean Museum, University of Oxford.
In his final years, his work took on a new and ground-breaking form in larger, brighter paintings based on photographs and popular culture, including images of Amelia Earhart's solo flight across the Atlantic and Peggy Ashcroft in a production of As You Like It. This pioneering approach to photography was an important precursor to Francis Bacon's use of source material and to pop art's transformation of images from the media, once again revealing Sickert's role at the forefront of developments in British art.
Words: Lavinia Dickson-Robinson
www.tate.org.uk
Tate Britain. Millbank, London SW1P 4RG.
28th April – 18th September 2022
Opening picture: Walter Sickert, Brighton Pierrots, 1915. Purchased with assistance from the Art Fund and the Friends of the Tate Gallery in 1996.