Channeling the new zeitgeist movements of sustainable fashion and the new technology rental revolution, Victoria Prew created HURR, a rental agency for designer clothes, beautiful fashionable garments by the most desirable brands at a fraction of the purchasing price. You can step out in style and dazzle without breaking the bank and knowing that you are contributing positively to the circular
Opportunities are where you find them. For Victoria Prew it was the outcome of learning about technology while training to be a chartered surveyor. She studied Real Estate at university and was intending for a career in property. She was always entrepreneurial, even as a student "I started a technology business as an undergraduate and prototyped a bluetooth-enabled key fob that cut standby electricity within any student accommodation. This was back in the day before you could do this from your iPhone. The business received funding after the first year."
Despite entrepreneurship running in her blood, Victoria was the first in her family to branch into the fashion-tech world. Looking back on it now, the solution seems obvious. In 2017, Victoria saw that fast fashion had created a demand for "newness", an appetite for a new garment for every occasion, for a complete change of wardrobe every season. However, such desire had no place in a sustainable future. Something had to be done to remedy the wasteful habits of the industry. The solution she found was to harness the most advanced technology platforms with an ability to rent the latest fashion. All the buzz without the guilt of diminishing your bank account to national debt standards or creating waste in the world. That's the idea that took Victoria to launch HURR.
At HURR, members put their designer outfits out for hire. After just three rentals, owners have normally made back their money.
Victoria's view on fashion and sustainability, encapsulated in her company, belie her youth. "We're not saying 'never buy new', we're saying 'buy less and buy better', knowing that you can shop responsibly, wear your designer outfits and then put them on HURR when you are bored of them. After three rentals, you'd have made your money back. Our target market is aware of the impact of fast fashion and prizes 'access' over 'ownership'." In so doing HURR are changing the marketplace and the way clothes are worn and stored.
The company's mission is to reinvent ownership by providing all the short-cuts to a sustainable wardrobe through renting, monthly refreshes or purchasing pre-owned clothing. Victoria points out, "We empower our community to extend the lifespan of clothes and to look good doing it. We're one of the world's "Top 50 retail-tech startups", proving the answer to sustainable fashion is nothing new. We offer access to the latest brands, fashion trends and hero pieces with over 85 designer partners and have built proprietary technology and a state-of-the-art wet-cleaning operation to power the new circular economy." The same technology provides details of the environmental savings on each item when rented instead of purchased, real-time ID verification, artificial intelligence-powered attribution and item tagging. It is a brave new world of fashion owning and sharing.
"From day one, our real focus has been on the technology and building a scalable marketplace that can provide a seamless rental process."

–  Victoria Prew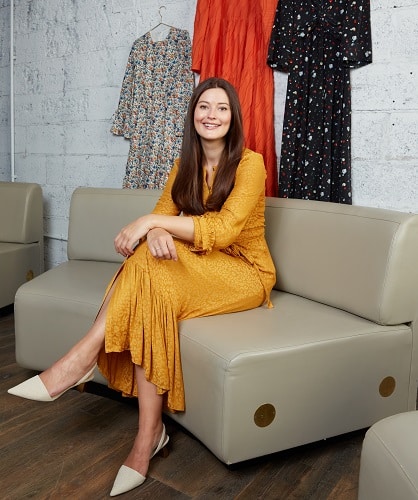 HURR has been a runaway success, something the marketplace was truly calling out for. Headquartered in London, the company aims to address the market of women who want to access the latest trends without the commitment of purchasing. It is the first to launch a multi-brand platform rental-as-a-service offering in the UK, with a fully integrated logistics programme for the individual client. This has been achieved through developing proprietary technology – the SaaS platform – which utilises consumer preference (part of the membership) with the online stock to maximise revenues and rental traffic. Up to May 2021 the company saw an 850 percent year-on-year increase in registered users, a 200 percent website traffic growth and a 150 percent increase in rentals (one of the few businesses not terribly hurt by Covid restrictions). Unsurprisingly perhaps, Victoria was a recipient of the "Forbes 30 under 30" award for her entrepreneurship prowess.
The website showcases a seemingly endless "virtual wardrobe" for luxury rentals, including curated edits, the latest trend pieces and celebrity wardrobes. It carries over £10 million in inventory and, with the continuous growth of remote shopping, is showing no signs of slowing down. Partnerships with Depop and Selfridges are putting the company on the map as a pioneer in the fashion tech sector. Victoria Prew is the first to tap into this growing market, spearheading rental fashion and shifts in millennial behaviour.
Victoria is redefining what a personal wardrobe looks like, prizing "access" over "ownership.
However, the company has gone further than just the mainstream fashion-conscious consumer. Realising that fashion appeals to all sectors of society and that in itself is a statement of personal style, HURR has started carrying items that will appeal across a broad range of individuals, making it easier for everyone.
International expansion is the next target with the technology platform enabling the growth. Victoria explains, "From day one, our real focus has been on the technology and building a scalable marketplace that can provide a seamless rental process. As we don't hold stock, there's no limit on the number of users, their location or the number of items that can be listed. Our significant investment in technology provides a huge competitive advantage and most importantly, gives our members a very strong trust in the service."
For now, Victoria has no plans for any other enterprise as she feels there is still too much to do with HURR. She is focused on redefining fashion ownership and what the future of personal wardrobes will look like. Ever the savvy businesswoman she quipped, "We have an exciting new innovation partnership launching next month, so stay tuned!" With the festive season just about upon us all, I am sure we will.