Some years ago, I had the curious pleasure of interviewing an offshore commercial diver. Burly, laconic and a sort of modern-day cowboy in rubber boots, he was an odd fellow, impressive, unknowable, apparently unflappable. In tones that lacked any inflexion, he described being hundreds of metres below the water where he was working on a pipeline, only to experience a helmet leak, an event that would make most burst with panic – but not him. He shrugged it off, suggesting commercial diving was a perfectly safe gig if you took care of the risks. I've no doubt he believed it.
On his wrist that day was a lead weight of a watch, a 49mm hulk made by the Swiss watch company Oris. He had advised the inventive independent on his watch's "Rotation Safety System", a clever if not terribly pretty bezel-locking device that meant the bezel couldn't be budged in either direction once set, so he could be confident measuring his dive time. Risk taken care of, in other words.
The Oris AquisPro Date Calibre 400 features a patented Rotation Safety System so the bezel can't move once set.
The story is symbolic. Over the last century, watches have been constant risk mitigators for gill-less underwater types, calmly tracking dive times, albeit often via bulky, sometimes odd-looking forms with designs dictated to by need rather than beauty. With a good dive watch, form follows function. To some, that can of course be beautiful.
The first to go below sea level was, somewhat inevitably, Rolex. A little under a century ago it announced the Oyster case, advertised at the time with gleeful hyperbole as "the greatest triumph in watchmaking". Its hermetically sealed form ushered in a new season of experimentation as brands realised the value in taking the plunge. Omega followed soon after with its convention-busting Marine. Introduced in 1932, it clipped an inner and outer case together, sealing them with a rubber gasket and a then ground-breaking sapphire crystal. Five years later, the Marine became the first watch tested and approved for diving, officially labelled as water-resistant to 135 metres by the Swiss Laboratory for Horology.
During the same decade, one of the great oddball dive watch stories bubbled away in secret. Panerai's Radiomir was delivered in 1936, but only on commission to the Italian Royal Navy (as it was). Its clandestine purpose was as a tool for frogmen tasked with the perilous job of piloting the Siluro a Lenta Corsa, more familiar in the cruder English as "human torpedo". Panerai's huge 47mm cushion-shaped watch was produced in Switzerland by Rolex and named after the luminescent material that made its hour markers glow in the subaqueous gloom. Even more offbeat – and just as hidden – was its upgrade. Also cushion-shaped, but thicker-set, the Luminor of 1950 brought with it a lever-activated crown protection device, added to make it more water-resistant. Panerai's distinctive designs remained behind closed doors until the 1990s when its watches were first made available to civilians. The Luminor's lever has remained, even if its value is now only to give the watch its unique silhouette, following years of gasket innovation.
Panerai Luminor PAM1085 in steel showing the lever activated crown protection device in the open position.
By the early 1950s, the underwater world was opening up and with it, dive watch design. No one captured the mood better than Jacques-Yves Cousteau, whose seminal underwater film The Silent World was also a palette for his wristwatch, the Blancpain Fifty Fathoms, the first of the 20th century's great dive watches. Introduced in 1953 and named after its water-resistance rating, the Fifty Fathoms was a landmark, albeit one that has since been overshadowed by Rolex's Submariner, released later the same year and the first watch to claim water resistance to 100 metres (50 fathoms being 91.45m). Breitling followed with its Superocean in 1957 and Jaeger-LeCoultre with the Deep Sea Alarm in 1959, the world's first dive watch with an alarm function, making it a curio in its own right.
Blancpain Tribute to Fifty Fathoms No Rad Edition. "No Rad" indicated that no radioactive material was used in creating the luminous markers.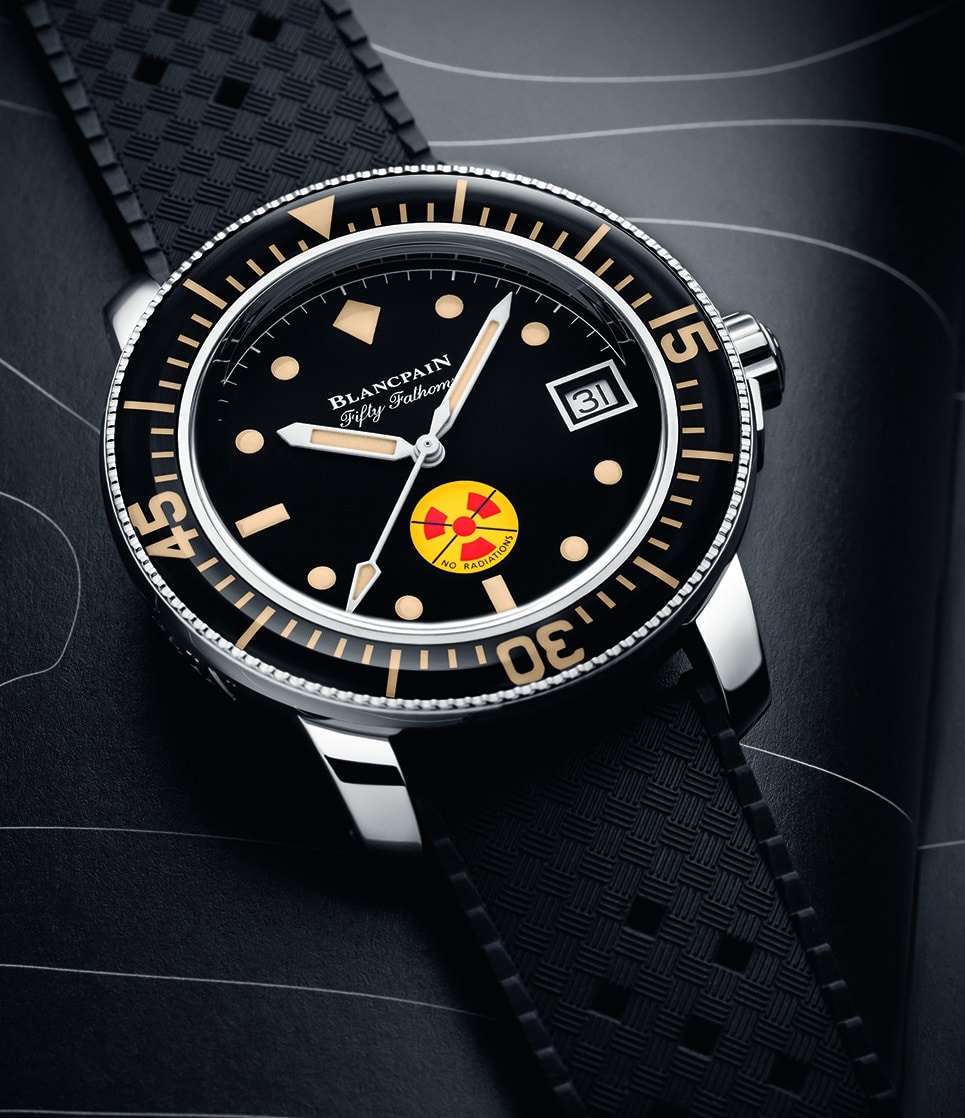 Rolex remained at the vanguard. In 1960, its improbably bulbous Deep Sea Special was strapped to the hull of the submersible Trieste. Crewed by US Navy Lieutenant Don Walsh and Swiss oceanographer Jacques Piccard, Trieste descended 10,908 metres (35,787 feet) into Challenger Deep, the deepest place on Earth. The watch re-emerged unperturbed – records say – giving it status no other would match until James Cameron returned more than five decades later in a one-man craft bearing Rolex's similarly experimental Deepsea Challenge watch.
The Rolex Deep Sea Special from the dive to the Challenger Deep in 1960 setting a world record at 10,908 meters.
Omega's response came in the late 1960s, with its Seamaster 600, affectionately known as the "Ploprof" (a portmanteau of the French plongeur professionnel, meaning "professional diver"), pioneered a monobloc steel case, intended to overcome the need for a helium escape valve, a niche function designed for watches worn by saturation (commercial) divers living in compression chambers where they breathe helium-enriched air that can permeate a watch. Its boxy, asymmetrical design was made more memorable still by a red button used to release its lockable bezel. Retailers at the time marked it as being "for professional divers only", but it's since become a much-loved collector classic.
The Omega Seamaster 600, aka "Ploprof", which pioneered the monobloc metal case for a dive watch.
At the same time on the other side of the world, Seiko too was pushing dive watch innovation. A commercial diver contacted the Japanese company requesting a watch that could follow him to the seabed. Seiko didn't have one, but being Seiko, it set about making the best pro-dive watch it could. In 1975, after seven years of development, it introduced The Professional Diver's.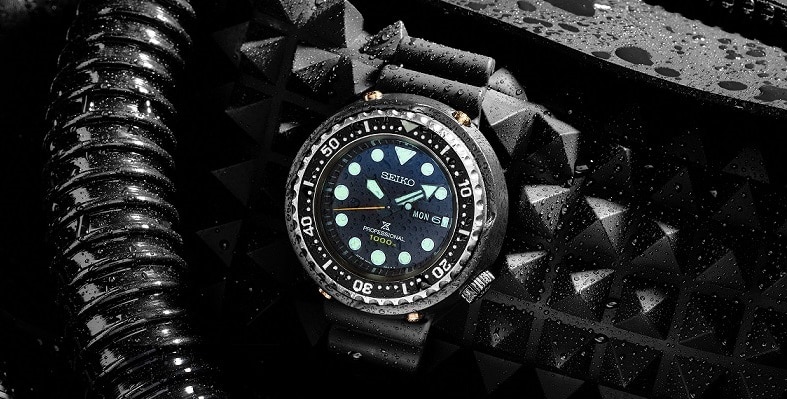 Seiko Prospex 1986 Quartz Diver's 35th Anniversary Limited Edition, aka "Tuna.
It was a funny-looking thing, defined by its screwed-down, shell-like covering and corrugated accordion strap, but technically it rewrote the rulebook. Its single-piece case was titanium, a first for a dive watch and chosen for its lightness and anti-corrosive properties, while inside it was a novel L-shaped gasket that both guaranteed water resistance to 600 metres and stopped helium entering the watch, doing away with the need for an escape valve. Dubbed "Tuna" on account of its tin-like form, it has been in production ever since.
That era of innovation and record-breaking was followed by a prolonged season of gentle but perpetual improvement (inner rotating bezels, peppy dials that were easier to read underwater, depth gauges, dive watches with sapphire case backs – as well as material advances in boring but important things like gasket technology) so that rather like today's cars, most contemporary dive watches are impressively reliable and high-functioning, even at their basest.
But then a few years ago the needle moved again when Omega paired up with the pony-tailed adventurer Victor Vescovo and sent him 10,935 metres (35,876 feet) down into the Mariana Trench with three concept Ultra Deep watches. No one had ever dived deeper, nor any watch. The tech that enabled those watches to survive the 12-hour record dive included a forged single-piece titanium case and a clever conical load bearing sapphire crystal. This year, Omega followed them up with the Ultra Deep collection, seven watches said to be water-resistant to 6,000 metres, should you ever need it.
The Rolex Deep Sea on the Deep Sea Challenger with James Cameron at the helm.
Not unlike a wrestler whose meaty form might have inspired it, the Ultra Deep won't fit into a suit, but like those pressure-beating oddities that preceded it, it will no doubt come to acquire cult status. No wonder, perhaps. Man's appetite for risk has never run out of air…
Opening picture: The Omega Ultra Deep concept watch on the submersible Limiting Factor in 2019 setting a record dive to 10,935 metres.