The Antinori family started making wine in 1385 – and 634 years later, the company is still in the hands of the family, run today by Marquis Piero Antinori's three daughters, Albiera, Allegra and Alessia. Our Editor Julia Pasarón had the chance to interview Allegra in London, where the company's hospitality business is growing substantially.
The Antinori family goes back to the 1100s, to a little village next to Florence. In the late 1800s, Allegra's great-grandfather and his brothers Piero and Lodovico Antinori established a small company called Cantine dei Marchesi Lodovico e Piero Antinori. It was the birth of what would become one of the most famous and respected wine producers in the world.
Allegra's grandfather, Niccolò, started to really sell their wine. At the time, the production of wine was in the hands of the peasants and the families would look after the sales side. "My grandfather was a very good marketeer," Allegra remembers.
With his relationships and contacts, he put our wine in all kinds of important places, including royal courts.
Niccolò Antinori's entrepreneurial spirit also led him to open a "Cantinetta" restaurant in Florence, and he started to plant new vineyards in the area of Castello della Sala in Umbria, near the historic town of Orvieto, and in Bolgheri at Guado al Tasso estate. Wines like Villa Antinori started to become really popular. Well-balanced and medium-bodied, Villa Antinori remains a Super Tuscan top seller, with its luscious plum and blackberry flavours and exquisitely smooth finish (2016 available from Waitrose at £15.90).
By the time Allegra's father Marquis Piero Antinori took over the company in 1966, there were already 300 hectares of vineyards belonging to the family. "He was the one that saw things changing and adapted really quickly," says Allegra proudly. "The peasants had left and the families had to decide how to take care of the production. It was my dad who made Tignanello in 1971; at the time it was a very innovative wine and it is one that has been very important for our business." A mix of mostly sangiovese with a bit of cabernet sauvignon and cabernet franc thrown in, Tignanello is indeed one of the finest Super Tuscans –  fragrant on the nose, the palate evokes notes of red fruit, cherry, spices and herbs (2015 available from Majestic at £100).
Tignanello wasn't the only star wine that Marquis Piero Antinori created. In 1978, Solaia was born, grown in a vineyard on the sunniest part of the Tignanello estate's hillside. Piero's third master creation was Cervaro della Sala, created with Renzo Cotarella (now CEO and Chief Winemaker of the company), first produced in 1985 in the vineyards that Marchesi Antinori has owned in Umbria since 1940. Cervaro della Sala was one of the first Italian white wines in which malolactic fermentation and ageing take place in barriques. This wine has gained important recognition and countless admirers over the years: fresh and citrusy, quite mineral in character, this is a beautifully balanced vintage with notes of camomile, honey and buttery vanilla (2016 from Hedonism at £53.90).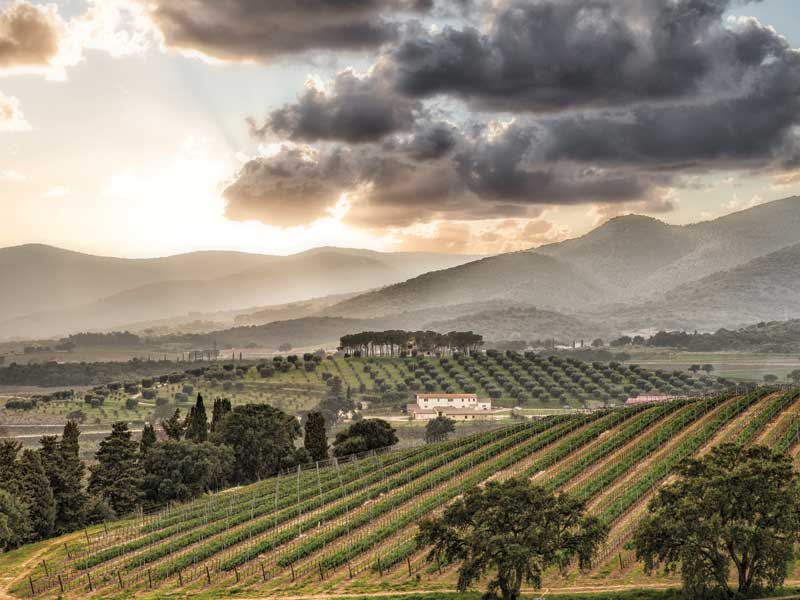 During the 70s and early 80s the family concentrated mostly on wines such as Tignanello, Solaia, and – a favourite Chianti Classico of mine – Badia a Passignano (2015 available at £32.68 from Honest Grapes). After that, they focused their attention on the acquisitions of estates, in areas with great potential for the production of high-quality wines, which at present cover approximately 2,600 hectares sprinkled around the world in 16 different estates, mostly in Tuscany (10) but also in Umbria, Puglia, Piedmont, and Lombardy.  Outside Italy, Marchesi Antinori also owns estates in the Napa Valley and Chile. "Every estate is managed in a different way," Allegra describes. "They are each managed personally by very different people, young and old, who really know their area so the wines are an expression of the terroir and soil where they are produced."
Every Antinori winery has its own cellar, most of which are unfortunately closed to the public. "We only open to our wine friends and clients. It is our way of doing marketing," explains Allegra. "We don't really do a lot of publicity; we prefer to do more personal events and go around the world introducing people to our wines." Fortunately, in October 2012, Marchesi Antinori opened a new winery to the public near their Florence headquarters, Antinori nel Chianti Classico, and every year they welcome around 45,000 wine enthusiasts. Another of their wineries open to the public is Le Mortelle, a new wine estate in the southern part of Maremma, on the Tuscan coast. One of the star wines produced in Le Mortelle is Botrosecco, a blend of cabernet sauvignon and cabernet franc with a bright ruby red colour, Mediterranean scent and persistent, velvety taste (2016 from Berkmann Wine Cellars at £20.77).
The company is run by Allegra and her two sisters, Albiera and Alessia. Albiera holds the title of president of the company and is responsible for image and communication and the expansion in the Chinese market. Allegra is vice-president and looks after the hospitality side of business from Central America to China. The youngest sister, Alessia, lives in the US and takes care not only of the Antinori brand but also of the famous Fiorano estate from a communications point of view. The rest of the management is external and most have been working at Marchesi Antinori for decades. "We are a big family," adds Allegra with a wide smile.
In the past 50 years, the perception of Italian wine has changed dramatically, both in Italy and across the world. In Allegra's opinion, "Much of it has to do with the growth in popularity of Italian food all over the world but also with the fact that a few families like Antinori, Incisa della Rocchetta and Gaja, who make very high quality wines, have changed the image of Italian wines. On the other hand, we Italians have become much better at receiving people in our own wineries. All over the world people now drink much less, but they drink much better. In Italy we used to drink 55 litres per head, today we drink 30."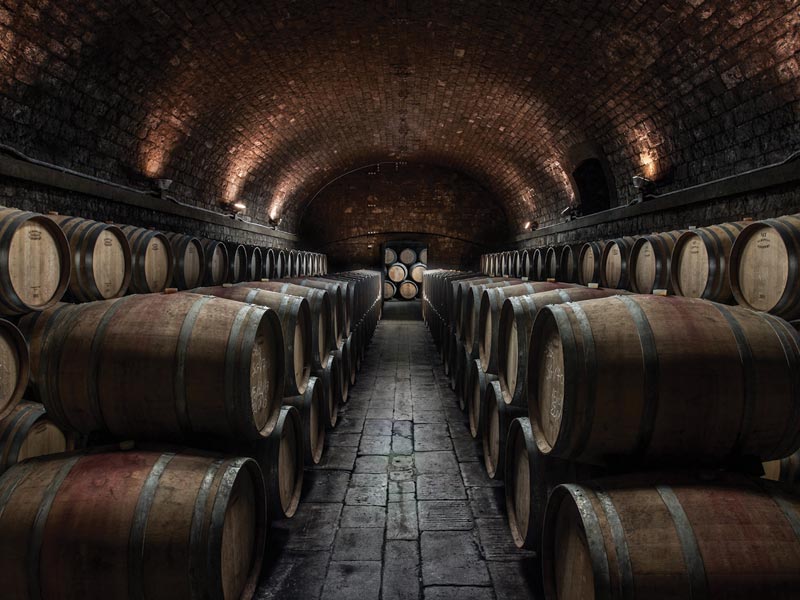 Tastes have also changed with the times. Lighter, more elegant vintages are nowadays more popular than the heavier wines that were in fashion a few decades ago. "There is a lot of curiosity on the side of consumers," adds Allegra. "The climate is changing, our way of eating is changing and as a result, for example, this is a big moment for rosé wines and light red wines."
Sustainability is important to Marchesi Antinori. The company has a vision for the next 600 years, so they are aware of how important is to respect the soil. As Allegra puts it, "at the end of the day, wine is a food product. We do have to be responsible and put sustainable quality at the top of our policy list."
Business is going well for this family of Tuscan winemakers, but Allegra and her sisters are aware of the challenges ahead. Describing the market, she observes, "The wine world is very fragmented and there's a lot of competition. You need to always have quality in mind. Our wineries are strong, so we can afford not to commercialise a wine if the vintage is not good enough; and we are able to maintain a certain price, not to speculate on certain vintages but to guarantee consistency."
For Allegra and her sisters, it's crucial to pass their experience on to the next generation of Antinoris who are starting to join the company. The first has been Allegra's nephew Vittorio, who's working on the 'bubbles', after finishing a masters in London earlier this year. Despite the company's international fame, the main market for Antinori wines continues to be Italy, where 40% of their production is sold. From the other 60%, 90% goes to 10 countries, mainly the US, Germany, Switzerland, UK, and Russia, though overall, they sell in 150 markets. Although Antinori wines are easy to find in top UK restaurants, it is a bit more difficult to find them in supermarkets and wine merchants.
They work with Waitrose, Ocado, Majestic, Hedonism, Selfridges and Harrods, as well as with online merchants such as IG Wines and Bordeaux Index. In Antinori's experience, young people enjoy trying new wines and are more adventurous than older generations. In Britain, for example, fine wines were associated almost exclusively with French wines until a couple of decades ago. Allegra seems to have a very clear vision of where their focus for the future should be. "We believe the area of Chianti Classico has a lot of potential and therefore we are investing a lot in it. The area of Montalcino is another where there is still a lot to do. We'd also like to look at an area that produces very fruity, fresh white wines, maybe in the northern part of Italy."