With "Lockdown 2.0" stretching our patience with those around us, i.e. our families, and Christmas just a few weeks away (more family time), I thought wise to have a word with The Man in the Know -Father Christmas – and find for you the best board games (leaving out murder mysteries such as Cluedo) to keep you and your lot entertained and dark thoughts at bay.
Bored with the throwaway culture, I wanted to invest in games that would pass the test of time and become heirlooms to pass on to future generations. My first port of call was, of course, Harrods, and within, the sets produced by a family run Italian company, Agresti. Known for their quality and design flair, Agresti has been making handmade pieces since 1949. Their Casino Passione is utterly breathtaking, delicately crafted in red briar and mahogany, with polished finish leather handles. This is undoubtedly one of the most beautiful and comprehensive multigame sets I have ever come across. It contains a 36 cm mahogany roulette rake, poker with 365 chips, chess and backgammon sets, dice and leather cups, and domino playing cards.
If backgammon is your dream game then you are in great company: Omar Sharif, Cole Porter, and Joan Crawford were famously dedicated players. Many brands offer good quality sets but on this occasion I have chosen the 17" set by Aspinal in red, white, and blue, housed in a hand-crafted briefcase bound in Italian full-grain lizard-print red leather, featuring contrasting laying points inlaid within its frame.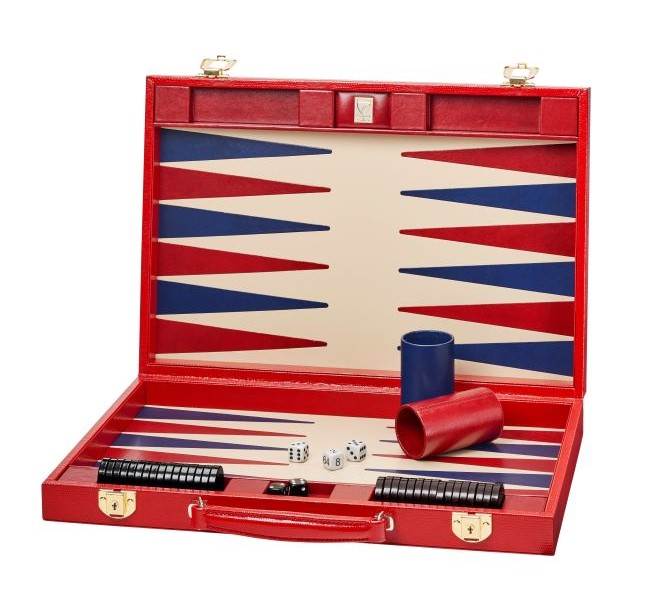 If you have dreams of becoming a real estate tycoon, Monopoly is probably your favourite classic board game. My choice is Aspinal yet again. Since 2001, Aspinal has been making contemporary and sophisticated leather goods that celebrate the traditional undertones of classic, quintessentially English luxury. Their Monopoly set is handmade in England, bound in red and black lambskin leather, and sits atop a black hide leather box, lined in black felt and recessed for the pewter playing pieces. The houses, hotels, and player counters are all made from pewter and are accompanied by paper money, property title deeds, community chest and chance cards, and two dice. This is a beautifully handcrafted edition of a world-class and iconic game. A family favourite that will last a lifetime!
Scrabble has been a favourite of my family's since I was a little girl. I think my parents hoped it would expand our vocabulary and help us stretch our brains a little. This luxury edition is handmade with a leather hand-bound playing board atop a jewel Italian calf leather tray in red, which is felt-lined and provides stowage for the 100 Bridle Hide backed letters, four leather-bound letter racks, rules, and letter drawstring bag. The tray is trimmed to the base with a non-slip Suedette making it perfect for the coffee table. Keep wiser brains active and satisfy the inquiring minds of the younger generation with this classic board game.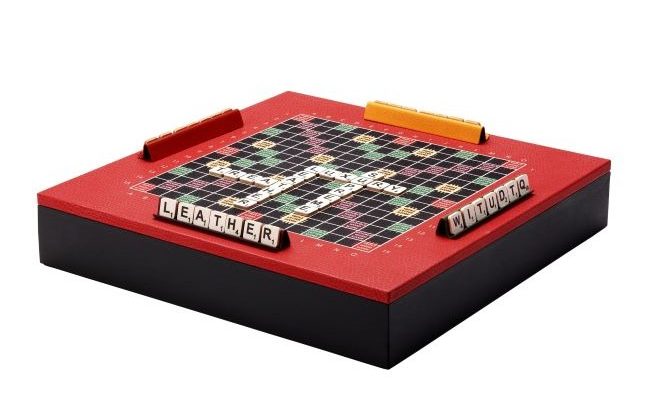 I couldn't finish my selection of Christmas entertainment without including jigsaws. On this occasion, I have picked one that looks at the universe, literally. You can time travel into deep space with the officially licensed NASA jigsaws. The awe-inspiring puzzles use amazing and inspiring imagery from the Hubble Space Telescope to help you piece together the ultimate puzzle. With three to collect and 1000 pieces each, they are a challenge but not nearly as complex as space. The Hubble Telescope was launched in 1990 and through its explorations of dark matter to its quest to determine the age of the universe, Hubble has helped answer some of the most compelling astronomical questions of our time and revealed enigmas that we never knew existed. Throughout history, humanity's eyes on the universe have never seen with more clarity or focus; find out how Hubble has opened the window to the grandeur and mystery of space.