Founded in 1916 by British watchmaker Claude Lyons, Vertex watches were one of "the dirty dozen" commissioned by the Ministry of Defence for military use together with brands like Longines, Omega, Jaeger-LeCoultre and IWC.
Vertex continued producing military approved watches until 1972, when the company closed the doors of its Hatton Gardens headquarters. Nearly half a century later, Lyons's great- grandson, Don Cochrane, brought the brand back to life with the Vertex M100, a watch inspired by its wartime predecessor, the Cal 59 WWW (Wrist, Watch, Waterproof) produced during WWII.
To celebrate the 75th anniversary of the end of the biggest and deadliest war in history, Vertex has launched the Vertex Bronze 75, in a 40mm case similar to that of the M100 but made of the traditional alloy metal as a tribute to the British Armed Forces during WWII.
The watch comes with three straps: one in leather, another in nylon, and one in cotton…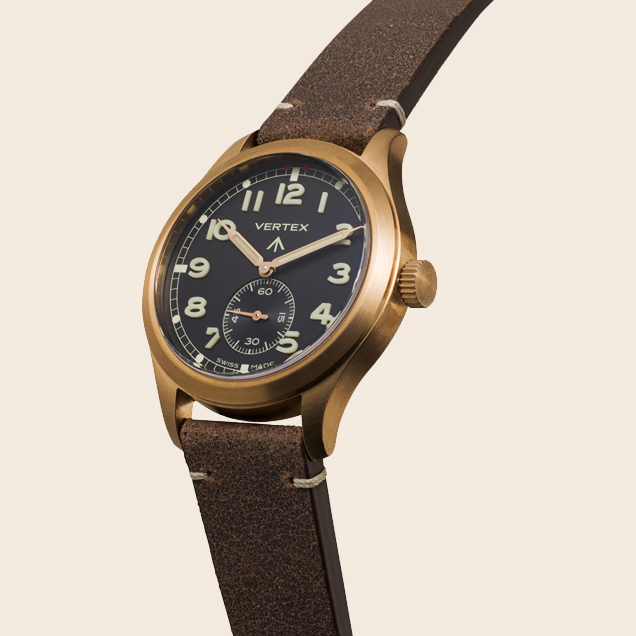 Bronze shows the passing of time and so the patina of the Bronze 75 will change as the next three-quarters of a century go by. The only concession to modern times is the use of SuperLumiNova ® on the dial, in a tone that compliments the colour of the case and the movement is the same excellent ETA7001 that powers the M100.
The case back is an exact replica of the Cal 59 WWW of 1944 and 1945, with its broad arrow and WWW markings, military serial number and edition number. As with all Vertex watches, the Bronze 75 comes presented in a Pelican box, originally designed for the American military.
It is water and pressure proof and according to Cochrane, you can run it over with a tank and you won't even dent it. The watch comes with three straps: one in vintage brown leather, another in Nylon Zulu Alpha and one in cotton AF0210.