The new Bond film No Time To Die should have had its premiere in April, but Bond fans will now have to wait until November. In the meantime, Triumph,the famous British Motorcycle manufacturer has partnered with EON productions to create the ultra rare 1200 Scrambler Bond Edition.
My excitement of the launch was palpable as I am a Bond aficionado as well as a Triumph lover. Seeing the beautiful custom Scrambler for the first time is like an art lover discovering a new Monet. Triumph becomes the first motorcycle firm to link with EON and the Bond name. The partnership was announced in December 2019, when it was revealed that Triumph bikes featured in the forthcoming No Time To Die.
The 1200 Scrambler Bond Edition proudly wears the distinct badges of 007 with logos and design features throughout. 250 bikes will be available, all based on the motorcycles that will be seen in the film. As adapted versions of the popular 1200 Scrambler XE model, they carry all the standard features plus a few surprises.
It could have been designed by Q himself. Special Bond features include premium 007 designed paintwork, unique number board with the bike's model number and, sat on the exhaust, 007 brandings on lowered side panels. The seat also carries the well-known logo on real leather and an exclusive 007 display appears on the TFT instrument startup screen. Proud owners will be given an 007 handover pack full of delights, including a Bond rucksack.
Like our favourite secret agent, the 1200 Scrambler packs a punch, with 89Hp produced from its twin engine. As with the usual XE models, the bike is crammed with technology to give the rider plenty of experiences. For example, its six Rider Modes allow the owner to adjust the bike to their personal style; Road, Rain, Off-Road, Sport and Rider-configurable riding modes adjust the throttle response to suit all kind of conditions; ABS and traction control settings can be adapted too. On top of these 5 modes, the Bond bike also features the Off-Road Pro mode, which delivers Triumph's most off-road focused set up for advanced adventure riding and scrambling. This mode turns ABS and traction controls off and uses the Off-Road throttle map. Riders can try and emulate the riding in the movie. Torque assist clutch is fitted to reduce clutch lever effort for the rider, bringing a lighter touch along with feel, making it easier to ride.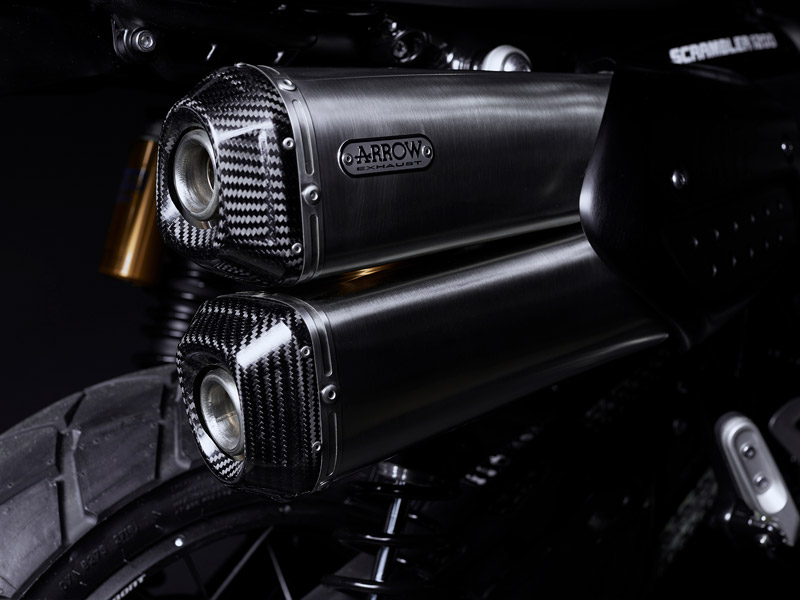 The switches on the Scrambler Bond Edition are backlit from LEDs, housed inside the switch cubes, enhancing rider interaction and improving control by giving a soft glow in all lighting conditions. The keyless ignition system is fitted as standard on the Scrambler 1200 Bond Edition. Heated grips provide greater rider comfort, with two modes. I am seriously interested in buying a 1200 Scrambler Bond Edition, it is beautiful with the added the 007 theme a real draw. Will it make me a 00?