As Mike Oldfield's Tubular Bells reaches its 50th anniversary and the 19-year-old youth who composed it prepares to turn 70 and lives in virtual retirement, Mark Slattery re-discovers a furious exchange of letters between renowned classical composers about Mike Oldfield's musical credentials.
Whatever one makes of the album's classical credentials, Oldfield's subsequent career has certainly taken in classical music. Woodhenge (1980) is distinctly classical, Mont St Michel (1996) is fully orchestral, and Lake Constance (1999) is a composition for strings. His piece de resistance is Music of the Spheres (2007), with the help of Karl Jenkins to transcribe for orchestra. One could add the remarkably touching score to 1984's Killing Fields soundtrack. All this from a rock composer not working in, nor recognised by, the classical world and its tightly-knit fraternity. He is not a classical composer, this Oldfield, but he certainly knows how to create classical music.
Tubular Bells was the debut studio album by Mike Oldfield, released on the 25th of May 1973, as the first album on Virgin Records. It is Oldfield's best-selling album to date.
Now let us go back to a fascinating exchange about this same Oldfield in 1977 between three distinctly classical composers of renown, two of whom, sadly, are no longer with us. It raged in the pages of the quarterly academic journal TEMPO, which these days is part of Cambridge University Press but Boosey and Hawkes founded it in 1939. It begins with Bernard Benoliel, a classical composer and custodian of Ralph Vaughn Williams's work, writing a piece about Oldfield and his first three albums (Tubular Bells, Hergest Ridge, Ommadawn) all of which were in two parts.
Citing certain luminaries of the day, such as Roberto Gerhard and Allan Pettersson, Benoliel argued in March 1977 that, "Compared to the rest of contemporary music – either that based on traditional principles or the classical avant-garde – Oldfield's music, through its genuine emotional significance, comes closer in importance to the works of these men." Benoliel railed against music, "weighted down by stifling academic traditions or by pseudo-scientific jargon which serves as a substitute for a highly developed individual musical language" and cited Oldfield – and his work with avant-garde composer David Bedford (composer of Star's End) as offering something "fresh and alive." He didn't mean seafood.
Continuing his thesis, Benoliel, whose first nine opus works were all performed and broadcast either by the BBC or Dutch Radio, pointed out that Oldfield's work has "technical limitations", a "lack of solid musical architecture on a large scale", a "very slow rate of change in events" and "a primitive use of tonality" (which is a drawback, one imagines for what Benoliel calls "tone-poems") – but…but!… he says the same weaknesses are present in most avant-garde compositions and none, "possess the immediacy of appeal, direct emotional impact and small but definite vein of originality in Oldfield's work."
The premiere live performance of Tubular Bells took place at the Queen Elizabeth Hall on the evening of the 25th of June 1973, and was broadcast live on UK radio by the BBC.
Some among the quivering audience had begun to realise that Benoliel had compared Oldfield's music with theirs. TEMPO rubbed it in by printing a whole-page advert for Oldfield's work on the back cover. The stunned silence did not last long. In June, 1977, two irate letters perform a double-mugging of the unwary Benoliel. First into the attack is Colin Matthews, a scholar with a doctorate on Mahler and Composer Emeritus with the Hallé Orchestra. "Mr Benoliel… provides a foil for the unstructured and sentimental prettiness of the music of Mike Oldfield … the only possible reaction is one of near-hysterical disbelief. To allow such pointless and ill-judged formulations to be put into print is to devalue the pages of TEMPO." As thick blood splattered on the carpet, onlookers gasped with the audacity of the knifing as the offender escaped capture.
Benoliel staggers and his creative vision blurs but a pincer movement is forming. For here comes Oliver Knussen, subsequently CBE, the London Sinfonietta's music director between 1998 and 2002 and an artist in association with the BBC Symphony Orchestra. The late Knussen's considerably acknowledged work needs no introduction here, nor did it then. Knussen wrote: "It is all very well to use a serious journal to air one's personal prejudices…and to include the odd joke item…on music which is to me at least of rather questionable substance…" he commenced, adding "one's blood begins to boil".
"Mike Oldfield must really be something else!! The upshot of all this is that one's faith in what Mr Benoliel has to say about his chosen subject is seriously undermined from the outset…perhaps an article entitled something like 'my favourite contemporary composer' would … not have been devoid of interest to some." It is a smaller, more skilful incision, removing important vital organs and a wallet, but finally, spasming its last, Benoliel's shredded form expels his spirt.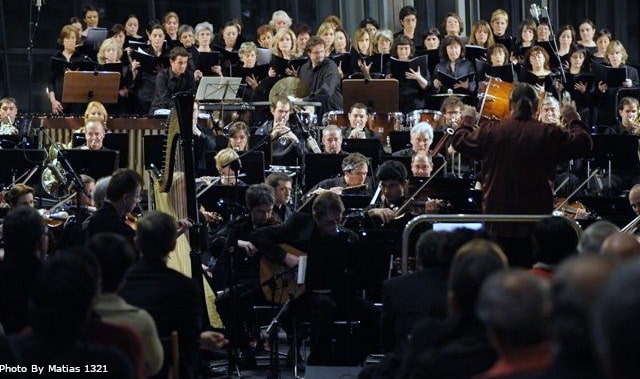 Mike Oldfield with the orchestra and chorus of the City of Bilbao performing Music of the Spheres, 2008.
Lazarus came back in but three days. TEMPO, being quarterly, obliged Bernard Benoliel to wait for three months. His spirit rose in September. He was not mincing his words. Zap! "Oliver Knussen and Colin Matthews find my review of Mike Oldfield so disturbing it's robbed them of their ability to read the English language." Pow! "In answer to [Knussen] I say: Why yes! Mike Oldfield achieves what he sets out to do. Intent and achievement are in balance." Biff! "Then why the violence of their response? [They] imply that many more readers …share their opinions than mine, so why do my 'pointless and ill-judged formulations' make them feel so insecure? So insecure that Mr Matthews stoops so low … as to question my critical sincerity."
One didn't need Twitter in those days for a jolly good literary punch-up. One just needed patience. Three months hence, therefore, came Matthews' response to the Holy Spirit of Bernard Benoliel. "I would like… to apologise to Bernard Benoliel for doubting his sincerity in what I agree was too violent a reaction to his article on Mike Oldfield." It was too good to be true, because he added, how disturbing it was to for "Mr Benoliel's linking of his group of admirably serious composers with the, to me, lightweight sentimentality of Oldfield."
Despite that barb, in March 1978, TEMPO concludes the exchange with Benoliel accepting Matthews' apology in good faith. No further word was heard from Oliver Knussen, and one must assume a line was drawn by the editor, following five successive issues, on the basis that there was no need to bathe in further bloodshed.
Oliver Knussen (1952-2018) was a leading figure in music, as composer, conductor, teacher and artistic director. He was renowned for his support of contemporary music.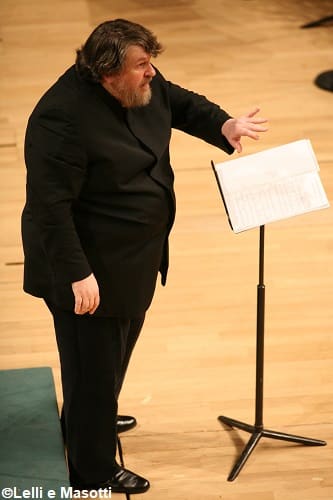 Matthews remains living, an esteemed OBE, while Benoliel died in 2017 and Knussen in 2018, all of them held in high esteem and great champions, for different reasons, of their art. One can only imagine how they might have reacted to Oldfield's Music of the Spheres being described as, 'The Planets for the 21st century.' Ironically, later in 1978, Oldfield released Incantations, the most classical of any of his recordings to that point. He toured it with a 50-piece orchestra and a choir.
In 2017, Oldfield told The Guardian: "I listened to Ravel, Roedelius, Bartók, Stravinsky … or it might be Stevie Wonder or Led Zeppelin. It didn't matter. It was just music – vibrations in the air. My last album was entirely classical, and this one is entirely live-band rock music. You can't say I'm any one kind of artist."
It is highly unlikely that he was ever aware of this exchange.
Cover of Tubular Bells and poster of Mike Oldfield's concert courtesy of Pete Buttle
For the official tour of the 50th anniversary of Tubular Bells, click HERE.