The Summer Exhibition is the world's largest open submission contemporary art show. It has taken place every year without interruption since 1769. Its history goes back to one of the founding principles of the Royal Academy of Arts: to mount an annual exhibition open to all artists of distinguished merit and to finance the training of young artists in the Royal Academy Schools.
Chaired by the President of the Royal Academy, Rebecca Salter, the Committee members this year will be Royal Academicians Rana Begum, Stephen Chambers, David Mach, Cathie Pilkington, Farshid Moussavi, Grayson Perry, Conrad Shawcross, and Bill Woodrow. Níall McLaughlin and Raan Begun will curate the Architecture Gallery. The Royal Academy invites artists and architects to submit their work for a chance to have it feature in the exhibition. Each year it receives nearly 15,000 entries of which around 1,200 works – in a range of media – will go on display. Most will be for sale, offering visitors an opportunity to purchase original art.
It also gives established and up-and-coming artists the opportunity to exhibit alongside each other…
The theme of this year's Summer Exhibition is "Climate", in all its manifestations. Whether it presents as crisis or opportunity, nightmare or memories, or simply our everyday experience of weather, climate is a huge, all-embracing and urgent subject that nobody can afford to ignore any longer.
The members of the Summer Exhibition Committee serve in rotation, ensuring that every year the exhibition has a distinctive character, with each Royal Academician responsible for a particular gallery space. Works are judged democratically on merit and the final selection is made during the eight-day hang within the galleries. Funds raised support the exhibiting artists, the postgraduate students at RA Schools and the work of the Royal Academy. The RA School is the longest established art school in the UK and offers the only free three-year postgraduate programme in Europe.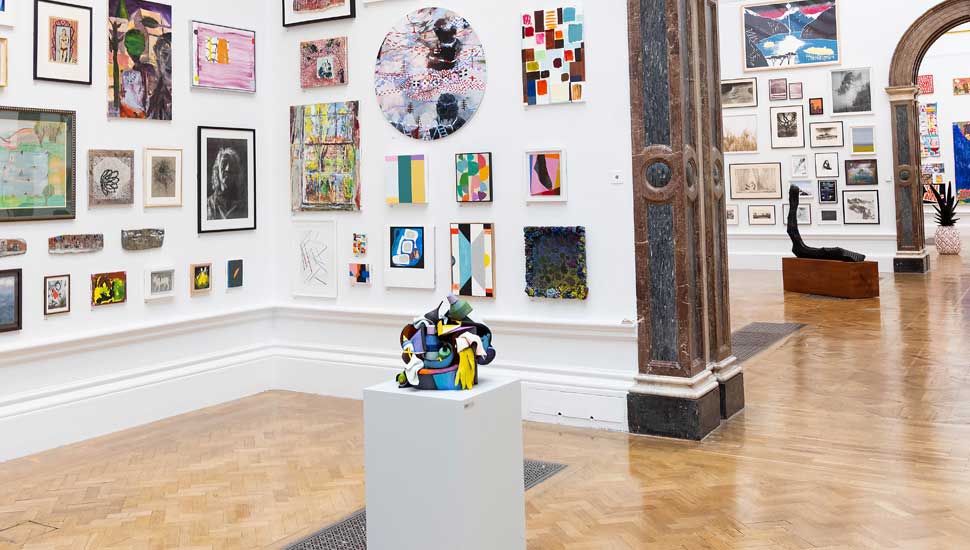 As the world's largest open submission contemporary art show, the Summer Exhibition provides a unique platform for artists to highlight their works to an international audience. It comprises a range of media from painting and printmaking to photography, sculpture, architecture, and film. Royal Academicians are automatically entitled to submit up to six works to the show and the rest of the exhibition features work by those invited by the committee and external entrants.
Join the discussion about the exhibition at:
Words: Lavinia Dickson-Robinson