Although there is little doubt that fossil fuel vehicles have their expiry date written all over their shiny bonnets, drivers are all but convinced that going electric is the solution at present. There are too many fears. Our Editor Julia Pasarón, who last year spent quite some time testing electric cars, has spoken to insurers, manufacturers and industry organisations to identify these fears and find out how smooth you can expect the transition to electric driving to be. According to a survey of 1,000 drivers conducted by Uswitch, the 10 biggest worries about electric-driving are:
• Number of local, accessible charging points – 31.6%
• Cost of an electric or hybrid car – 30.0%
• I'm worried it would run out of battery whilst driving – 29.7%
• Time it takes to charge an electric car – 26.2%
• Cost of having a home charging point installed– 25.3%
• Electricity bills would increase with
a charge point at home – 20.9%
• Repairs are more expensive – 16.0%
• There aren't enough mechanics qualified to repair them – 13.4%
• I would forget to charge it – 11.3%
• My car insurance will be much more expensive – 9.4%
Having found myself anxiously going from one service station to another looking for an available charge point in working condition, I very much sympathise with what is known as "range anxiety" in the electric-driving world. The race to install more charging points across the UK is on and today, there are over 36,000 in 13,000 locations. Still, this means just one public charge point for every four cars, with urban areas being much better equipped than their rural counterparts. Finding a charging point in the country can be like finding Wally.Another issue is the fact that you have to subscribe to a million different suppliers to recharge your car, which involves handing over tons of personal data, credit card details and of course, dealing with the common occurrence of something going wrong while you download the app, fill in your application, etc, etc.
The race to install more charging points across the UK is on…
Rumour has it that there are discussions among suppliers to simplify all this process.We can only hope. Mercedes and BMW seem to be leading the way. "Mercedes me Charge" is available as standard for three years on models such as EQA or EQC, giving customers convenient access to the biggest charging networks via a single subscription. BMW has partnered with BP Pulse to offer access to the largest network of public charging stations in the UK with a single card. ChargeNow allows customers to use over 7,000 locations in the country for £7.85 a month.
The majority of these charging points are free to use but there will be some posts on the network where you'll have to pay. This cost from 12p per kWh depending on what type of charging unit is used (this is cheaper than the average cost of charging at home). Last, you have to consider the time it takes to charge your vehicle. In a fast charging point you can go up to 80% in 30 minutes, but more often than not, this is not the case… at least in my experience. From a domestic plug, you are looking at leaving it overnight if you want to find your car with 100% of juice. Each manufacturer is different and new models are much more efficient and quicker to charge. Speaking to Mercedes UK, their very latest EQA provides a range of up to 263 miles and charges from 10 to 80 percent in around 40 minutes, and from 10 to 100 percent in five hours and 45 minutes using an 11 kW wall box. Which brings us to another important factor to consider: the viability, cost and efficiency of installing your own charging point at home. There is funding available from Government schemes to help manage the cost of installation.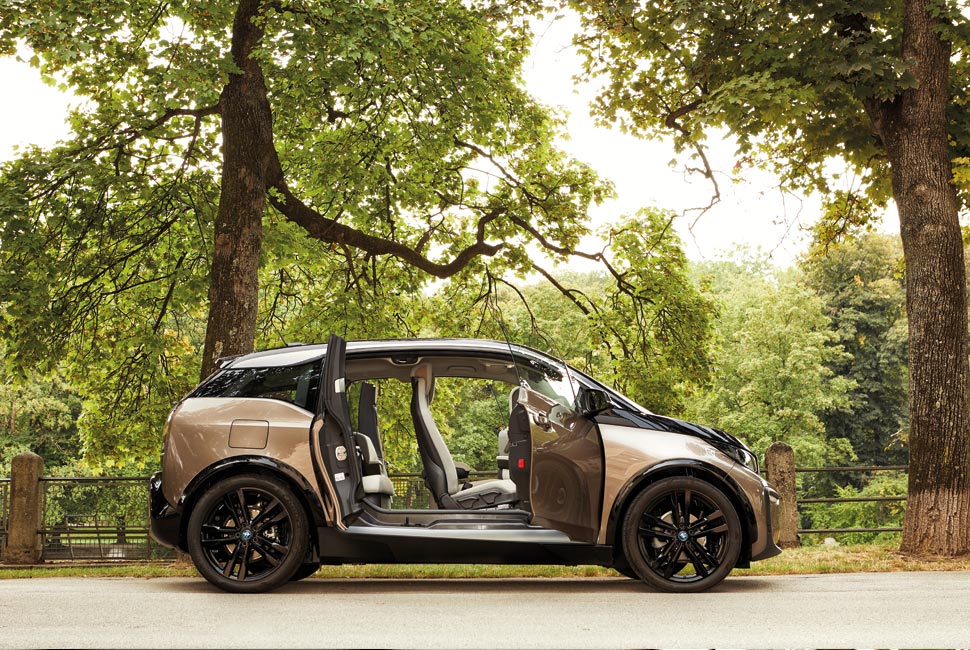 The Electric Vehicle Homecharge Scheme (EVHS) provides grant funding of up to £350 towards the cost of installing electric vehicle charge points at domestic properties across the UK. Prices vary depending on manufacturer and speed; however, typically a 3kW unit will cost between £250 and £500, while a 7kW charge point will cost between £450 and £800. In terms of how much this is going to rack up your electricity bill, for an average electric car with a 60kWh battery and 200-mile range, the cost comes to about £8.40 for a full charge. However you look at it, this is far less than petrol. A different question all together is where this electricity comes from (renewable sources? Coal?) but as Scarlet O'Hara would say, "I'll think about that tomorrow." Most of you may be wondering, "Yes, that is all very well but how often do I have to stop to charge?" The answer, I'm afraid, is not straightforward. Ranges are calculated at "optimal" driving conditions, that is, driving like your grandmother (60mph with no sudden acceleration).
If you do, the cars will get very close to their advertised range, if you don't, you are looking at about 2/3 of the claimed range. Tesla comes top of the podium with ranges of over 300 miles (but the tag price is also top of the scale, with the cheaper Model 3 costing around £47,000 and the Model S knocking you off nearly £80k). One of my favourites is the Jaguar I-Pace, with a range of nearly 300 miles and a cost of around £65,000. Similar in price but with a bit shorter reach is the Mercedes EQC as well as the Audi e-tron, whose range is just 20 miles less but its price falls below the £60k mark. The good news is that most of the top brands have refined their navigation systems so the on-board computer uses numerous factors to plan a route, including any necessary charging stops. They take into account the current electric range and power consumption, which is individually determined by the driving style, topography and traffic flow as well as available charging stations. The route calculation is generally based on the fastest route taking the shortest charging time into account – therefore quick-charging stations are given preference.
Female drivers seem to be more concerned than men about the cost of electric cars (37.5% vs. 28.08%) in comparison to similar fossil fuel models. However, there is a Government £3,000 plug-in car grant for vehicles that produce CO2 emissions of less than 50g/km and can travel at least 112km (70 miles) without any emissions at all. Unfortunately it seems that this grant is about to disappear all together. After looking at the most popular new models, it seems a Smart car is the most cost-efficient option. The brand now only sells electric cars, and the EQ Fortwo is the smallest and most economical of them at around £16,850. Furthermore, they look really cute and are a lot of fun to drive, so if you just want the car to run around locally doing errands, this is definitely a strong contender. Don't forget that 94% of UK car journeys are less than 25 miles (according to the Society of Motor Manufacturers and Traders). Another favourite among short-distance electric drivers is the BMW i3, which can cost significantly less to run than comparable petrol and diesel vehicles. A driver travelling 10,000 miles per year would spend around £360 charging a BMW i3 120Ah at home, whereas a comparable petrol vehicle would cost around £1,400 to fuel. Some car manufacturers such as Renault also offer electric car battery leasing, which gives you the option to hire batteries instead of buying them with your car. As a result, the purchase price is significantly reduced, however, a monthly battery leasing cost will be incurred. Just like buying a car on finance, this offer is designed to make it more affordable for those buying a new electric car.
"What about repairs and maintenance?" you may ask. Well, despite the urban legend of electric vehicles being more expensive to maintain and repair, the truth is that they are not. 
Repairing an electric car is often much less hassle in comparison to a petrol or diesel motor, which contains hundreds of working parts that need replacing over time. The engine, radiator, pistons, spark plugs, fuel pumps, cooling systems, exhaust system and timing belt are some of the most common parts that often need repairing. Meanwhile, an electric car has a lot less to wear out, so while the parts may be more expensive, you hopefully won't need to have as many repairs over time.  In addition, research by automotive data experts KeeResources revealed that an electric car costs at least 30% less to service and maintain than a regular vehicle, depending on the model you opt for and how you drive it. Alongside the cost of repairs there is the general concern about how many qualified mechanics are currently equipped to deal with electric repairs. 
Recent data from the Institute of the Motor Industry (IMI) revealed there are currently between 13,000 and 20,000 qualified technicians working on 380,000 plug-in vehicles across the UK, which equates to around one mechanic per 20 electric vehicles. The industry body is worried that as EV and PHEV adoption increases, the number of vehicles will further outweigh the number of mechanics who can work on them, as Covid-19 has set training back, with the number of certificates down 85 percent on the same period last year. To help get more mechanics fully trained, the IMI is now calling for support and incentives to be given to automotive firms to increase the number of technicians being trained to work on EVs, as well as improve and implement recruitment and apprenticeship schemes. There is a similar assumption about electric being more expensive than fossil fuel when it comes to insurance.
This has been in general true until now, but as electric cars sales are rising, premiums are starting to fall. Aviva, one of the biggest insurance companies in the country, are confident that as the electric vehicle market grows, any cost differentials will come down, particularly as vehicle safety features become more prevalent. Looking at specific examples, the insurance group ratings for BMW i3 models are comparable to similarly priced BMW 1 Series models. However, the final cost for insurance would be determined by each insurer.
If you are not sure about going 100% electric but want to do your bit to reduce automotive CO2 emissions, a good option is to take an intermediate step and go first for a plug-in-hybrid, which will allow you to get used to electric driving and discover how practical it is in every-day life. For millions of UK drivers, today's PHEV technology already offers the opportunity to cover substantial parts of their daily commute, if not all of it, using only electric power, whilst having the flexibility of the combustion engine available for longer drives when required.