(Opening photo: Our Editor Julia at the wheel of the new Mini Electric Level 3.)
Few cars are more iconic than the MINI, I'd even dare say that very few brands are as iconic as MINI. From the moment the first unit rolled off the production line in 1959 MINI has been the vehicle of choice of young families and celebrities alike, oozing style and developing itself celebrity status. Even Madonna got one!
The car was incredibly innovative at the time in terms of design and fuel economy. In keeping with this appetite for innovation, in 2008, BMW produced the Mini E, a demonstration electric car developed for field trials and deployed in several countries, including the United States, Germany, UK, France, Japan and China. The first trial was launched in the U.S. in June 2009 and the Mini E was available through leasing to private users in Los Angeles and the New York area. Another field test was launched in the UK in December 2009, where more than 40 Mini E cars were handed to private users for a two consecutive six-month field trial periods. This trial program allowed the BMW Group to become the world's first major car manufacturer to deploy a fleet of more than 500 all-electric vehicles for private use.
In 2017, the first MINI plug-in hybrid came to the market and finally this year, we are seeing the first purely electric MINI, a car that is sure to bring a lot of zing to the electric car market.
Although it doesn't have the biggest battery capacity or range, the MINI electric more than makes up for it with the efficiency of its consumption and short charging time. In terms of performance, with a torque of 270Nm and 181bhp, this little bullet goes from 0-37mph in less than four seconds and from 0-62mpg in just over seven. I'd dare say you won't find it wanting at a set of traffic lights or when overtaking. Certainly I didn't. Its acceleration and manoeuvrability are such that when I drove it, I found myself overtaking up to 4 cars in one go in the time it takes to say "Oh dear!"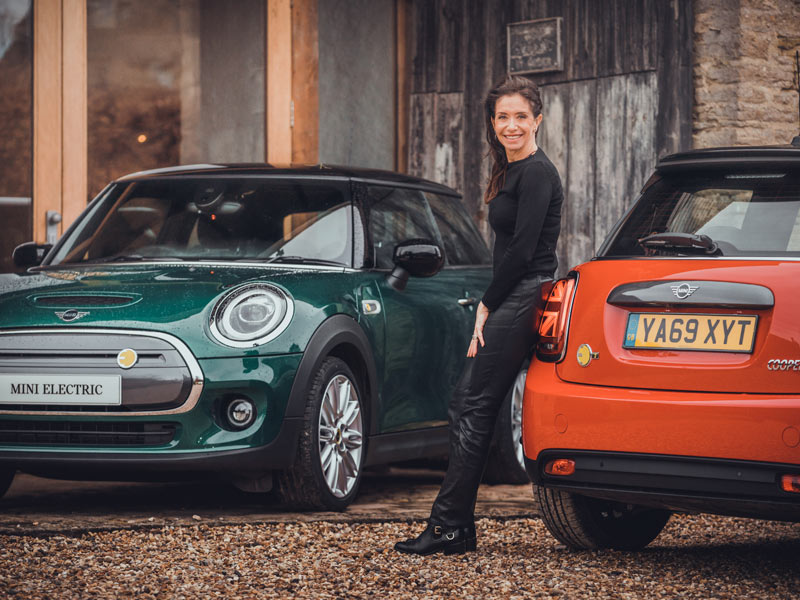 Another change that adds to the performance of this car is the fact that the weight bias is further back, spread more evenly along the car, so it's better-balanced. Furthermore, that weight is carried lower in the chassis. If you are a "dynamic" driver you know this is something you want when taking corners.
Obviously, if you drive like me, you are not going to make the 145 miles of potential range but it only takes 36minutes to charge it up to 80% in a rapid public charge (DC 50kW), which are thankfully increasingly available across the country (not just in big cities). That said, my driving style amplifies the brake energy recuperation, which can be configured at two levels, complementing the MINI Electric different driving modes: Sport, Mid, Green and Green +, with the first one being the most dynamic and the latter the most efficient.
Design wise, the MINI Electric is as eye-catching as you'd expect with a bit of a retro look. On the outside, several unique touches add to the individual personality of the MINI Electric, such as the yellow blade in the front grille, yellow mirrors, the lack of air vents (being electric, the car doesn't need them) and super original 17" alloy-wheels, also riveted in yellow. The clean lines of the interior are very cool and, keeping with the yellow-theme you find some colour touches on the gearbox and start-stop button, as well as in the central display. The all-digital dashboard is not too busy and easy to read. Hallelujah!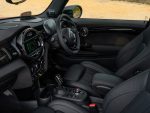 There is no five-door version so your back passengers have to be of an agile nature but to me, it is not a big deal. The tallest of your friends may struggle though as the location of the battery –under the seats- means that these are a bit higher than usual. Boot space is as in any other MINI hatch, so not too bad.
The standard equipment is very complete. In order to save customers "package-anxiety", MINI has put together just three options, with the standard one priced at £27,900 with the government subsidy and the fully loaded available for £33,900. You can further personalise yours with many different combinations of colours and accessories, but there are only three prices.
The equipment in Level 1 includes sports leather steering wheel, fully digital cockpit, automatic air-conditioning, LED headlamps, Apple car-play, navigation system and performance control among others. Level 3 goes the extra mile in terms of personalisation and specification with panoramic glass sun-roof, parking assistant, head-up display and Harman Kardon hi-fi system.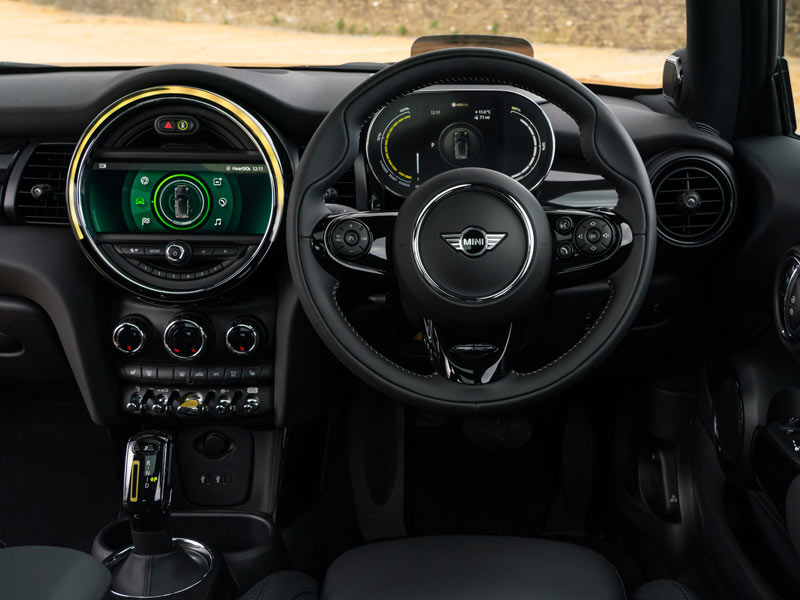 Online, they have created a tool that allows potential customers calculate savings if they swap to an electric vehicle.
To make things even easier, MINI has partnered with Chargemaster so MINI owners can use over a hundred providers without having to register with each of them (another Hallelujah!). In their efforts to increase the sustainability potential of the MINI electric, they are working with OVO energy, with whom you can choose a 100% renewable energy tariff to keep your driving as green as the rolling hills of the Cotswolds. Furthermore, the first 5,000miles of charge are free via this partnership. The last of their eco-partnerships is with Off Grid Energy, a company that provides energy storage and is developing a second life solution for MINI Electric car batteries, making the new MINI 96% recyclable.
I have no doubt that the MINI electric is going to be a resounding success. No other car in its category is as good-looking or fun to drive and let's face it, no other is a MINI.