Mercedes have once again surprised us by bringing to market a compact SUV that fits seven people and doesn't look the size of horsebox. A little trick up the GLB's sleeve is its wheelbase. At 2829mm, it is the longest in the Mercedes compact car stables. Tall passengers needn't worry either, there is plenty of headroom in the cabin.
From the outside, the GLB shows its distinctive personality, with powerful proportions that underscore the off-road focus of its design: the surfaces of the forms are emphasised, and reduced lines and precise seams are major features as are its special off-road lights, clear evidence of the off-road genes of this compact SUV. Mercedes Director of Exterior Design Robert Leisnek shared with us a few of the design tricks used in the GLB to make it look compact, despite of being quite large: "We decided to give the car an honest boxy-appearance. You can see from outside that there is a lot of space inside. We made the car a bit higher and kept the rear upright to help us with the headroom for the two seats at the very back. We also pronounced the wheels with black wheel arch claddings in order to make them optically bigger. All these design elements contributed to the car looking shorter than it really is."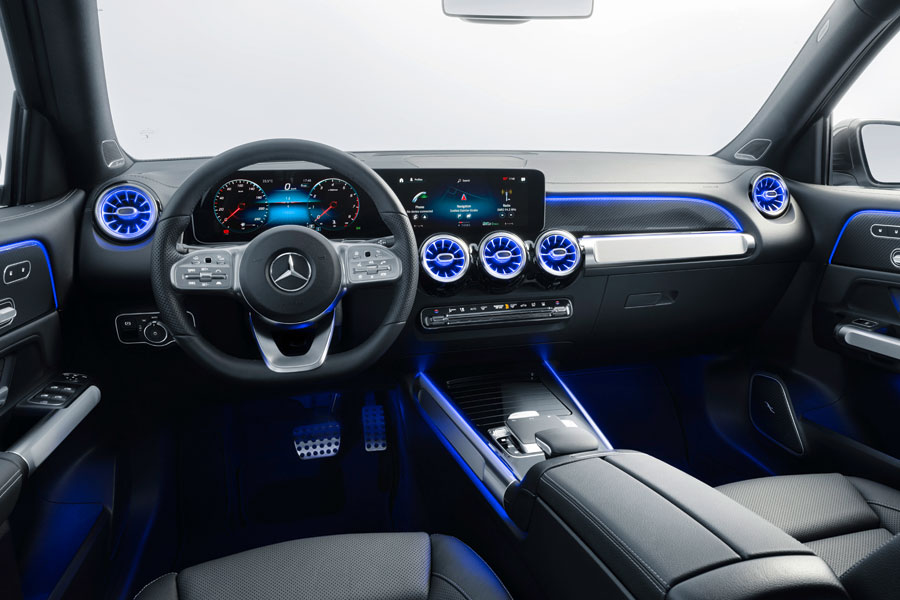 And boy is this an off-road car! Equipped with MBUX (Mercedes-Benz User Experience) and an optional 4MATIC all-wheel drive with all kind of clever technology built into it, the GLB will take you where otherwise you'd only dare to go if onboard a tank. I am not exaggerating. I drove this car down what can only be considered as a cliff, and it did it all by itself, challenging gravity all the way to the bottom. I turned it on its side to 30° and the car was as comfortable as on a motorway, I raced it through gravel and potholes and it didn't flinch a AMORTIGUADOR. Thanks to its camera and radar systems, the GLB is able to see up to 500 metres ahead and drive in semi-automated mode in certain situations. This is not just useful when going off-road but quite convenient ahead of bends, junctions or roundabouts where the car adjusts its speed with its Active Distance Assist Distronic.
As a family car, I am sure the GLB will do very well indeed. It is spacious, comfortable and comes with lots of safety enhancing features such as extendible head restraints, seat belts with belt tensioners and belt force limiters on all outer seats, a side window airbag which also protects the passengers in the third seat row plus ISOFIX and TOP-Tether anchorages for suitable child seats. Distracted and nervous drivers shouldn't worry much, the car is loaded with all kind of driving-assisting features, from lane control to automatic breaking. My nine years old niece could drive it. The interior varies from one model to another but in all of them you'll find the sleek, modern yet elegant style you'd expect from Mercedes-Benz. The instrument panel consists of a single solid which has a cut-out in the driver and front passenger area. A new feature is the off-road like aluminium-look tubular element in the dashboard on the front passenger side.  By my description so far, I understand if you'd think of this car as some sort of hardcore masculine SUV, but the GLB is actually cute.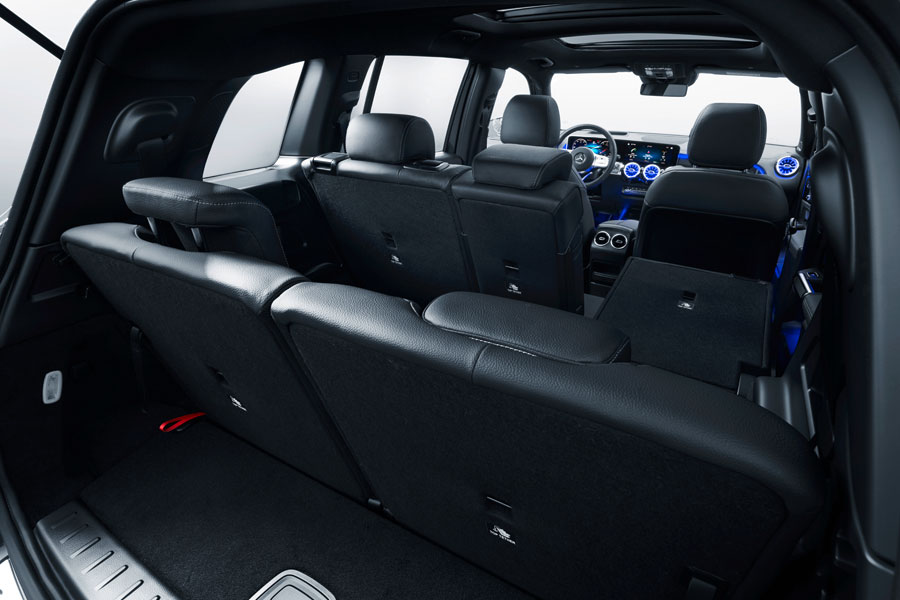 Another surprise in this new compact car by Mercedes-Benz is its level of comfort, which includes the use of lighting and musical moods plus a number of massages for a wide range of feel-good programmes. The Energising Coach recommends these programmes according to the situation. If the Mercedes-Benz vivoactive® 3 smartwatch or another compatible Garmin® wearable is linked, personal values such as stress level or sleep quality improve the recommendation. If you add the Infotainment system with two 7-inch displays for the instrument cluster and media display with touchscreen, sports steering wheel with Touch Control buttons on the left and right, USB ports and Bluetooth®, you can basically move in. Oh! I forgot to mention that the GLB has a huge boot (190litres). Imagine all the stuff you can hoard up in there!
The car is also available as an AMG GLB 35 4MATIC, in which case, you'll feel the tarmac behind you peeling off the road as you put your foot down. Buckle up and enjoy the ride.
From £34,200