I remember back in the day (early 90s), when I first saw the original BMW 8. I was very young at the time and still under the influence of Knight Rider, so the pop-up lights and the menacing look really did it for me, not to mention the V12 engine and all the gadgets inside: electrically adjustable steering column with memory function, auto-dimming rear view mirror, remote central locking and an onboard computer!
The new BMW 8 Series Coupé pays homage to the original one in its bad boy looks and the tech in it. To me, this BMW seriously competes with the Mercedes S-class and the Aston Martin DB11, courtesy of a body, powertrain and suspension which have been honed to achieve the agility, precision and poise expected of a top-class sports car combined with the luxury and comfort of a grand tourer.
The exterior design is strong and masculine, with wide shoulders, an elongated silhouette and a roofline that elegantly flows into a powerfully shaped rear, which emphasises the car's width and low centre of gravity. The side window graphic terminates in a very tightly-angled version of the low forward bend aka the Hofmeister kink.
However, all these elements are not just there to make it look bad ass, but to bring dynamics to the fore: the extra-large air intakes in the front apron, the prominently contoured rear apron and the specially designed side skirts. An almost fully sealed underbody, active air flap control with adjustable kidney grille slats and Air Curtains including Air Breathers help to reduce aerodynamic drag. Narrow exterior mirror bases are mounted directly on the side window weather strips to further enhance the airflow. It comes as standard with LED headlights – the slimmest lamps of any BMW model to date. In contrast to its fierce exterior look, the interior is a cocoon of luxury and elegance. The seamless transition between the instrument panel and door trim is made smoother by the coordinated surface textures and materials.
The seats are fully adjustable and remarkably comfortable, with great lateral support during fast cornering, which you need, because the 8 series goes around bends as if it was mounted on rails, what I personally witnessed driving it around the snaking roads of Southern Spain. Integral Active Steering is fitted as standard optimising poise and assurance when changing lanes or taking corners at high speed.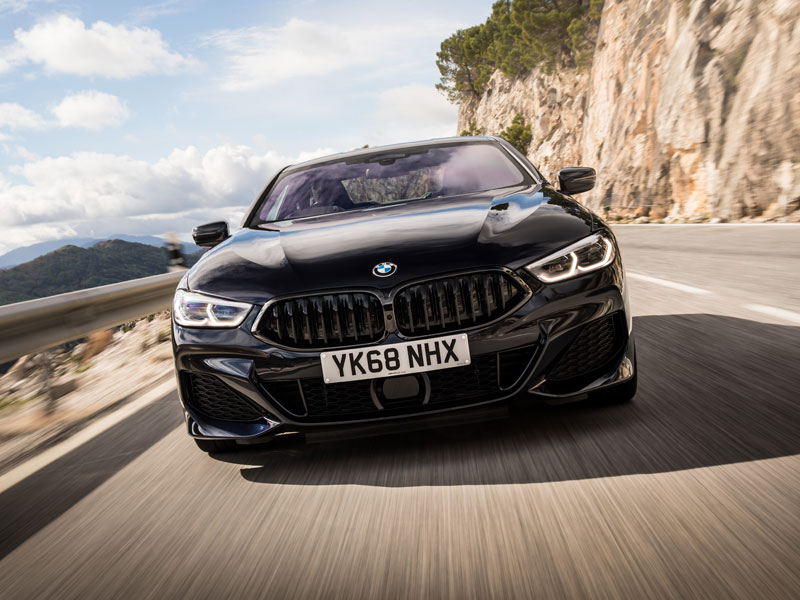 Optional active roll stabilisation further enhances the handling characteristics. Electric swivel motors on the front and rear axles ensure particularly fast and precise compensation of lateral forces. The backrest sections can be folded down either individually or together in order to further increase the load capacity of the 420-litre luggage compartment. This large boot means that passengers at the back don't have much space; however, I don't really see this as a family car so I wouldn't worry too much.Things get really sexy under the bonnet, where you find a 530hp V8 twin-turbocharged petrol engine. This is the latest generation of BMW's award-winning 4.4-litre eight-cylinder and has been radically revised. Two twin-scroll turbochargers with charge air cooling,
High Precision Injection, VALVETRONIC fully variable valve control and Double-VANOS variable camshaft timing all form part of the M Performance TwinPower Turbo technology, whose extensive overhaul has given a substantial boost to maximum output, torque and efficiency.The Driving Performance Control switch can be used to activate an extremely sporty and a distinctly comfort-oriented powertrain set-up. The BMW xDrive intelligent all-wheel-drive system operates more efficiently than ever before. With its rapid, precise and fully variable distribution of torque between the front and rear wheels, it maximises traction and handling stability not just when driving in adverse road conditions, but in highly dynamic driving situations too.The M850i xDrive Coupé accelerates from zero to 62mph in just 3.7 seconds.
The 840d xDrive Coupé produces a mix of pulling power and excellent fuel economy. The 3.0-litre six-cylinder in-line diesel with BMW TwinPower Turbo technology delivers a maximum output of 320hp and peak torque of 680Nm. This model sprints to 62mph from rest in only 4.9 seconds.Both engines use an improved version of the eight-speed Steptronic Sport transmission, with reduced weight, a newly developed controller and a gear ratio spread that has been increased from 7.07 to 8.59. As a result, it is possible to achieve significant efficiency gains with reduced engine speeds, particularly when driving in higher gears.
A clever combination of building materials, mainly aluminium and carbon fibre optimise weight and body/suspension rigidity. The bracing tube for the cockpit is made from magnesium and the centre tunnel of CFRP. The front axle is made almost completely from aluminium whilst the rear axle features a combination of lightweight steel construction with wheel carriers and forged control arms in aluminium.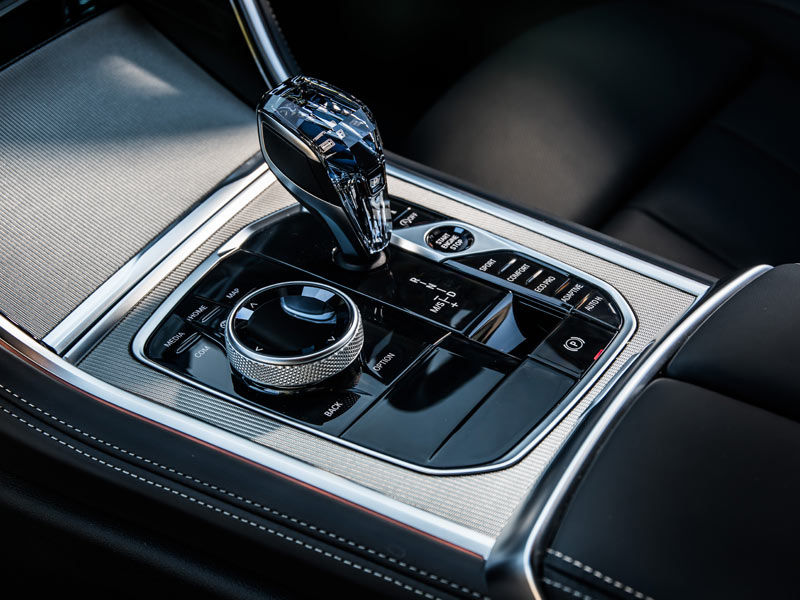 BMW have always been pretty strong on tech, and the 8 series is no exception. The driver assistance systems process camera images as well as data gathered by ultrasonic and radar sensors to monitor the vehicle's surroundings, to warn of potential hazards and to minimise the risk of an accident with corrective braking or steering inputs. The car is equipped as standard with Cruise Control with braking function as well as Collision and Pedestrian Warning with City Braking, the latest version of which also alerts the driver when a cyclist is detected. Amen.
Active Park Distance Control (PDC) with sensors at the front and rear is standard too as it is the Parking Assistant, which, once activated, takes care of the accelerator, brakes and steering as well as changing gear.
The BMW Head-Up Display comes as standard in the new BMW 8 Series Coupé and projects relevant driving information onto the windscreen. The Live Cockpit Professional includes an adaptive navigation system, a hard-drive-based multimedia system with 20GB, two USB ports, Bluetooth and WiFi interfaces.
The 8 Series also comes with an Open Mobility Cloud, which enables the personal mobility assistant to interface the car with all kind of digital devices, including iPhone, Apple Watch, Android smartphones and smartwatches, as well as Alexa-compatible devices and Google Home.The BMW 8 Series is on sale with prices starting from £76,270 OTR.