Gods – La Tragedia Umana is a sold-out play in Stockholm about one of the most controversial figures of our time: the white heterosexual middle-class man. Anders Modig finds that it gives hope for a new, better and less toxic masculinity.
"What the fuck did we just see? This play just makes me hate men even more than before." This 30-something woman, a complete stranger to me, just cannot stop herself from aggressively initiating a discussion. I do not agree with her – nor does the absolute majority of the audience flocking to see the critically acclaimed, sold-out play The Gods – La Tragedia Umana at Teater Reflex in southern Stockholm.
Written and directed by Emanuelle Davin and using Dante Alighieri's Divina Commedia from 1320 as a framework, it takes a long, close look at one of our time's most controversial figures: the white, heterosexual middle-class man. The question she pondered throughout the process was "What happens to somebody constantly pointed out as a perpetrator?"  Dante, brilliantly played by Teodor Olsson, is guided by Vergilius – portrayed by Daniel Ohlsson as incalculably as the Joker himself – through the nine circles of hell. In Davin's 2019 Swedish version, deadly sins are married with pop-cultural phenomena such as game shows, the quest for an abdominal six-pack, and braggadociously expensive wristwatches.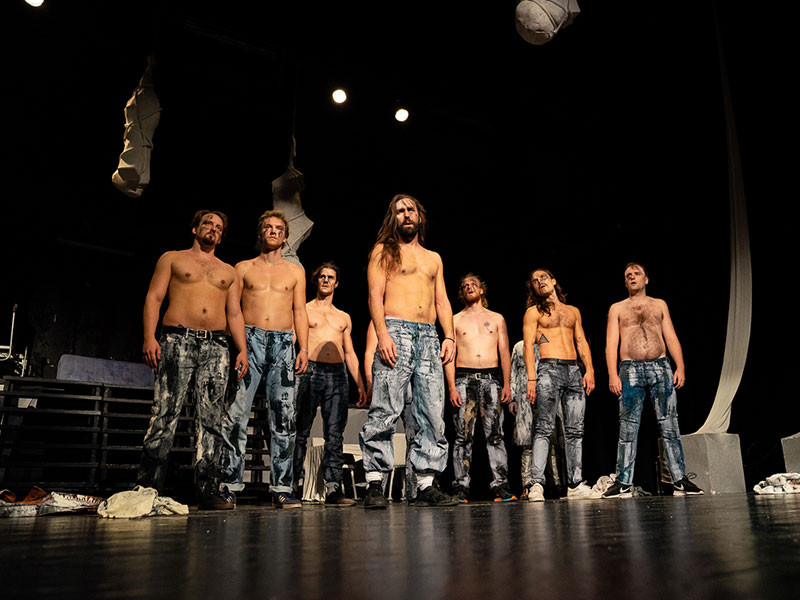 The initial tragicomic relief depicting burnout, soul-killing jobs and delusional intoxication quickly turns to violent bullying, brutal changing-room jargon and hyper-sexualisation. In a rape interrogation the accused claims to have no idea what went wrong – he just did what she asked him to. The intensely paced first act features a lot of collectively spoken, screamed and sung chorus by an extremely tightly woven ensemble. It's no mean feat, given the fact that the 11 actors and 9 choir members – all men – are often spread out all over and around the stage. A collective clad in a blue, grey and pink fashionista camouflage, completed by black paint smeared on their faces – reminiscent of warpaint (or smeared mascara) – they run, they fight, they swear, they sweat, they scream. And they suffer.
As the second act slows down it enters the darker corners of toxic masculinity. Here Dante meets mentally abusive relationships, aggressively bitter and self-righteous incels, Molotov-hurling fascists dreaming of a nostalgic past that never existed and contented school shooters. One of the most memorable scenes deals with the cyclic repetition of a complete communication breakdown between father and son. I look around and realise that I am not the only one in the audience with tears in my eyes.
Towards the end Dante has, in his utter loneliness, confusion and inability to find a relevant masculinity, eventually lost it. His predestined heroic path has not become what it was supposed to be. Instead of carrying out Herculean deeds along a shining boulevard of victories, he has devolved into a mere patient in a psychiatric ward. Here he is hushed and lulled by a generous medication prescribed by Vergilius, while the latter has transformed into an intellectual psychiatrist: despite soft mannerisms equally as heartless and omnipotent as Nurse Ratched.
So what do I make of this two-hour well-choreographed sweaty, violent, dirty, running, screaming, thumping, fucking, fighting, testosterone-fuelled display? Apart from the fact that theatre can be relevant and discuss the big issues without being placatory, it reminds me of the importance of a multichannel discourse. Yes, toxic masculinity is fucked up. Yes, men often lack communication skills, especially when in a group. But at the same time we must dare to see, think and say that men are also victims of existing patriarchal structures – just take a look at male over-representation in, for instance, suicide, violence and antisocial personality disorders.
If we want to move forward I believe that we must drop the male-hating attitude because even if it is understandable, it is anything but constructive. (And just imagine the contrary – me having seen, say, the play based on the SCUM Manifesto, and afterward aggressively approaching a female stranger to say "that just makes me hate women." I would be tarred and feathered before getting slowly stoned to death.) The play also gets my hopes up about a future masculinity in which men have the strength to bring our own dirty laundry into the light – a masculinity where men dare to be themselves but not in an atomised way. Spontaneous post-play discussions revolved around what it is to be a good individual and part of a supportive collective.
The Gods – La Tragedia Umana is a brilliant, intellectual and physical awakening from the polarised nightmare around us. Playing in December 2019, and practically sold-out, it will come back with more dates in January 2020 and hopefully a tour.
About director Emanuelle Davin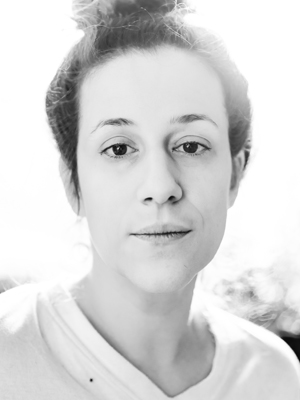 Emanuelle Davin graduated in 2016 from the national academy for actors in Sweden. Five of the plays she has written and directed have been performed at a mix of national institutions and private and independent theatres. As an actor she first performed in the national theatre at the age of nine. Since then, Davin has performed in 25 plays at a mix of the largest institutions and smaller venues.
Says Emanuelle Davin, who lives between Stockholm and Basel: "A struggle for women to be respected and be equal is still needed – but we must also see that men are victims of patriarchal structures. Women suffer the consequences, but men drown in them – because men are part of them and they don't know how to break free and still call themselves men.
That's why we need to create a more nuanced masculinity, and it is not up to women to define the male role. If we want a real change in men it must come from themselves. And it is not up to us women to raise them. So if we want a better masculinity for a more equal society, women have to take a step back