Located in the North of which is considered the most beautiful of the Maldives atolls, the Malé Atoll, just a 30-minute boat ride from Velana International airport, Malé, the Kuda Villingili Resort Maldives is the kind of private island where one easily loses track of time and space. Further enhancing the luxury five-star resort, the recent relaunch of their 28 water villas has seen the addition of private pools overlooking the ocean. New beach residences also feature private pools and include a three-bedroom beach retreat – The Suite – with an oversized swimming pool directly facing the shimmering lagoon. The interiors of each residence capture the idyllic island lifestyle and elegant spirit of the Maldives, with a design enriched by Asian culture and complemented by traditional Maldivian arts and fabrics.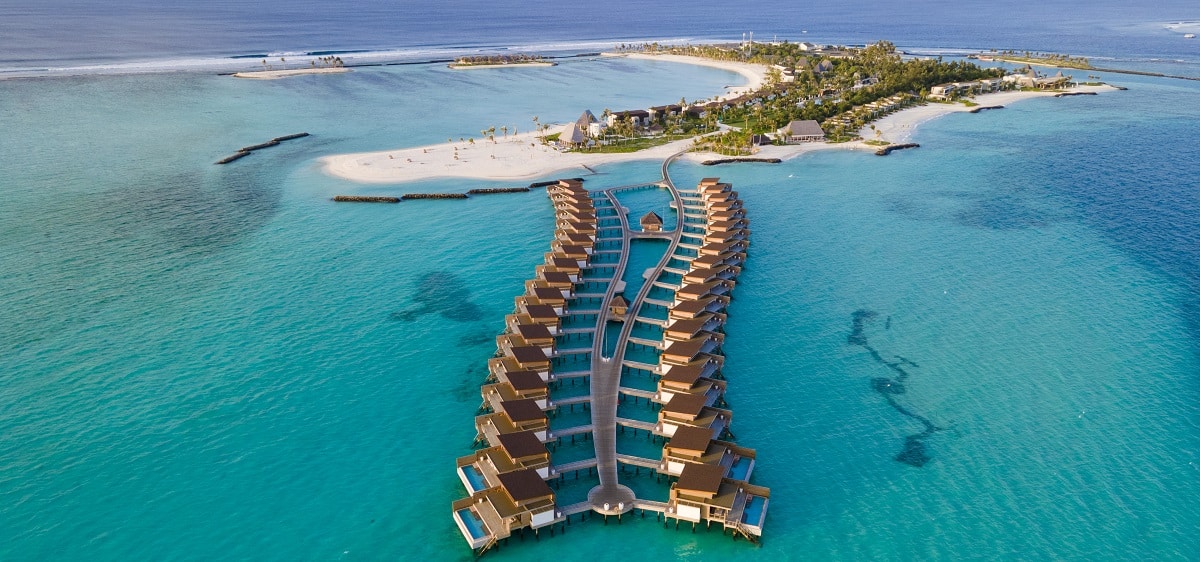 The water villas feature king-sized beds, spacious bathtubs, shaded dining decks overlooking the horizon, and spacious living areas, allowing the ocean breeze to flow in and out.
Spend time with loved ones, make up for lost time, strengthen friendships, or form new ones ー whether you are travelling as a couple, with your family, a group of friends, or even alone, Kuda Villingili is a slice of paradise where everyone is welcome. The resort's focus on time and space balances a sense of togetherness and inclusivity, with privacy and independence, allowing guests to have a personal experience and making each journey unique.
The diverse array of gastronomic delights at Kuda Villingili is an experience not to be missed. The Restaurant combines three chic and sophisticated dining spaces inspired by three elements: Fire (flames and flavour) celebrates the traditional American steak house and explores the art of grilling meats to perfection; Earth (a story across Asia) is a menu featuring natural and organic ingredients to enhance classic noodle and dim sum dishes; and Ocean (simply timeless) offers a fine dining experience championing seafood prepared in European style. Poolside, The Hawker's sharing style plates showcase street-food tastes from across the Mediterranean, Asia and the Far East, all prepared in open-kitchens, which I always find slightly hypnotic. Situated by the beach with a perfect view of the azure lagoon and colourful sunsets, Mar-Umi Restaurant and Bar offers South American cuisine during lunch, and artistic displays of flavourful Peruvian and Japanese fusion dishes in the evening.
View of Mar-Umi Restaurant & Bar in the evening. At dinner, it offers a sophisticated Peruvian and Japanese fusion menu.
Although the whole island invites you to forget about time, the place where you will truly drift into an absolute state of relaxation and forget about everything else is the Kuda Villingili Ocean Wonders Spa, which comprises of eight treatment villas overlooking the sea and set on a private sand bank. The expertly curated treatment programme is inspired by South Asian influences and features a lava shell and raw baby coconut massage and different Ayurvedic therapies, including shirodhara (which involves genly pouring a liquid onto your forehead, combined with a body, scalp, or head massage) and prishtabhyangam with kizhi (which I challenge you to pronounce but it is basically a back, neck and shoulders massage.
For the more adventurous spirits, the resort is brimming with options above and below the waves. From a fully equipped gym and state-of-the-art tennis courts to beach volleyball and an elevated yoga pavilion with daily classes. Adrenaline junkies can easily feed their addition surfing the majestic waves at the nearby Chicken Break – a stretch of reef that creates clean 10-second barrels and is one of the world's top surfing spots. Once you have washed off the sand, you can head out for cocktails at sunset to witness the unique glow of the fluorescent marine life. And these are just a few of the amazing activities available at Kuda Villingili!
Schools of dolphins are commonly seen in the waters around Kuda Villingili. The resort organises special cruises to sail among these majestic creatures.
If you travel with little ones, Kuda Fiyo is more than a kids club. Kuda Villingili's special team leads fun-filled games, activities, and creative workshops around the island to spark imagination and make each child's holiday unforgettable… not to mention leaving them nicely tired to guarantee a good night sleep for them a quite evening for the grown-ups. In addition, the marine conservation programme enlightens young minds about nature and the efforts undertaken to preserve the beauty of the Maldives and its marine life.
From spa and relaxation enthusiasts to the intrepid adventure seekers, Kuda Villingili offers a Maldives experience for all.
For bookings and reservations, visit HERE.