In all my days of watching film, I heavily doubt I've seen a piece as complicated, hard to follow, but at the same time as gripping and attention capturing as The Long Walk.
Written by Christopher Larsen and directed by Mattie Do, the two fusion their skill to bring us a motion picture filled with sorrow, haunting realities, supernatural occurrence, and occult practise. Mattie Do is Laos's first female film director, critically acclaimed for her previous film, Dearest Sister.
The Long Walk is set in Laos, in a humble village where an old man old man (played masterfully by Laotian actor Yannawoutthi Chanthalungsy) discovers that he can travel back in time and speak with the dead. In the first scene, we find him walking through the forest as he speaks to a mute woman, of course getting no response at all. Yet we can sense that he is completely comfortable with his companion, as he continues to converse. When the same man goes to make a sale to a local tradesman, payment is made with a new age virtual barcode which appears on his wrist, giving the feel that despite us being in a rural village, we are in the midst of a futuristic dystopia.
The old man goes back to his own past to convince his younger self to forestall his mother's terminal suffering.
In a separate scene later in in the movie, we learn of a small boy of this same village helping his poor parents work the fields in order to make ends meet, at the same time trying to learn life. He has a very close, loving relationship with his mother, not so much the same with his angry alcoholic dad, and the young man is dealt a harsh reality of life when mother turns chronically ill.
Enraptured by his new ability to travel back in time to influence the course of his mother's passage into the next life, Chanthalungsy's character is oblivious to the consequences of his interventions.
In the absolute weirdest way, the film develops and I promise that you'll be completely astonished by how the story of the older man and the small boy amalgamate, not to mention the mute lady he walks with at the start.
From the beginning all the way through to the end, the film is painfully harsh and sorrowful, especially on our young friend, no older than six years of age I'm guessing. But Christopher Larsen and Mattie Do do a wonderful job to keep us riveted to the storyline, right till the very end.
What impresses me the most is that none of the main characters are named throughout the film, a very skilful strategy by the creators. Without knowing anyone's name, we still manage to drum up much passion for all of them as they endure their plights, allowing us, the viewers, to relate to them on a deeper level.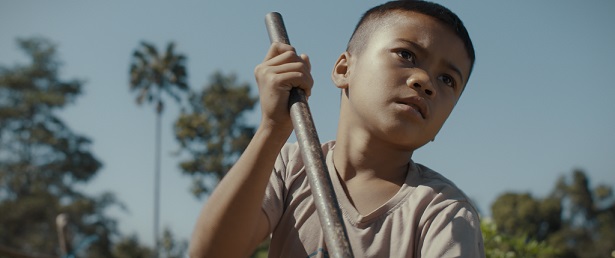 Chanthalungsy's character had his first encounter with a ghost as a child.
As well as ghostly presences, death, torture, false imprisonment, and futuristic new world order payment methods, we also witness timeline shifts aplenty, as well as merging of the past and future.
A true enigma of a film, The Long Walk requires a bit of patience as it gets pretty complex at times, but Do infuses it with so much poignancy and humanity that to me, makes it really worth watching.
Words: Papa-Sono Abebrese
The Long Walk is available on Digital Download Here