Sponsored by PEACH
On October 9th at ETHOS in central London, we celebrated the first edition of the I-M Formidable Women Awards, hosted by the talented journalist Kat Brown. This year has marked the 100th anniversary of women obtaining the right to vote in Britain. At present we have a female Prime Minister in the UK and a female First Minister in Scotland, there is a female Chancellor in Germany… and we almost had a female President in the US.
More and more women are climbing through the ranks of the corporate world and more female artists and athletes are being recognized. It is an amazing time to be a woman. At I-M Intelligent Magazine we wanted to celebrate the success and worth of women in Britain, and thus we were very proud to launch these Awards.
Over 10 weeks, 13,000 people voted online for our 24 nominees and more than 120,000 read about these formidable women on our website… and 28% of our social media followers engaged with the finalists through our Instagram account.
Categories, nominees and winners:
The nominees to the Entrepreneurial Award were
Nadja Swarovski, Karen Adler and Maria Hatzistefanis.
The winner was Maria Hatzistefanis, founder and CEO of Rodial

Maria Hatzistefanis: Maria says that getting fired for her banking job at the age of 25 was the best thing that ever happened to her. A couple of years later she had founded Rodial, a cosmetic business that today is worth £100million, and she did it all without a single penny from investors.
The nominees to the Inclusion & Diversity Award were
Carolanne Minashi, Justine Waddell and Hager Jemel.
The winner was Carolanne Minashi, Global Head of Diversity & Inclusion at UBS.
Carolanne Minashi: As Global Head of Diversity & Inclusion at UBS, Carolanne is focused on fixing the system rather than fixing the women. She has been driving a cultural change agenda to have a greater number of Women in Senior Leadership roles. She is a member of the Women's Leadership Board at the Women and Public Policy unit at Harvard Kennedy School, a Chartered Fellow of the British Chartered Institute for Personnel and Development.
The nominees to the Young Talent Award were
Eve de Haan, Hazel Hurley and Kim Vanessa Kortlepel.
The winner was Kim Vanessa Kortlepel.
Kim Vanessa Kortlepel: She is not even 25 and Kim has already graduated in Law, completed a Masters in International Public Law and founded her own jewellery brand, KVK73. Her designs are fresh and colourful, inspired by her family and her experiences from her childhood days. Kim is a talented designer, driven and determined, and believes in never giving up.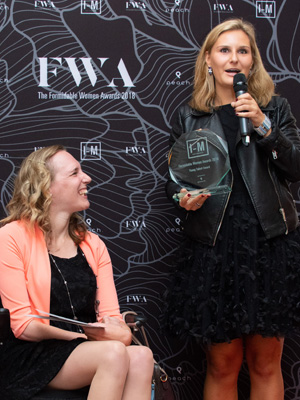 The nominees to the Artist of the Year Award were
Beth Cullen-Kerridge, Alexandra Llewellyn and Day-z.
The winner was Beth Cullen-Kerridge
Beth Cullen-Kerridge: Beth is a celebrated sculptor who has firmly established her singular vision upon the contemporary art scene. She honed her craft producing works for Edwardo Paolozzi, Elisabeth Frink and Alberto Giacometti, before becoming a studio assistant for Mike Bolus and Sir Antony Caro. She has worked on projects with Sir Norman Foster on the Millennium Bridge, Richard Rodgers at The Tate, and a number of shows at the Venice Biennale. Her recent 16-foot-high Carrera 'Dhow Sail' marble sculpture installation for Dubai Opera received worldwide critical acclaim and in November 2017 Beth was awarded the 'Global art prize for sculpture'.
The nominees to the Inspiring Personality Award were
Dame Jessica Ennis-Hill, Sophie Christiansen and Kamin Mohammadi.
The winner was Kamin Mohammadi.
Kamin Mohammadi: is an author, journalist, broadcaster and public speaker. Born in Iran, she and her family moved to the UK during the 1979 Iranian Revolution. Her journalism has been nominated for an Amnesty Human Rights in Journalism award in the UK, and for a National Magazine Award by the American Society of Magazine Editors in the US. She has authored two books and has spoken on Iranian issues at universities, conferences and peace events. An avid commentator, she has appeared on many radio programmes in the Uk and abroad, taken part in the BBC television documentary Iranian Enough? and helped to write and co-present the BBC World Service's three-part radio documentary Children of The Revolution.
The nominees to the Conservation and Sustainability Award
were Inger Andersen (IUCN), Dr Vreni Häussermann and Caroline Scheufele.
The winner was Vreni Häussermann
Dr Vreni Häussermann: As as a marine zoologist, Vreni has spent the last 20 years of her life studying the biodiversity of the Chilean Patagonia aiming at its sustainable use and conservation. Since 2003, she is the Scientific Director of the Huinay Scientific Field Station in Patagonia. Part of Dr. Häussermann's vast amount of work is to advise both NGOs and the Chilean government on matters of conservation and marine resource management.
The nominees to the Philanthropy Award were
Olga Murray, Suzanne Ruggles and Lise Pape.
The winner was Olga Murray
Olga Murray: Olga founded the Nepal Youth Foundation in 1990 to help impoverished children in Nepal and free young girls from slavery. Over the decades, she has helped hundreds of thousands of children and raised millions for new schools, nutritional centres and feeding clinics. Her work is globally recognised; even Ophra Winfrey made a tv show about her!
The nominees to the Life Achievement Award were
Christiana Longarini, Koo Stark and Harriet Harman MP.
The winner was Koo Stark
Koo Stark: Koo Stark is a writer, teacher, actress and most importantly, a photogra- pher. She is also a a long-time student of HH the Dalai Lama, whose friendship and teachings gave Koo the insight to meditate on the potential of capturing the beauty of life through photography and using the medium as a means of non verbal communication. Harassed by paparazzi for many years, she initiated legal actions that would end up in the creation of the law on privacy in this country.