Before I give you a review of this wonderful restaurant in the heart of Mayfair, it is only fair that I share with you some of its rich history, what will help explain why this is one of London's most beloved hotel restaurants. The Stafford is rich in historic intrigue from the 17th century to the present day. Numbers 16-18 St. James's Place was originally built as a private residence nearly 400 years ago. Number 17 was most famously owned by Lord and Lady Lyttelton, daughter of the then Earl Spencer, who was pressed into service as nanny to Queen Victoria's children between 1850 and 1912.
In the years that followed, the house changed hands many times, becoming the Richmond Club Chambers, Green's Private Hotel and St. James's Palace Hotel. The Stafford Club, originally housed in number 18, was added in 1886, and in 1912, the hotel was extended to include number 16; The Stafford Hotel was born.
During WWII, The Stafford London served as a club for American and Canadian officers stationed overseas who sought refuge in its Wine Cellar. This led to the formation of the Better 'Ole Club whose membership comprises guests recognized for services to The Stafford London, like HRH the Prince of Wales. A glimpse into this period of history can still be seen at the far end of the wine cellars, which were used as air raid shelters and know host a mini museum of relics of the time.
Every mouthful was a joy…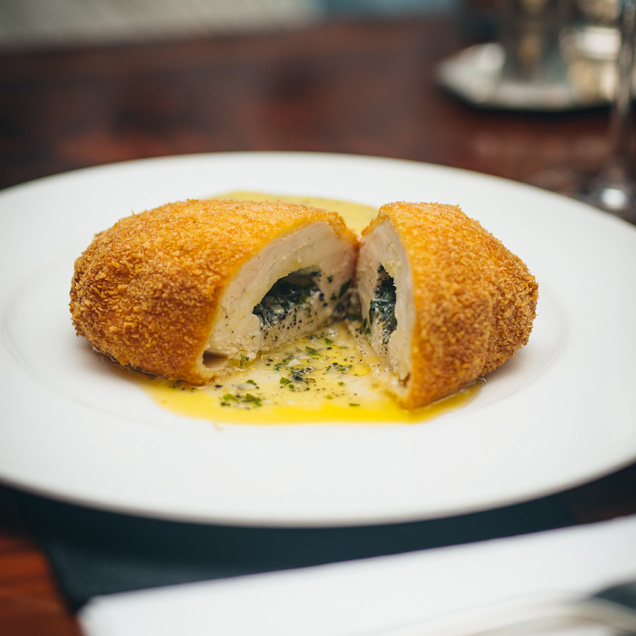 As you walk through the doors of the Stafford into The Game Bird you feel a wonderful sense of coming home. The Dinning room is perfectly distributed, with two outstanding marble tables for four either side of a huge flower display of Tiger Lilies. The chairs are made of light green silky velvet that invites you to sink in, decorated with bright chintz motives depicting colourful game birds. The bar sits at the front, comfortably curved, warm and inviting. There are a further five tables not too far apart and on the far-right corner three steps lead you to a more secluded dinning space, either for private dinning or a little bit of romance.
My husband is a regular but on this occasion, I took my darling editor Julia with me and of course, we lunched at his favourite table. My beloved had given me a tip, "Whatever you order," he said, "under no circumstances miss out on the Dressed Devon Crab." I am delighted that I took his advice; this is probably the most delicious crab I have ever tried. The secret -I am told- is that the white meat is gently whisked with egg white, which gives it a delicate light texture and enhances flavour.
As a starter, Julia had the three different styles of H. Forman & Son smoked salmon: The London cure, Beetroot cure and The Balvenie. Each salmon had a totally different but equally subtle taste, perfectly accompanied by free-range chopped egg, cucumber and dill pickle, mustard dressing and horseradish crème fraîche. Gino, our wonderful and attentive sommelier, chose for both of us a 2018 crisp light Pinot Grigio Borgo Magredo Fruili from Italy.
We decided to follow with two of The Game Bird's signature dishes. Julia chose The Game Bird pithivier, a wonder of a pastry case bursting with wood pigeon and other seasonal game birds, drenched in a rich fragrant truffle bordelaise sauce. Gino suggested a glass of 2014 Brunello di Montalcino Arbadia Ardenga from Tuscany that made my editor squeal with delight.
I chose the utterly divine free-range chicken Kiev with truffle butter and pomme puree and three slices of delicate black truffle laid upon it for extra indulgence. It is so scrumptious and oozing with truffle butter that it is essential that you wear a specially designed butcher's bib to protect your clothes; such theatre, such fun. Every mouthful was a joy. I accompanied it with a 2018 Pinot Noir from the Palliser Estate Martinborough, New Zealand.
I am so naughty and have such a terribly sweet tooth that I couldn't resist the temptation of ordering their Lyle's golden syrup sponge pudding with vanilla custard. We shared a Baron de Sigonac; this was the perfect ending to a delightful and wonderful lunch. Just when I thought my wonderful experience had come to an end, I was invited to visit their wine cellar. As I browsed its hallowed racks, I noticed such gems as Château Mouton Rothchild 1982, Château de Croix de Gay Pomerol 2009 and a 1977 Taylors vintage port.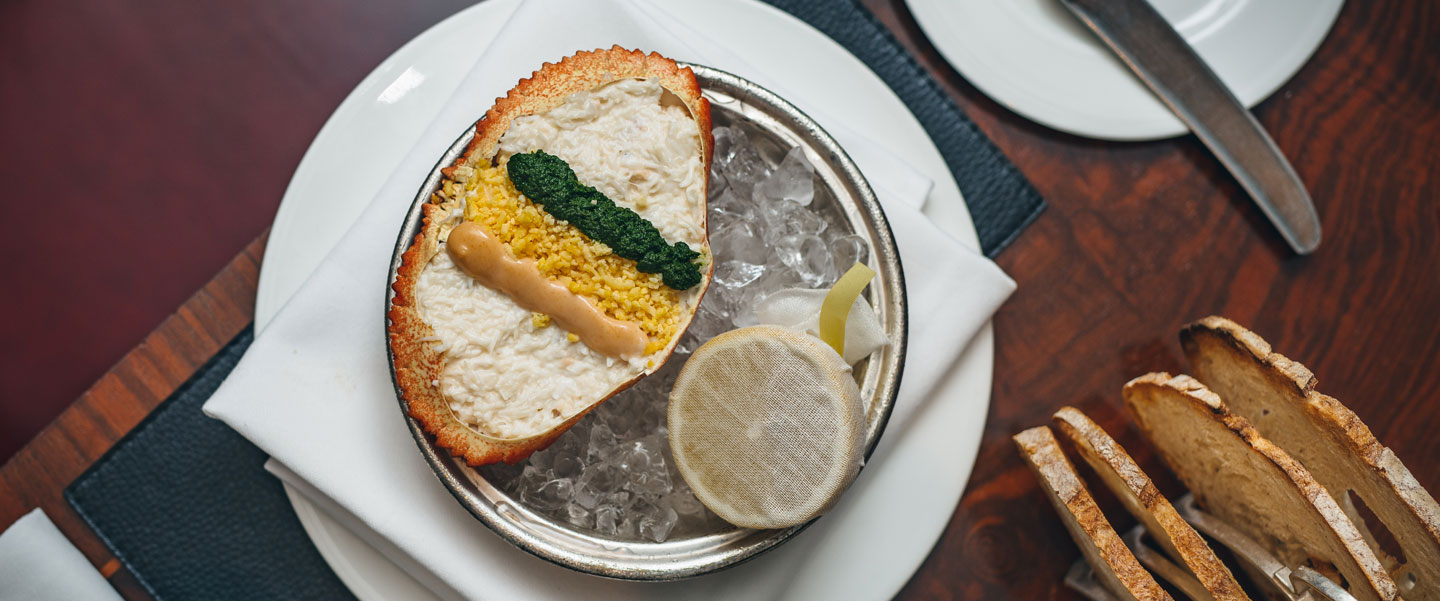 The cellar is also available for private hire to hold small events and wine tastings without losing any of its original WWII charm, it is now as it was then. I felt like I was stepping back in time, wondering what other secrets and stories were hiding in the brick walls of 16-18 St James's Place.
The Stafford London
16-18 St James's Place, London SW1A 1NJ
Tel: +44 207 493 0111