Globally recognised as one of the best boarding schools in the world, the team at Institut auf dem Rosenberg have always prided themselves on being "artisans of education" rather than just teachers and coaches.
Set on exquisite grounds in St. Gallen, Switzerland, Rosenberg offers a holistic approach to learning, which closes the gap between education and the real, professional world of the 21st century.
The school's state-of-the-art facilities provide an environment that promotes learning and enables outstanding academic performance, thanks to Rosenberg's individual approach to education which has been designed to broaden students' minds and nurture their creativity, intuition, and social skills. With an average of eight students per class and a teacher to student ratio of 1:2, the Swiss private school is in a unique position to deliver on its mission.
As part of its commitment to innovate, Rosenberg inaugurated a state-of-the-art Future Park in September, featuring a Climate Garden, a Farm Bot and Wind Trees, with the aim of encouraging planet-centred thinking among students. They have partnered with some of the world's leading organisations in the field of science and technology, including ETH Zurich (www.ethz.ch/en.html) and Boston Dynamics (www.bostondynamics.com). This futuristic facility takes inspiration from leading figures such as Elon Musk and Sir Anthony Seldon.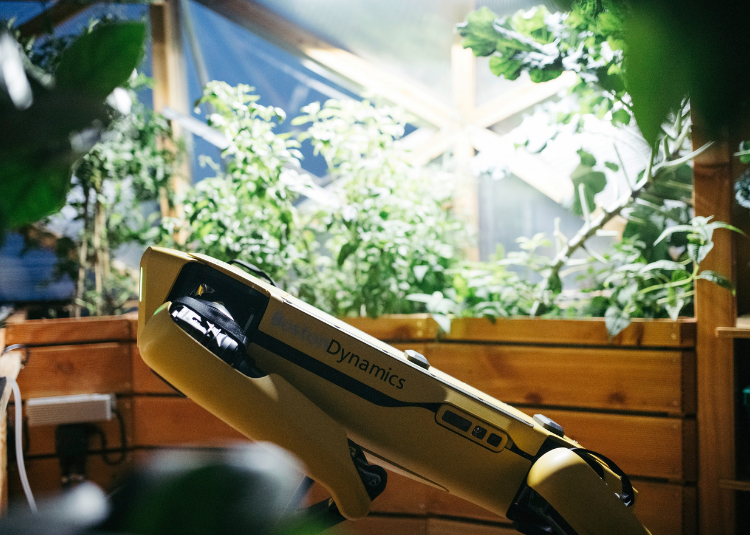 Speaking to I-M Intelligent Magazine, Mr Bernhard Gademann, Director and Headmaster at Rosenberg, said: "The Rosenberg Future Park is an example of how education must adapt to support the ever-evolving working world. It is a space dedicated to research and experimental learning to foster innovation and creativity on an entirely new level."
The facilities at Rosenberg's Future Park include:
Outdoor Lab: The Outdoor Lab is conceptually similar to the Rosenberg Creative lab where art, technology and design are used together as experimental extensions of human imagination and creativity. It hosts Boston Dynamics' Spot – a robot that helps students unlock creative engineering ambitions. Spot can be programmed to report back on the Rosenberg Future Park systems, allowing the school to be notified if there are any issues and new findings. This real-time learning is crucial for Rosenberg's students and the core reason of why the school is investing in robots and projects such as Future Park.
Climate Garden: The Climate Garden hosts a hybrid climate zone made of two different domes with a variety of plants that will enable students to see how climate change has an impact on vegetation. In this collaborative project with the Zurich-Basel Plant Science Centre of the ETH Zurich, the predicted weather conditions of 2085* are simulated to create a comparison to the average temperature in Switzerland now, differing between +2ºC and +4ºC. Multiple sensors throughout the two domes continually collect and communicate data for analysis used in student projects. The aim is to effectively demonstrate the result of global warming and promote planet-centred thinking among the students.
*The Climate Garden 2085 is an art-science experiment which was initiated by the Zurich-Basel Plant Science Centre in collaboration with the Botanical Garden of the University of Zurich. This interactive experiment invites the public to personally experience climate scenarios and their predicted effects on agricultural plants, landscape and forests in Switzerland.
Vertical Farm: Vertical farming is a means of tackling one of humanity's most pressing challenges: to provide sustainable food for our daily needs. New vertical farming technologies have brought forward a system of circular irrigation and a farming method that reduces production costs while protecting natural resources. With the help of ETH spin-off Yasai, Rosenberg pupils have designed their own version, an example of how student work is guided by industry specialists. Rosenberg's cuisine team makes use of the healthy produce grown in the Vertical Farm to supply crops for students all year round to eat in their school meals.
Farm Bot: Working inside The Climate Garden is a Farm Bot which prepares, plants, grows and nurtures crops through atomisation. Rosenberg students learn to programme the robot and use it for research purposes, teaching them not to fear technology, but to embrace the new opportunities it offers.
Wind Trees: All projects within the Future Park are connected to a self-sustaining energy network, which is partly driven by Wind Trees, which provide sufficient wind power to power most of the electronic devices within the Climate Garden.
The ambitions for the Rosenberg Future Park stretch well into the future. The current facilities will be soon joined by the Rosenberg Drone Port and Future Living Pods among, other exciting projects. The Future Living Pods will enable students to work with ground-breaking space architects at SAGA to experiment with design and technology that will shape future living, combining traditional artisanship with contemporary inventions.
Enquiries: info@instrosenberg.ch
Tel: +41 71 277 77 77