By Lavinia Dickson-Robinson
Leica has been the byword for excellence in photography for over a hundred years. Quality is defined in all of Leica products, not only from an engineering and manufacturing point of view, but also because of the images that a Leica camera produces. So, imagine how I felt as I walked into the hallowed ground of the Leica factory based in Leitz Park on the outskirts of Wetzlar, which opened in June of this year.
For a moment, I was transported to a James Bond film set; so secretive is the work and technology that is created at Leica. It's not just the beautiful design of the camera case, but their signature lenses that creates the real magic. Even to this day, your Leica lens is hand polished to its final perfection. Did you realise that some of the most iconic photographs of the 20th century were shot through a Leica lens? From that haunting image of James Dean hunched up walking in the rain in the middle of Time Square, taken by Dennis Stock in 1955 to Mohammed Ali's famous photograph, in which he appears to be about to punch the lens, shot by Thomas Hoepker with a Leica MP 88 in Chicago in 1966.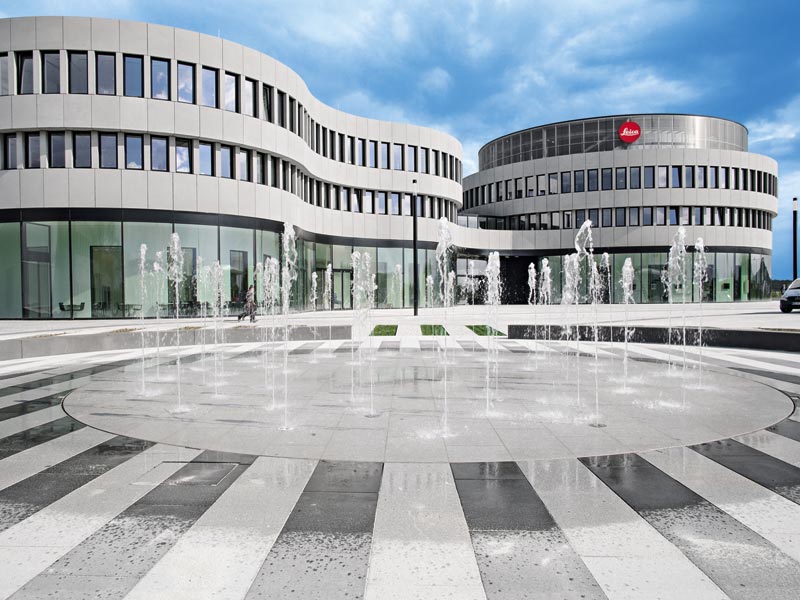 Last, but by no means least, the unforgetable photograph of a sailor kissing a girl in Time Square to celebrate VJ Day, taken by Alfred Eisentaedt. Who could possibly not want to own a Leica camera and find out the beauty and joy of looking through its viewfinder? In June of this year, Leica Camera AG opened Leitz-Park to great critical acclaim. It took two years to build this complex on the Schanzenfeld site, south east of the beautiful City of Wetzler, where Leica was opened by Ernst Leitz in 1914.
Leitz-Park was created to be a leading centre of the optical industry which embraces the very best in 21st century architecture and design. Leitz has created a space where research, art and culture entered into a symbiosis that would attract photo enthusiasts from all over the world. Not only it provides over 1,200 jobs, but also brings great benefits to the local tourist industry. This beautifully designed complex was realised by Frankfurt based architects Gruber+ Klein-Kraneburg. Leitz has four beautifully designed buildings within the complex, including a hotel with 129 rooms, apartments and suites. This is a space where research and development, production, and science, meet culture, gastronomy and living in harmonious unity.
The hotel showcases an exhibition of more than 250 photographs by over 60 photographers. Leitz Park is so much more than a day trip; it is a whole new tourist destination, with enough to sate even the keenest of minds.
The Head Office of Ernst Leitz Wetzlar has been in the complex since it was founded in 2008 by Dr Andreas Kaufmann. Ever since, it has earned an outstanding international reputation. In 2015 the Summilux-C Lenses played a role in the winning four Oscars for the film Birdman, this in turn, went on for the team to win the highest film industry accolade for technical products and innovations, the Sci-Tech Award, also known as the Technical Oscar.
Leica are also in the process of manufacturing a limited high-end mechanical watch, which will be manufactured as a limited series. If that was not exciting enough just in time for Christmas, Leica has just launched a stunningly attractive New Leica Set for the Street Photographer. Leica Camera unveiled its new Leica CL 'Street Kit,' for photographers of all skill levels seeking a compact, yet high-performance system camera and lens. The kit includes the small and versatile Leica CL system camera and a Leica Summicron-TL 23 mm f/2 ASPH lens, which together form a set ideal for photographers who covet intuitive handling, iconic industrial design and the storied Leica Look. The kit is perfect for lightweight travel and daily excursions, and comes outfitted in classic anodized black finish with an ergonomically designed handgrip, premium black leather carrying strap and convenient second camera battery.