Following a COVID-19 hiatus, the Affordable Art Fair came home again to leafy Battersea Park for its 2021 edition. Known for displaying an array of contemporary galleries alongside exciting artworks by recent graduates, this year there is also a new experimental art installation to welcome attendees on arrival. For nearly 21 years Affordable Art Fair has provided a platform for the very latest in affordable, contemporary art to be showcased in a fun and friendly atmosphere. The 2021 edition did not disappoint.
As the autumn and cooler weather draws in, on my tour around the fair it was wonderful to witness how the artists approach colour in bold and beautiful ways and use creative methods to brighten up our days. Most impressive was the diversity of new talent in the Recent Graduate display, showcasing some of the brightest UK art school graduates of recent years. I was particularly taken with the charming work of Bokani Tshidzu and her methods across a variety of disciplines and media – including the use of gilt mirrors – to explore the visual experience of nature. Her use of depth and colour was mesmerising and to hear her speak about her passion around the environment and climate, along with her creative methods, was inspiring.
Another offering from the graduate stand was Daisy Isles who uses colour as a tool to communicate her experiences and creates a collage-like aesthetic in her work. Her playful, direct approach to documenting interior spaces communicates her own experience of the everyday. The joyful and colourful paintings celebrate the mundanity of the domestic interior by isolating objects and depicting them as simple shapes in block colours. Colour clearly plays an essential role in her practices and ultimately, determines the feeling of her work.
"My work communicates a joy in ordinariness."

– Daisy Isles

A new concept and a must-see in this year's fair was an interesting interactive, walk-through art installation entitled, Fluid Form, by artists Violeta Maya and Persiis Hajiyanni. The ambitious sculpture explores the transformative power of water, the protagonist of the installation alongside ice, light and sound. Commissioned by Martin Miller's Gin, Maya and Hajiyanni created Fluid Form in response to a special open call to explore the theme of transformation, which is at the heart of the brand's DNA and process of gin-making. It features a range of suspended ice sculptures that sporadically melt into beautifully hand-blown glass throughout the day, creating fascinating plays of light and shadow as you walk through the installation. The glass was blown at the La Real Fábrica de Cristales de La Granja, a palace which houses a historic glass factory that still uses traditional techniques. Surrounded by an array of billowing curtains, this was a peaceful oasis of calm amidst the vibrancy and excitement of the fair. The artists clearly wanted visitors to take their time absorbing the process and reflecting in their own thoughts. Persiis said, "The piece is aiming to offer a 'slowdown moment' in a crazy art fair environment."
"Central to the artwork is the ice, which as it melts, distorts and impacts the light shining through the glass into the space…"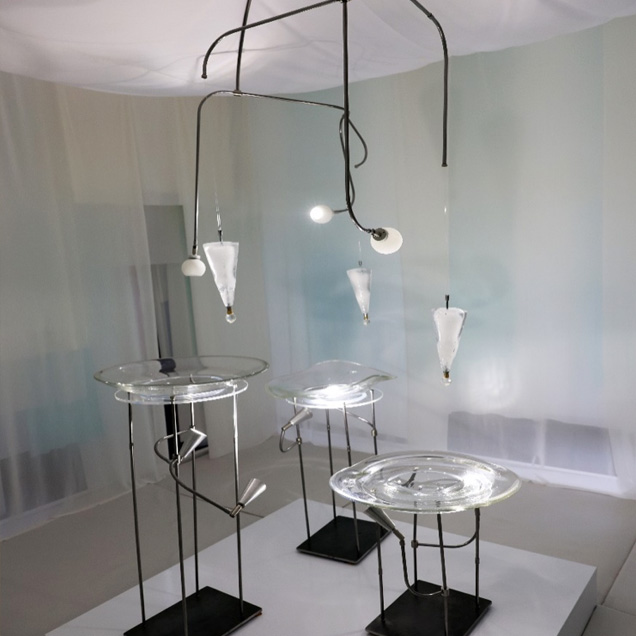 Chloe McCarrick, one of the offerings from Mint Art Gallery was another of my favourites. She has created an eye-catching collection from mixed-media printmaking. There were many pieces of her work on display, but I was particularly drawn to the eye-catching visual narrative of female empowerment in her innovative ways of reworking photographic images through collage and mixed-media print techniques. Chloe tells the story of the lives of extraordinary trailblazing women – celebrating their achievements and uncovering their struggles by blending science, darkroom alchemy and art. There is also a real connection to the elements of nature in her work. McCarrick says "The key emotion is to feel connected – connected to the story, the techniques and the science behind the work; and to be connected to the elements of nature I introduce to explore human experience and the relationship between each of us and the world we live in."
"The key emotion is to feel connected – connected to the story, the techniques and the science behind the work…"

– Chloe McCarrick.
Finally, as I am about to finish up my tour of the fair, I discovered the work of contemporary colourist painter Emily Powell at Livingstone St Ives gallery, which exhibits and sources contemporary art associated with Cornwall. Emily has a wonderful signature style of candy pop and acid colour combinations along with the use of characterful animals. Colour and creativity fill her paintings, which span diverse themes and engulf the viewer in a technicolour burst of life. Her work really represents all things bright and beautiful.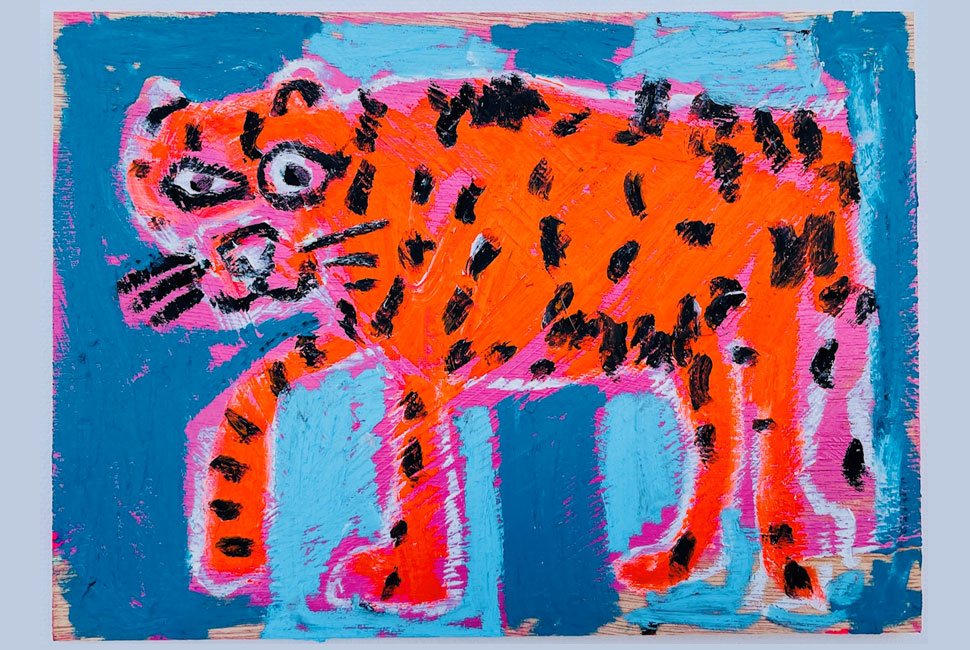 The amazing thing about this art fair is that it enables everyone to discover the joy of collecting original artworks. Prices range between £50 – £6,000 and the fair is packed with inspiring art to suit all tastes from over 100 UK and international galleries. With such a huge array of contemporary artworks, whether you're looking for bold and bright or suave and subtle, larger than life or delicately detailed, one is clearly spoilt for choice!
Words: Linda Hunting
Opening picture: Henrietta Dubrey, Heavenly Beauty.