Epicurean journeys
Growing up in England in the 70s, we had just three televison channels. Often, programmes would be shown in black and white, and there was a test card that regularly filled the otherwise blank screen, as content was limited.
It wasn't until the early 80s that Channel 4 came along!  Today, there are literally thousands of TV programmes available. Gin has a similar story, from an effective market control by a few big brands, we have moved on to multiple new creators worldwide and small batch producers who continue to stretch our horizons with different botanical compositions. This is certainly something to celebrate and explore. The usual suspects remain, but unlike Keyser Soze, who was not what he appeared to be, the Emperor's new clothes have been replaced.
East is East, West is West and North is far from South. In times of satellites, the world wide web profits and transatlantic travel, the longitudinal and latitudinal differences between us evaporate.  Evaporation by imbibing is a pleasant problem most gin lovers grapple with.
But where to start out on a journey of discovery? The world, a large and disparate place has different corners offering various cultural flavours. Gone are the solo days of magnolia gin.   As Phileas Fogg set out from London, that we will be our prime meridian for the purposes of this geographic exposition: searching out a gin from the East, the West, the North and the South. Pursuit of something not readily attainable engenders great excitement through the journey and a heightened satisfaction once the destination has been reached.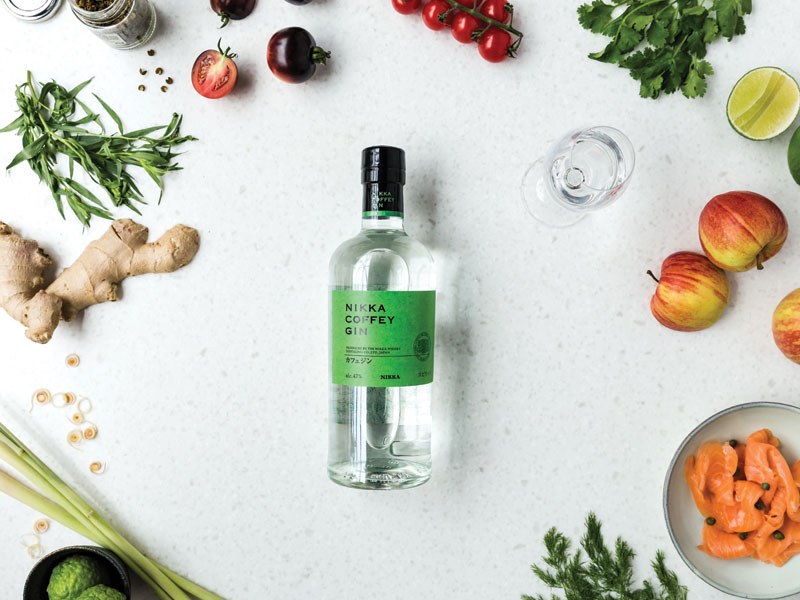 Beginning in the East, where the sun rises, it would be tempting to commence with Japanese gin Nikka Coffey, a sublime blend of Japanese citrus and peppers, over a blend of barley and corn. Nikka Coffey gin has an unusual palate, it builds from the citrus notes of its botanicals, through unexpected sourness to then, finish with quite a bitter touch that lingers in your mouth for quite a while. At 47%, Nikka Coffey Gin is not for the faint-hearted. Available at www.specialitybrands.com
In this occasion, we'll venture further East to New Zealand, to Black Robin. The name stems from a rare and endangered bird native only to the remote Chatham Islands of New Zealand and a percentage of profits assist with conservation. A number of gin and vodka producers now donate to help protect wild animals.
Ecology and purity are key elements of the ethos of Black Robin. New Zealand is endorsed by the United Nations world Health Authority as having the cleanest, purest and most natural water in the world. 'From the world's purest country comes the world's purest gin,' natural, organic, gluten free, GE free; a mellow purity, naturally distilled two times more than most gins. Black Robin combines the ancient flowering native horopito plant with traditional exotic botanicals.
One could say it is a healthy gin since horopito is a polygodial. Hotter than peppers and chillies, this plant seems to have medicinal properties that support the microflora in the digestive tract. The taste is spicy citrus with elements of mint, pepper, liquorice, and all the flavours interact harmoniously and naturally. At 43%, it comes presented in a tall, slim and elegant bottle depicting the black robin. A rare bird, a rare gin, a rare treat, a sublime find. Available at ben@.
"Go West young man," in this case to North America, California, for St George Terroir, the taste of the forest. Terroir is a term more associated with the geological and environmental conditions in the production of French wine, but it is a pertinent description of this gin. Its identity is entwined with nature, its botanicals consisting of Douglas Fir, Coastal sage and Californian bay laurel. The coast Douglas fir is the second tallest conifer in the world (60-75m in height today). Early lumbermen reported them as reaching 100-120m high.
The dominance of the fir is prevalent in the essence of taste by the production process. Fir and sage are distilled separately to minimise the impact of seasonal variation. Juniper berries and bay laurel vapour are infused in a botanicals basket. At first sip, it transposes and heightens your senses to a visceral experience. It is wild camping meeting the Ents from Tolkein's Lord of the Rings. It is the Green man, it is more than gin. At 45%, and with the shape of the bottle evoking moonshine production, St George Terroir harks back to a simpler time. The engraving of a brown bear prowling amongst nature further sets the gin in the barreness. The impression is lasting, totally unforgettable, unique and one to return for, again and again. Part of St George spirits, this a substantial operation that has grown expeditiously since its establishment in 1982. Available at: www.maverickdrinks.com
Let's head North now, to Greenland, where we find Isfjord Gin. The name conjures glaciated valleys, which unravel the isolated secrets of this gin. Isfjord gin is distilled with the world's purest iceberg water from deep within the Greenlandic ice cap. Pure iceberg water is sealed frozen for thousands of years, remote and untouched, unique to this location. Over time, the  ice cap breaks away into floating icebergs that lead into the icefjord of Ilulissat. There, it is selected by icemen and distilled into pure iceberg water. The total amount of dissolved solids in it is, apparently, the absolutely lowest in the world. Isfjord contains 12 botanicals, including juniper, lemon grass, angelica, cardamom and orange peels. The taste is smooth and pure, a sultry combination of citrus fruit and spice, enticing and evocative. Isfjord boasts 44% and is presented in a clear bottle that depicts a solitary ice crystal. Very sleek. Available at: www.thewhiskyexchange.com
Last, we go South, to South Africa, Cape Town, for a taste of Clemengold gin. From a country that is a large producer of clementines and with a very established wine industry, comes an inspired diversification. Utilising the Clemengold to produce Cape dry style gin through small batch production in two stills Mildred and Maude. Nine botanicals are used, including Nadorcott peel, orange peel, cinnamon, honey, ground almond, juniper berries, angelica, Orris root and coriander.
Clementines are the smallest member of the mandarin family and are seedless. The peel is smooth, glossy & deep orange. The gin reflects the sweet and juicy taste of clementines and honey, with a lingering aftertaste of cardamom. At 43%, it comes in a bottle bestowed with a William Morris style wallpaper covering of clemetines and a salutory warning at the rear: 'Alcohol is addictive.' This certainly could be… if you can find it. Available at: www.citrusgin.co.za
Having encompassed the geographical extremities and experienced the revelation that local identity is key in producing distinctive flavour -from the purest gin, through the tallest trees, past the purest water, to Eden's garden- I'm thankful to some great friends for bringing me some of these gins when returning from their travels. They aren't readily available, but as in all things, perseverance is rewarded.
So seek out new gins, there is a whole world to choose from. For the spoilers, I've used a rough compass from England –yes, New Zealand is further South than South Africa and Argentina further still, but that, of course, leaves more to explore. There is an increasing array of gins readily available. Where's the fun in that? Far better to seek out your own discoveries. Start with something new and just go on from there.