I-M looks at high-end speaker systems from Harman Kardon and other brands at the top of the market and sent Jeremy Webb to Germany to sample their latest technology.
Music enthusiasts know what to look for when it comes to first class equipment. Harman wants to teach everyone how to listen. Apparently, you may have the most expensive speakers out there but if you don't listen properly that technology is all wasted. The Harman Kardon Citation Towers are premium hi-fi smart speakers with the audiophile in mind. Citation Towers provide the best 2-channel stereo listening experience with crisp highs and deep bass. Easy to use with its full-color LCD touch screen, Citation Towers blend innovation in home audio with attention to detail in design, allowing for a sophisticated look and authentic concert-quality sound.
Music lovers will love access to over 300 music services and high-definition streaming through Chromecast built-in. The Google Assistant brings convenient voice control for hands-free help around the home. Get answers, play music, organize your day, control your smart home, enjoy your entertainment and more, just with your voice. The Citation Towers deliver multi-room capablity by adding additional Citation speakers to create the ultimate whole house audio experience. You can play the same music or different music in different rooms and control it from a tablet or smartphone.
Each tower is fitted with 200 watts of Class D amplification and each has a 24bit/96hHz DAC embedded in the amplification circuitry. Both speakers plug into the mains via a connection just below the rear-venting bass reflex port.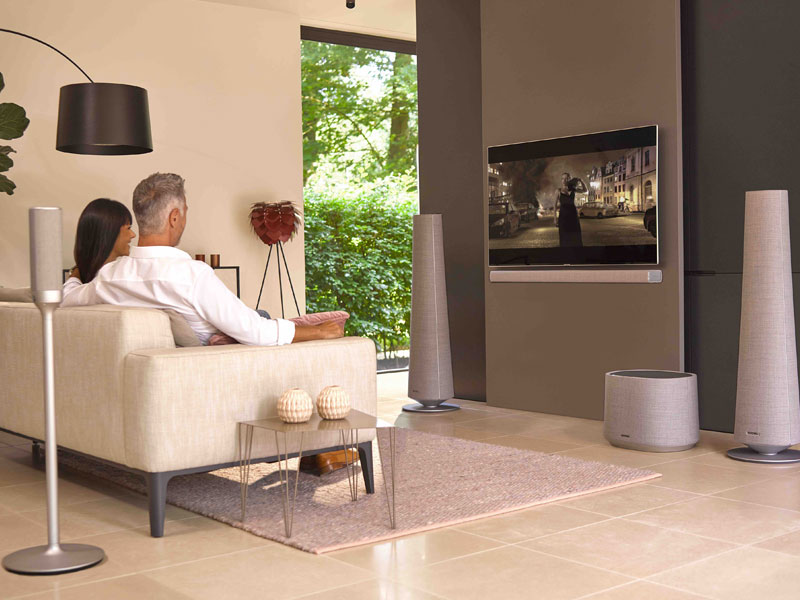 The right-hand Tower is the control unit for the twin system. It has the mics for voice control via Google Assistant on its top panel along with a small touch-screen display that allows physical control. Predominantly you will control the Citation Towers by voice or the app of whatever music service you're streaming. Chromecast is built-in, so there are literally hundreds of streaming services, internet radio stations, podcast providers and so on to choose from. The Towers have Wi-Fi connection available as well as Bluetooth 4.2 connectivity incorporated too.
The KEF LS50 Wireless is a completely active, digital and wireless lifestyle audio system consisting of two speakers whose connection to your music source is completely wireless. This is the result of a project designed to blend wireless connectivity, centred around handheld devices, with the timeless and exceptional audio quality of one of the world's most successful and critically-acclaimed speakers – KEF's original LS50s.
The LS50 KEF pushed the sonic standards of professional studio monitoring into the home. Now, with LS50 Wireless, KEF has turned this high-performance audio concept into an authentic lifestyle audio design, with convenience, ease-of-use, the absence of added clutter, a stylish physical presence and wireless music connectivity all making the LS50 Wireless a product that will satisfy the desires of today's music lover.
I had it for a few weeks, and was very impressed with the system. The speakers offer superior sound quality and are very easy to set up and use from any of the sources. It works straight out of the box with just the power supply connection required.
BeoLab 18 audio columns, the latest incarnation of Bang & Olufsen's sculpturally iconic audio columns for walls or floor; and BeoLab 19, a radically redesigned subwoofer that pumps refined bass with a visceral punch – and looks too good to hide.
WiSA is integrated as standard into the new speakers, Bang & Olufsen has also rethought practically everything about exterior design, custom-made components and dedicated digital sound engines. They are available in solid oak as well as black or white, BeoLab 18 marks a quantum leap in the evolution of Bang & Olufsen's signature column speakers.
The slender design leaves a surprisingly small footprint. It's designed to fit and blend in almost anywhere, whether you are looking for a freestanding floor speaker, want to tuck it in a corner or hang it on your wall like an artwork.
Beolab 18 is a stunning work of design engineering with audio performance at its heart. The acoustic lens evenly distributes the upper frequencies in a 180-degree horizontal arc, delivering superior sound experiences across your room, not just in front of your speaker.
Behind its beautiful exterior, Beolab 18 is filled with advanced audio technologies. Adaptive Bass Linerisation automatically adjusts the bass performance to what you are playing, while the room adaptation feature optimises the sound based on your speaker's
placement.
The Definitive Technology BP9080x speakers are a luxury item for the most avid of audiophiles. These are supreme with stunningly clear sound and lots of control over the output to match the surroundings. The 9080s are tall, slender, made from superior materials and deliver premium sound. The best loudspeaker is one that reproduces balance between the highest highs down to ground-shaking lows as accurately as possible. The integrated powered subwoofer matched with its respective bass radiator offers deeper, more impactful bass from the tower speaker without the need to add a separate subwoofer.
Definitive have integrated a seamless two-way height speaker module within the top of the BP9080x so you can hear and feel multi-dimensional sound (requires a Dolby Atmos/DTS:X-enabled receiver and Dolby Atmos/DTS:X-encoded source material). Intelligent Bass Control™ is a latest advancement that gives you the ability to modulate deep bass up or down in level whilst simultaneously maintaining mid-range tonal balance.
Crystal clear highs bring the most demanding audio to life. The tweeters play higher in frequency than what is heard by the human ear, creating an authentic reproduction of sound as the artist intends in the studio or concert hall. Balanced Double Surround System Improves driver excursion which results in the selected driver producing bass output usually associated with a larger driver, whilst retaining the improved dispersion and midrange definition of a smaller driver.
In Germany, Jeremy learnt the "listening" habits of the Brits, according to research commissioned by Harman Kardon based on a sample of 8,000 people. The study concluded that:
• 92% of Brits say music alleviates stress, while 81% say music makes them feel happy
• 75% have a high interest in apps that personalise audio sound quality preferences
• 75% feel personalised music curation is important
• 64% find AI applications appealing to personalise and manipulate music
• 37% see computer-generated music as the future of listening
Furthermore, almost seven in ten listeners find it appealing to have an audio device that can control their physical environment while listening to music in order to create the right ambience, such as a listening app that can also control lighting or heating in the home or car.
These results have driven Harman Kardon to keep investing new technologies combined with show-stopping design to deliver consistently immersive listening experiences." Above all, we remain devoted to our highest purpose: helping people get the most out of each and every moment they spend listening," said Dave Rogers, President, Lifestyle Audio at Harman.
Actually, with this aim in mind, Harman's subsidiary JBL have produced the Pulse 4 compact luxury speakers
The new JBL Pulse 4 speakers provide incredible sound, with visuals to match. High-resolution LED lights beneath its sleek surface produce stunning light shows that bring a whole new dimension to your favourite tunes. The Pulse 4's JBL's classic Signature sound, means you hear the crisp highs and deep bass from all angles.
The JBL Connect app allows you to choose colours and effects to suit any mood. Use your phone camera to really take customisation to the next level, letting you scan and colour-match any object that takes your fancy. Kick back to calming pastels and classic chill out vibes, or shred along to flickering orange flames – the choice is yours.
Up to two smartphones or tablets can connect at once to keep the music flowing among friends, while a 12-hour battery life and IPX7 waterproof build ensure the Pulse 4 can handle any situation come rain or shine.
Available in white or black. RRP: £229.
www.uk.jbl.com