In the last 40 years, we have become increasingly aware of the devastating effects that the sun can have on our skin, from pigmentation and wrinkles, to cancer. However, we all enjoy a bit of a tan, and lying on the sun is one of the most pleasurable activities that there is, not to mention absolutely necessary to generate vitamin D, which is involved in many metabolic processes, including our mood and the density of our bones.
So, is there a way to walk safely onto the sun? Leading European practitioner Dr Georges Roman, believes it is fundamental to act before exposing our skin to the sun, in order to protect it and not cause any further damage.
However, the market is full of sun creams and lotions which promise to protect our skin, activate our tan, safeguard marine life… how do we choose?
"You should go for a good brand," explains Dr Roman, "if possible, medical instead of cosmetic (the kind of stuff you'll find in pharmacies). When exposure to the sun is involved, medical products are safer than cosmetic brands and normally don't include any activators that could cause reactions with the sun. For example La Roche Posay or Avène are good choices."
Thinking of all that important vitamin D, Dr Roman adds, "for the face, the most important thing is protection. I'd recommend to use SPF 50 or total sunblock. However, we must remember to stimulate production of vitamin D, so for the body, if your skin is not too light and doesn't burn easily, a SPF 30 would be enough."
Another factor to consider is when to expose to the sun. We must avoid exposure between noon and 4 pm. During these hours, the sun rays fall perpendicular to the surface of the earth, making them penetrate much further into our skin. "If you are going to do this, then use total sun block in both face and body," advices Dr Roman.
In addition, when looking after our skin in summer, we must look at hydration. "The sun not only burns our skin but dehydrates our whole body. We lose water, sodium, potassium… Basically, whatever we do in summer, if we expose ourselves to the sun, we will most likely suffer some damage."
The best way to minimise this damage is to prepare in advance so the quality of our skin is the best that can be before going in the sun. In Dr Roman's opinion, "the best way to do that is with two very good mesotherapy treatments, which will dramatically increase your capital of antioxidants and moisturisation. We could say that this is your army, which will fight for your skin when attacked by the sun. So, like with any army, at the end of the 'summer war', you will have lost 'some soldiers' but you would have saved your skin."
Once summer is over (or the period of exposure to the sun), it is very important to eliminate the toxins accumulated over the summer period, correct possible sun damage and thus, restore your skin and even improve it. Again, Dr Roman recommends one or two very rich mesotherapy treatments.
"I recommend this pre and post mesotherapy treatment to all my clients and the results are extremely encouraging. The skin recovers very quickly and often without traces of any sun damage. Following these recommendations will allow you to enjoy the sun and at the same time, avoid skin damage," estates Dr Roman.
There are lots of moisturising creams in the market with hyaluronic acid, but it has been commonly reported the development of significant pigmentation issues after the use of creams with hyaluronic acid when exposing to the sun, even if these creams have an SPF of up to 30. Dr Roman explains the problem: "It shouldn't have to be that way if the preparations/creams are of high quality. Firs of all, hyaluronic acid provides your skin with a first 'layer' of hydration, but it is important that it is fully absorbed by the skin, because if it doesn't, it can act for the sun like a magnifying glass on the top layer of your skin, and a deregulation of pigmentation will easily take place.
Hyaluronic acid is a 'thick' molecule so it is difficult to prepare in a cream/lotion that will be properly absorbed by the skin. Often, what happens is that it stays on top of the skin and moisturises only its top layers. Now, when it is properly absorbed, hyaluronic acid is fantastic because it provides the deeper layers of the skin with optimum hydration and even help with the reparation of cells."
As an example, Dr Roman explains how one of his products works: "Our serum can be applied in the morning and in the evening, even when you are on holidays. You wait until the serum is properly absorbed (around 10 minutes) and then you can put on top your normal moisturising regime or sun block if you are going to expose to the sun. Other serums in the market that I think are good include those by Crème de la Mer, and La Prairie.
Generally speaking, I don't like to mix things when going in the sun. As we expose our skin to the sun, ingredients in the products we have applied to it can react with the sun. Most cosmetic brands will add many different ingredients to what seems to be just a hyaluronic acid serum, and these reactions can mean damage to the skin, sometimes damage that is not visible at first glance. I work with a lot of clients in the Gulf and I have seen what can happen to skin when the wrong mixed of products is used, even if they are very expensive products. So our serum does just one thing: deeply moisturises the skin, and nothing else, so I can control the process. For example, if anyone uses a cream with vitamin C in it and goes in the sun, the effects can be pretty bad, causing quite a strong irritation and pigmentation issues."
But, do we have to be so strict all year around? According to Dr Roman, not really. "In winter, it doesn't really matter. You can mix products and chances are that your skin will be fine."
The second product created under Dr Georges Roman's own brand is a medical professional sun protector. Once again, he has used nothing else but the sun protection ingredients, in order to avoid allergies or any other unpleasant reactions. There are no suntan activators or anything else. As he says, "I am not interested in anything else. I just want a sun protector that is efficient and safe for my patients."
TRIED AND TESTED:
La Roche-Posay Anthelios Shaka Ultra-light Fluid SPF 50+ for face and body: Formulated for normal to combination ski that is prone to sensitivity, sun intolerance or prickly-heat. Thanks to La Roche-Posay Thermal Spring water and other proprietory elements like [XL]-PROTECT™ and MEXOPLEX™, it helps prevent the appearance of sun-induced dark spots and irritation.
£16.50
Avène B-Protect SPF50+ for face: A 3-in-1 skin care protector, this tinted cream is anti-UV, anti-pollution and skin enhancing. With SunSitive® protection, Pre-Tocopheryl and Avène Thermal Spring Water, B-Protect gives high level sun and pollution protection whilst leaving skin looking radiant and bright. Thanks to the microencapsulated pigments which are released upon contact with skin, B-Protect enhances skin tone and adds a subtle hint of colour. £13
Avène High Protection Spray SPF30: Specially formulated for sensitive and very fair skin, Avène's High Protection Spray gives broad spectrum UV protection; keeping skin safe from both UVA and UVB rays. Long lasting and water resistant.
£19
Hyaluronic Serum +B5. Advance Hydration Technology by Dr Georges Roman Skincare:  Light and hydrating serum, with highly active low molecular weight hyaluronic acid, with boosting anti-aging properties.  It improves epidermal and cell renewal and helps to increase glycosaminoglycans synthesis, epidermal elasticity, turgor and moisture. Light and hydrating serum, with evanescent texture. Our Editor swears by it.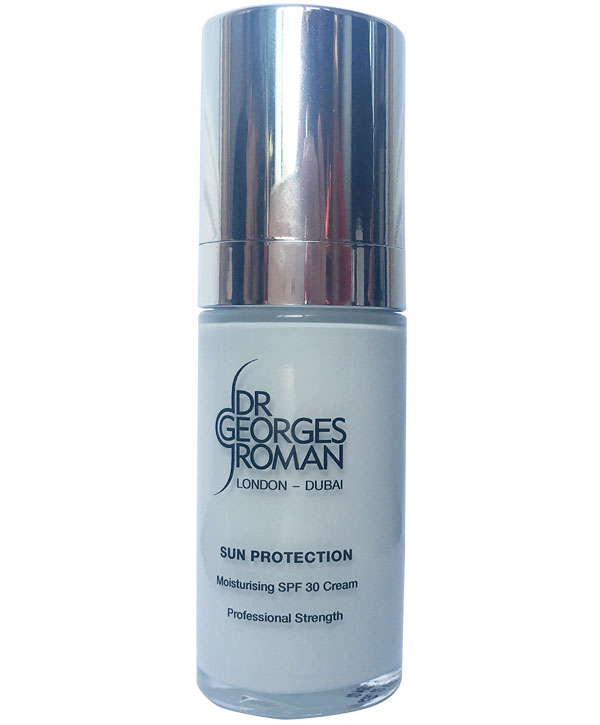 Sun protection SPF30 cream by Dr Georges Roman Skincare:
A moisturising skin protector, SPF 30, formulated to professional strength.