Named a "Brit to Watch" by the British Academy of Film and Television Arts in 2011, Talulah Riley jumped to fame after playing Mary Bennet in the 2005 version of Pride & Prejudice, opposite names of the stature of Judi Dench, Donald Sutherland, Keira Knightley and Matthew Macfadyen.
Talulah grew up in Hertfordshire, in a family that had nothing to do with the world of film and entertainment. In fact, acting was a weekend hobby, not something she thought she could make a career of. However, by the time her A level exams came close, she panicked and simply wanted to avoid them. "I attended a very academic school, Haberdashers' Aske's School for Girls, and I was feeling under a lot of pressure," she explains. "I was going to be the first person in my family to go to university." The anxiety she was feeling led her to tell her parents she wanted to drop out of school and become an actress.
I am trying to be as
self-sufficient and
as sustainable as possible…
Dress by Dsquared2. Earrings by Tiffany & Co.
Shoes by Dee Ocleppo.

Understanding where the hesitation came from, her parents offered her an alternative. "They were happy for me to have a go at acting but they encouraged me to stay in school and take my A level exams out of discipline," Talulah shares. "To help me with the apprehension I was feeling they said I didn't have to open the results, and so they ended up in a frame, unopened, at my father's office." The day after she finished her exams, she went straight onto a film set (Pride & Prejudice) and started working. While acting in London, she started a degree in Natural Sciences at the Open University, although she couldn't finish as she moved to America with Elon Musk and the OU didn't allow her to continue internationally. At present she is studying again with them, this time Maths and Physics. "I feel very strongly about the Open University.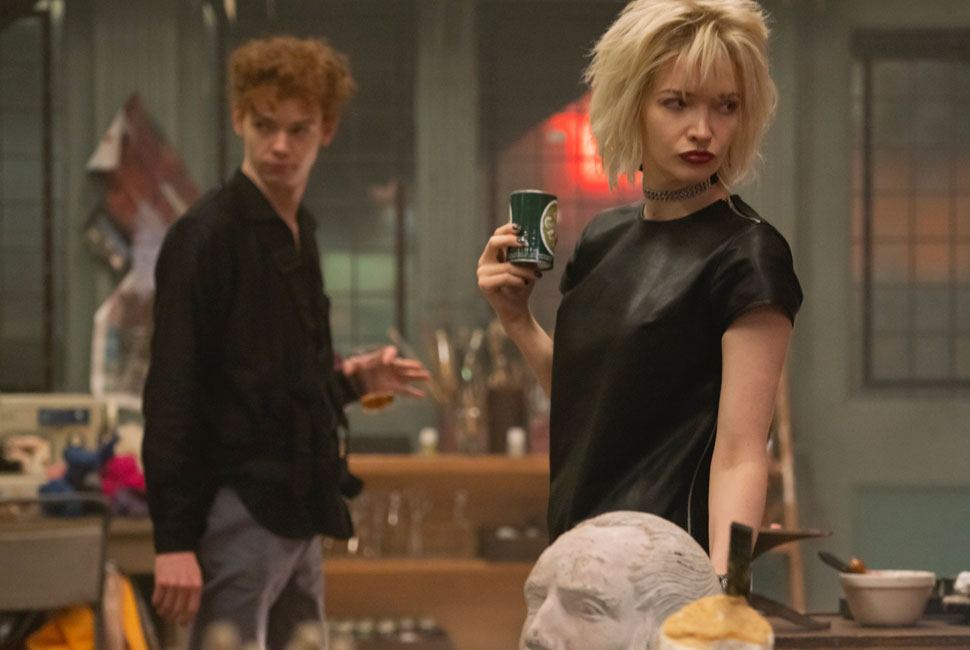 It saddens and upsets me in equal measure that they have lost support." Talulah is referring to the rollercoaster that the institution has gone through in the last decade with regards to their funding and as a consequence, the closure of seven of their regional centres. "I see the Open University as important to our society as is the NHS." After her appearance in Pride & Prejudice, other films quickly followed, among them the St Trinian's series (2007, 2009), Inception (2010) and TV shows like Nearly Famous (2007), Dr Who (2008). In 2008 though she started dating Elon Musk and got married two years later. She moved to America and with five stepchildren (from Musk's first marriage to writer Justine Musk) under five years of age, she took the decision to put her career mostly on hold. "I came back for the second St. Trinian's movie but apart from that, I stopped working almost completely to focus on Elon and the kids."
Opening Picture:
Photography by Leo Cackett. Concept & Styling by Sascha Lilic. Hair & Make up by Hamilton Stansfield.
Talent: Talulah Riley. Dress by L'Agence. Necklace by Van Cleef & Arpels
To read this interview in full, please order your copy of our new issue here!