We spend most of the year dreaming of summer, of long days in the sun followed by balmy evening that invite us to stay out until late, enjoying the company of family or friends. However, summer can have a terribly effect on your skin. From the dehydration caused by sweating and air-conditioning to outbreaks of acne due to extra production of oil and the worst of them all, long-term sun damage.
Our Editor Julia Pasarón is always on the lookout for products to help her keep her skin in tip-toe form in summer. Here are her recommendations to achieve a tanned, glowy skin maintaining it hydrated and protected.
I find that my normal skin routine falls a bit short when I am in a hot, sunny country. After my moisturiser, I apply the new Multi-Defense Ceramides Protecting Veil by Avant (£75.00/ 50ml), which helps safeguard my skin from harmful UVA/UVB rays with its broad-spectrum SPF 50. UVA causes photo-ageing (wrinkles, loss of elasticity, and brown spots) whilst UVB causes burning of the skin. The formula also contains ingredients like ceramides to form a protective layer that helps plump skin and hold moisture; white tea extract to minimise cell damage, oxidation caused by UV rays and sooth the complexion; jojoba oil to nourish and reduce the appearance of fine lines and wrinkles; and sunflower seed, which has anti-inflammatory properties that help with redness and roughness.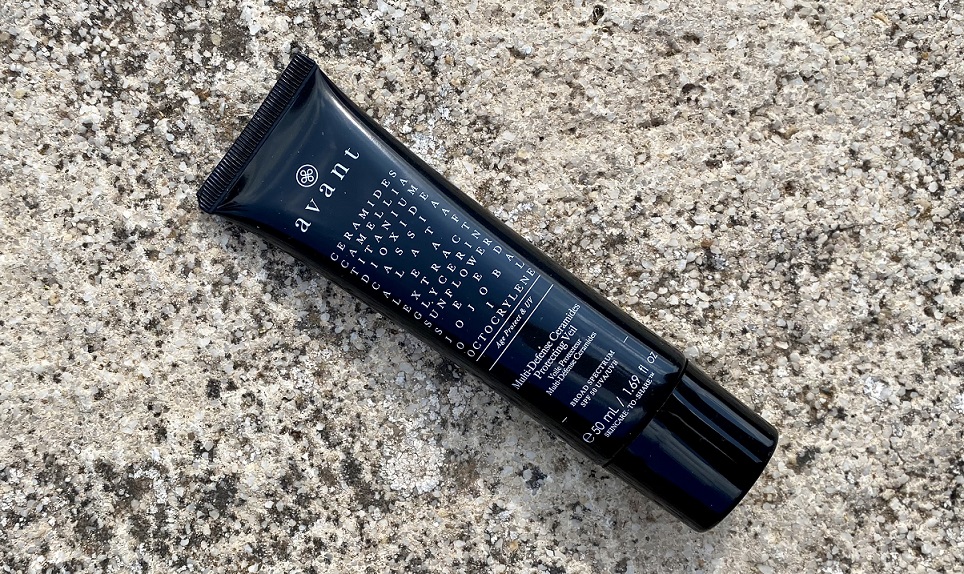 Multi-Defense Ceramides Protecting Veil by Avant protects skin from photo-ageing and provides long-lasting moisture.
The cream smells gorgeous and after applying it, I feel my skin moisturised and very smooth to the touch. Buy HERE.
If you are going to be properly exposed to the sun, you need good protection. Sensai's Silky Bronze Cellular Protective Cream SPF 50+ (Face £87.00, 50ml; Body £76.00, 150ml) is the best I've tried this summer. Oil and water resistant, it protects the skin from all UV rays and addresses signs of ageing with its "Sun Ageing Care Complex", which helps restore skin clarity. This cream also has white tea extract to help with oxidation, cell damage and soothing the complexion.
On application, it feels creamy but very light and silky to the touch. On the face, my skin looks immediately smoother and more radiant, on the body, denser and more toned. Buy HERE.
If I am going out during the day when it's still hot, I normally avoid foundation. Instead, I am using Filorga's Oxygen-Glow CC Cream SPF 30+ (£33, 30ml), the first CC Cream with a complex inspired by carboxytherapy, a technique used in cosmetic medicine to re-oxygenate cells to give you an immediate and long-lasting natural glow. Hyaluronic acid smooths and plumps skin while Life-enzyme helps with detoxification and nasturtium extract with oxygenation. An ingredient I hadn't seen before is NCEF complex, which appears to be a cell regeneration booster with anti-ageing effects. The cream also provides triple protection against UV, blue light and pollution.
Half skincare, half make-up, Filorga's Oxygen- Glow CC cream fades skin's flaws and illuminates the complexion.
Its micro-pigments help correct, unify and enhance the skin, so I often use it as a primer or even as a substitute for my day cream if I am in a rush or feeling particularly lazy. Buy HERE.
As I am not using foundation, I apply Sensai's silky bronze Natural Veil compact powder SPF 20 (£45.00, 8.5g) with the sponge slightly wet, from the centre of the face outwards but you can use it just as it is. This is a very soft and delicate powder foundation that visibly evens out the complexion and give your face a sun-kissed, silky-bronze glow. Buy HERE.
Sensai's Natural Veil compact powder comes in four shades: light, natural, medium and dark.  You can test them  all digitally on their website.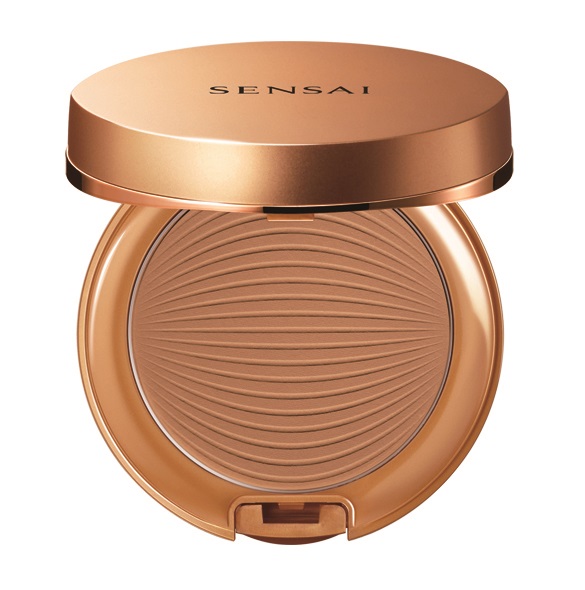 If you are in a rush, you can simply mix Dr. Hauschka's Translucent Bronzing Tint (£20, 18ml) with your moisturiser for a fresh, healthy glow. The formulation contains bronzing mineral pigments, olive oil and nurturing plant extracts of anthyllis and witch hazel which blend with the skin tone to create a natural sun-kissed look. At the same time, it helps soften the appearance of blemishes and imperfections, unifying the skin tone.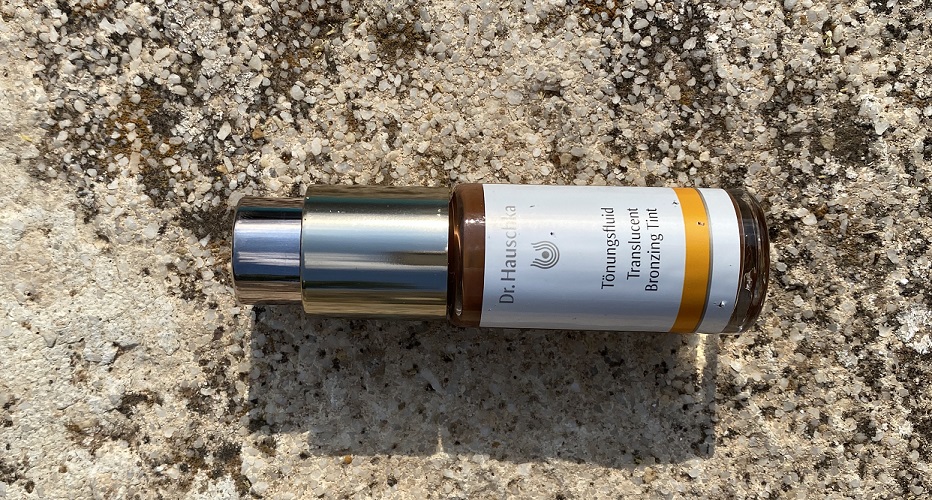 Dr. Hauschka's Translucent Bronzing Tint can be adjusted to match the season and skin tone.
I find that when using a richer moisturiser than usual – for example if I am going to be outdoors all day – it's better to apply this bronzing fluid after the cream. The result is equally radiant. Buy HERE.
Oh! Let's not forget our hair! Often we only realise the damage exposure to sun, swimming-pool and seawater causes when we find ourselves back at home with dry, brittle hair that feels like a scourer. I like using Ormonde Jayne's Hair Mist (£60, 50ml). It is enriched with pro-vitamin B to help retain moisture in your hair, thereby making it soft, smooth and more manageable and keratin, which smooths the cells that overlap to form hair strands, which means less frizz and split ends and more gloss.
Ormonde Jayne's Hair Mist is available in six irresistible scents. My favourites are Levant, which is quite floral and the slightly more citrusy, Damask.
As with all of Jayne Ormonde's products, her Hair Mists are free from Phthalates, made with the best oils in the world and hand-poured in their own laboratory in Britain. I spray it over my hair with my head down and then brush. Trust me, people will notice and ask. Buy HERE.
Last, remember to drink plenty of water and to avoid the midday sun. Regardless of how well you protect your skin, at that time solar radiations is much stronger so the risk of sun damage is considerably higher. No tan is worth skin cancer. For more information, read HERE. Last, remember to drink plenty of water and to avoid the midday sun. Regardless of how well you protect your skin, at that time solar radiations is much stronger so the risk of sun damage is considerably higher. No tan is worth skin cancer. For more information, read HERE.