Airbone aperitifs, games with tennis legends and much more
Towering majestically over the quaint Swiss town of Gstaad, the palatial, historic hotel is
re-opening in June with an array of unmissable offers for sophisticated travellers looking
to make the very best of the stunning Alpine landscape in all its luscious, green glory.
From a delicious, chocolate-themed excursion, to a romantic log cabin for two, to lunch with an aerial view, the Gstaad Palace hotel has put together fantastic experiences to cater for all taste and desires:
Helicopter & Lunch: This brand new opportunity offers an unforgettable experience of the Swiss Alps from the air. Guests will enjoy a helicopter tour around the Matterhorn and a Champagne aperitif before being whisked off to Glacier 3000 for a delicious lunch of traditional delicacies at Refuge l'Espace. The return to solid ground will be eased with a 2-night stay at the hotel, including full access to the sumptuous Palace Spa. Available for 2,078 CHF (approx. £1,514) based on single occupancy of a double room on a half-board basis.
Time for Body & Soul: Reconnect with nature with Gstaad Palace's truly special wellbeing experience, including 3-nights accommodation and an indulgent spa offering from nearby Jardin des Monts. Guests will enjoy a body peeling and energising massage devised by professionals at the gorgeous mountain gardens, which grow natural ingredients exclusively for the hotel's products, as well as a deliciously light al-fresco lunch at La Grande Terrasse and full access to the Palace Spa. Available for two adults on a half-board basis from 2,240 CHF (approx. £1,631).
Walig Hut: Only accessible in the summer, this beautifully refreshed 18th -century shepherd's cabin will open again to treat visitors to a tranquil sojourn with spectacular views from 1,800m above Gsteig. Groups of between 4-14 can enjoy a specially prepared three-course lunch or dinner of traditional Alpine delicacies, and overnight stays are also available for up to four guests. The three-course menu is available from 250 CHF (approx. £182). The Alpine Night, including dinner, is available from 1,600 CHF (approx. £1,165).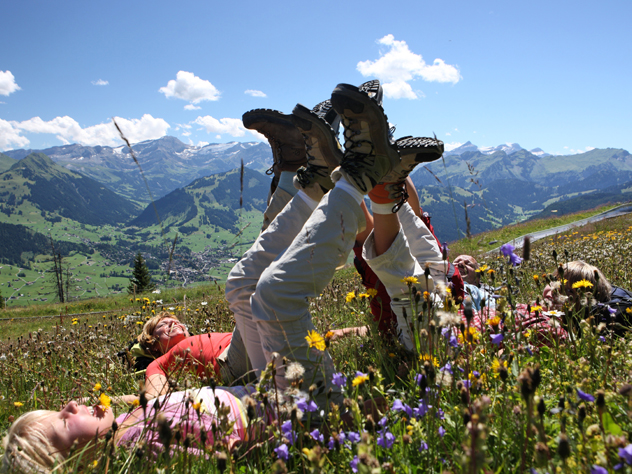 Family Summer: Kids can live out their own Willy Wonka adventure with a 5-night stay including a trip to the famous Maison Cailler chocolate factory. Guests over the age of six will be treated to a tour of the factory and even have the chance to put their own confectionery skills to the test at a chocolate-making workshop. Available for two adults and two children aged up to 14 years in interconnecting rooms on a half board basis from 4,590 CHF (approx. £3,376).
Cycling weekend: Summer sees the Swiss Alps swap skis for bikes as cycling enthusiasts flock to the region to experience its myriad mountain trails, freshly unveiled by the melted snow. For an extra special experience, Gstaad Palace is offering cyclists the chance to take part in the Bergkönig race, as well as enjoy a 2-night stay, a welcome gift and a specially designed Aroma-Relax massage The Bergkönig package is available 26-28 August from 2,022 CHF (approx. £1,465)
Game, Set, Match!: Gstaad Palace's renowned Roy Emerson tennis "camp" will return this year, with the Grand Slam legend himself offering intensive training sessions over a six-day course that includes full-board accommodation, a welcome cocktail party and gift, 25 hours of lessons and a 25-minute sports massage. For younger tennis enthusiasts, the similar course led by former Olympic gold medallist Marc Rosset will mark its 10th anniversary this year, aimed at sharing the athlete's passion for the sport with all the family and offering specialised evening tennis clinics for parents. The Roy Emerson Tennis Week is available from 4,200 CHF per adult (approx. £3,042) and the Marc Rosset Tennis Week is available from 2,360 per child (approx. £1,710), with double room rates from 4,950 CHF (£3,586). Tennis fans can also make the most of 2-night accommodation and ticket offers for the Ladies' Championship Gstaad (category 1) (1,484 CHF, 14-22 July), or the Swiss Open Gstaad (category 1) (1,740 CHF, 21-29 July).
Menuhin Festival: Add a note of musical culture to your summer with a once-in-a-lifetime opportunity to attend the region's renowned classical event, first opened by the Menuhin family in 1957. Guests enjoy three nights at the hotel (with room upgrade on availability) as well as category 1 concert tickets, including transfers, and Palace Spa access. Available for two people on a half-board basis from 1,328 CHF (approx. £967)