Michelin Design Gallery. V&A Dundee
Until 7th February 2020
Yet again the V&A Dundee have dazzled us with another ground breaking show. They have recreated the studio of Nicholas Daley, one of the UK's most exciting young fashion designers, in an exhibition exploring the creative processes behind his collections.
The show gives an insight into the studio of this London-based menswear designer. Daley's designs are rooted in a rigorous investigation into his own Jamaican-Scottish identity and heritage. The exhibition explores his family connections to jute and Jamaica, how reggae and punk music inspires his work and his collaborations with internationally recognised fashion brands.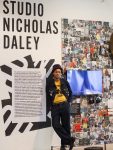 I think that bringing Daley's family history into this exhibition gives us a great insight into the designer's creative mind, complementing the patterns, mood boards and books that are normally scattered around his London studio, and which are also featured in this exhibition, as does a playlist curated by DJ and broadcaster Errol Anderson, of Touching Base. As well as garments from his collections, there are items dating back to the 1970s, when Daley's parents ran The Reggae Klub, one of the first reggae club nights in Scotland. Having met in the Dundee night club The Barracuda.
Daley graduated from Central Saint Martins in 2013, before launching his eponymous label in 2015. For his graduation collection, Culture-Clash Spring/Summer 2015, Daley looked into the landscape of Britain's post-war sub-cultures, working closely with musician and film maker Don Letts. Daley has kept exploring his dual-ethnic heritage in subsequent campaigns, which have continued to be influenced by people and music, alongside a respect for traditional manufacturing techniques. At the same time, he questions and reflects on the notions of multiculturalism within British identity. The label places great significance on craftsmanship, with all production taking place in the UK.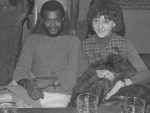 Nicholas Daley's parents.With roots firmly embedded in music culture (Nicholas worked with heavyweights from the UK contemporary jazz scene for his latest presentation), the label is firmly at the forefront of contemporary British culture. It's no wonder he's sponsored by the British Fashion Council's NEWGEN program and that international brands like Fred Perry, Adidas and Woolmark have all collaborated with him.