Since its founding in 2014 by David and Serenella Ciclitira, StART has helped to springboard the careers of many artists from around the globe. In 2021, over 15,000 people came to explore its showcase of more than 70 emerging and established artists, hailing from 25 countries including South Africa, Ecuador, Portugal, Colombia, India, Austria, Korea, Thailand, and Ireland, providing collectors and art enthusiasts alike with the opportunity to discover the most exciting works from global markets. To complement the fair, 2021 saw the launch of a new art e-commerce platform StART.art, as well as a series of pop-up selling exhibitions called StART+. The inaugural StART+ opened in Knightsbridge in November last year, followed by Cape Town in March 2022. The first StART art fair Seoul opened last month at the Litenum, in the fashionable Sung Dong Gu district.
Founders David and Serenella Ciclitira have always been apassionate collectors of contemporary art and are dedicated supporters of young and emerging artists and the global art scene. On a 2007 business trip to Karlsruhe, Germany, David and Serenella attended an art exhibition: Termocline of Art: New Asian Waves, which left them with a thirst to learn more about the Asian contemporary art scene but were thwarted by a lack of material on the subject. In 2009, they founded Parallel Contemporary Art (PCA) and launched the Global Eye Programme. Five years later, the Global Eye Awards were launched, and the first StART art fair was held at the Saatchi Gallery.
StART founders Serenella and David Ciclitira. © Jean Goldsmith
Since its first edition in 2014, StART art fair has become known for bringing the work of lesser-known artistic communities to the attention of both established collectors and those starting out on their collecting journey. Held annually at London's iconic Saatchi Gallery, StART fills all three floors of the gallery with a mix of curated projects, gallery presentations and independent artist exhibitors.
This year, go back in time to the heyday of the King's Road, thanks to a punk cultural tribute courtesy of Illuminati Neon, aka Mark Sloper, presented by Washington Green Fine Arts. Under the title, In 1977 I Wanna Go To Heaven, the artist takes us into an immersive, interactive experience into the heart of the '70s punk scene. This installation will be entirely lit by the neon emanating from Sloper's new works, displayed in room set style vignettes, including a "wretched" squat and a "dive" bar.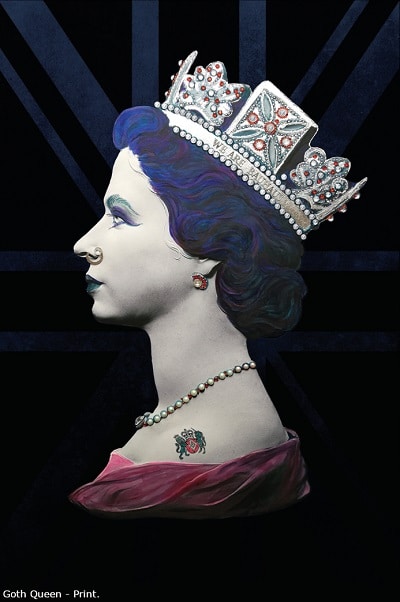 Mark Sloper draws on his real punk roots and lifelong passion for music culture to create his dynamic neon art works, each of which are hand blown in Mark's west London studio, ornately framed and individually hand-embellished with gems and crystals.
Another extraordinary artist exhibiting at this year's StART is award-winning sculptor , Beth Cullen Kerridge. Beth Cullen Kerridge. She studied at the Royal College of Art, with her work being shown consecutively in two London parks thereafter. She then honed her craft working with and producing works for some of sculpture's best known, including Eduardo Paolozzi, Elisabeth Frink and Alberto Giacometti, before becoming a studio assistant with Mike Bolus for Sir Antony Caro. Cullen has worked on major projects with Sir Norman Foster on the Millenium Bridge, Richard Rogers and the Tate. After taking time out to help husband Tom Kerridge launch a 2 Michelin-Star pub, she has been engrossed in perfecting marble carving, as well as working with bronze, steel and stone.
Cullen's work often reflects on our frenetic Western lives. Embedding a seemingly light-hearted dose of humour into traditional materials and forms, more serious messages lurk beneath.
The StART Projects section includes work by the winner of StART's 2021 Global Eye Award, North West Coast Native artist Steve Smith-Dla'kwagila, whose innovative work is a contemporary take on the traditional iconography of his Oweekeno ancestors. New this year there are a group of contemporary South African artists who debuted with StART+ in Cape Town in March 2022.
Steve Smith-Dla'kwagil, Around and Around. © Steinbrueck Native Gallery
StART also welcomes back Spotlight Italia for a second year, curated by StART founder Serenella Ciclitira and Director of Modern and Contemporary Art Gallery Spoleto, Italy, Marco Tonelli. This important snapshot of Italian contemporary art today is presented in collaboration with the Italian Embassy, London.
Born in 1972 in Pisticci, Southern Italy, Antonello Capozzi is a postwar and contemporary painter, engraver, sculptor and designer.
In going beyond the traditional view of Italian art, often intrinsically associated to more classical and renaissance era currents, these Italian artists strike a contemporary vein and embody the wider national context: a dynamic, modern and ever-evolving atmosphere, where a glorious past inspires new expressions of creativity.
The variety of artists brought together in this year's fair promises to delight visitors and critics alike, giving all an opportunity to learn and appreciate the work of artists and galleries from around the world.
Words: Lavinia Dickson-Robinson
Opening picture: London Calling 2022, by Illuminati Neon. Vintage WWII flag with hand-blown pink neon. 80 x 115 cm. £5,950.