Located in Westminster, the St Ermin's hotel is perfect for exploring  London anytime. At Christmas, it becomes even more so, since it is beautifully decorated inside and out and offers a very special Christmas themed Afternoon Tea. The St Ermin's is set in its own little oasis of tranquility with a beautiful gateway which  leads you up to the festive forecourt and lobby.
It is a hotel steeped in history, its secluded location may well be why it was a popular choice of the Intelligence Services including James Bond's Author Ian Fleming during WWII and later, a meeting place for Russian spies during the cold war.
Now the hotel hosts guests from all over the world, with many coming back time and again to enjoy its luxurious rooms and facilities. Its restaurant, the Caxton Grill offers in the morning a hearty buffet breakfast to get you properly fueled up for the day. I stayed in a Deluxe Guest Room, which is rather a mini-suite, with a large sitting and dining area separated from the bedroom by an elegant arch. I must say that its king size bed is one of the most comfortable I've ever slept in. As one would expect, the bathroom didn't disappoint with its roll top bath, walk-in shower and his and hers basins.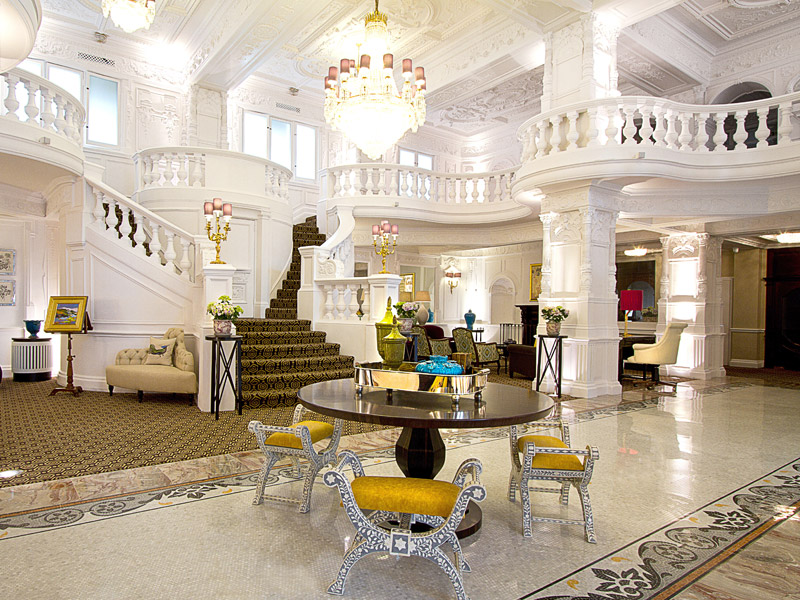 My guest and I had com to the St Ermin to enjoy their festive Christmas Afternoon Tea. There are different options available; you can start with a basic Afternoon Tea at £40 and add a glass of champagne (£12), or go for unlimited Prosecco for just £49. There are many choices of tea available to accompany their succulent sandwiches -with seasonal fillings; and Christmas themed delicate cakes, all of which are carefully explained in the menu.
You can also order vegetarian and gluten free options. I was particularly fond of their scones, which came dripping in thick clotted cream and strawberry jam. The scones came with Christmas trees made of chocolate and filled with chocolate mousse, a wreath made of heavenly light choux pastry filled with cream and a cake looking like a Christmas pudding. There was more food than we could possibly eat so the attentive waiter kindly brought a couple of boxes to take away the uneaten cakes and give ourselves a little treat later.
After retiring to our spacious suite to relax a little and digest our afternoon feast, we decided to explore the Christmas lights in the West End, which is very easy to do from St Ermin's, walking to Pall Mall through St James's park. The streets in Mayfair are all individually decorated and most of the major names in luxury shopping have their stores beautifully adorned for the season. After an hour or so of walking around, we went back to our hotel and prepared for dinner, which we took on the Winter Terrace. This cosy space brings the outside in without the actual weather. It is an informal dining area which serves light meals and bites plus a selection of cocktails. A couple of them are based on King's Ginger liqueur which was a drink prescribed for King Edward VII by his physician. His Majesty was a regular at the hotel.
We started with a King's Hot Chocolate, which certainly warmed us up and readied us for dinner. I chose a club sandwich with chips and my guest had lamb and haggis bites. Both of them delicious and generous in portion size. I finished the evening with a selection of three aged whiskies which I took back to my room, feeling very contented, after such an enjoyable day. After a deep sleep I went to enjoy breakfast, which was served as a buffet with a large variety of foods, all of them explained in their breakfast menu. I worked my way through a hot breakfast and then went for a fruit salad with some pastries, which were crumbly and delicious.
I thoroughly enjoyed my stay at St Ermin's and would recommend it to anyone visiting London. As a Bond fan, my stay was even more special knowing Ian Fleming had used the hotel many times.