Traditional values for futuristic jewellery
Winner of the Cartier Award for jewellery design 2018 (part of the Central Saint Martins BA Jewellery Design Awards), at just 21 years of age, Srishti Shah finds inspiration in the traditional concepts of her Indian roots and combines them with modern styles and digital technology to bring her pieces to the forefront of contemporary jewellery design.
I-M: How did you get into jewellery design?
S.S: Jewellery has been a constant in my environment. Recalling the times I spent watching my parents handle precious stones and jewellery, and explaining the differences between all the various stones made me want to learn more. I started to do creative work outside my education, which lead me to pursue a foundation in art and design at De Montfort University, Leicester.
Furthermore, observing and analyzing pieces of work, and witnessing 2D objects take 3D forms, these are things that have always fascinated me.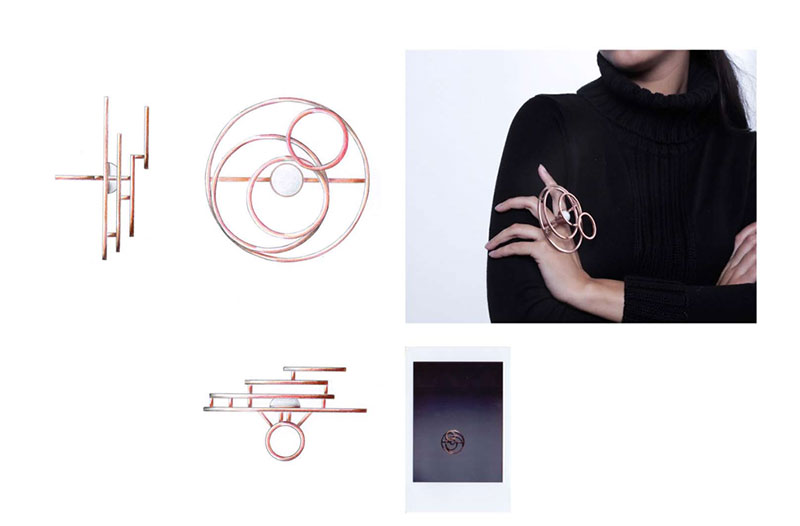 I-M: What does jewellery mean to you?
S.S: For me as a jeweller, this profession is not just about making stunning pieces; it is ideally about setting my work apart by attaching a personal meaning to the reason of its creation. Jewellery is a mini sculpture made in relation to the body, its detail and the intensity of the 'making process' is where I find myself captured.
I-M: What role do your personal experience and emotions play in your creative process?
S.S: The personal factor can be an experience, or even just an incident, which would be commemorated through the piece, activated by the wearer. My roots, heritage and background inspire me; having Indian roots and being born and brought in Belgium allow me to combine traditional concepts with modern styles and digital technology in an appealing manner.
I-M: You mention the 5 core values of Janism as being at the core of your designs. How do you infuse jewellery with that sense of spiritualism?
S.S: My work incorporates such concepts with the aim of not loosing the traditional values. Jainism is the religion my family follows; its 5 core values are very universal, but in our daily lives, we usually forget to keep in mind. Therefore I've portrayed that through my brooches. My roots, heritage and background have generally been a key and the starting point of many of my work.
I-M: You have by now some work experience. How has this experience affect your designs? Do you look at your creations in more practical way?
S.S: The practical experience I gained whilst working for a jewellery company and a fashion house has added important value that confirmed my commitment in this field. Jewellery has always motivated me, and in the past 2 years of my BA it has pushed my conceptual thinking and allowed me to experiment new ideas, new materials and numerous contemporary thoughts.
I-M: What does the Cartier Award mean for you and your career?
S.S: Winning the Cartier Award has a great meaning for me, it won't only teach me different aspects of the trade but also add onto my skills. Cartier is a company that has an outstanding heritage that stretches back over a century, which I respect very much. There heritage, history and individuality is key to their foundation which means a lot to me and is very close to my heart. Their foundation can only help me become a better designer and maker. This internship will improve my skills and further my career as a designer. Getting to intern with Cartier, an esteemed organisation will definitely add to my future ambitions.
I-M: What is next in your career?
S.S: I want to understand the industry in a superior perspective, and develop my technical execution to compliment and enhance the skills that I have already developed. In the future, I aim to combine my experiences with traditional processes to fabricate my own techniques, which will enhance and make my collections unique.
Currently I have just finished my second year of BA Jewellery Design from Central Saint Martins and I hope to pursue a placement year next year before going back to finish my third year at Central Saint Martins.
ABOUT THE CARTIER AWARD
In its 20th consecutive year, Cartier continues their support to young talent through the Cartier Award, part of the Central Saint Martins BA Jewellery Design Awards, which nurture enthusiastic, energetic and talented students who are keen to define the future direction of contemporary jewellery. The students are judged by a highly esteemed panel of industry specialists and along with a financial reward there is the opportunity to work under one of Cartier's head designers in the Cartier workshop in Paris for a month. Runners-up these year are Wen Ju Tseng and Miho Ishizuka. Previous winners include Head Jewellery Designer at Fabergé, Natalia Shugaeva.