(Opening image: Slim d'Hermes GMT Rose Gold )
The last decade has seen Hermès edge closer to centre-stage in the watch world, demanding and receiving equal billing with larger and longer-established maisons. Two launches at this year's digital-only Watches & Wonders show exactly why.
As part-owners of Vaucher Manufacture, Hermès have access to high quality watchmaking to go with the undoubted creative flair at the company's disposal but without having to make a great point of having manufacture status, leaving the designers free to work with an array of specialist movement 'concepteurs' when desired. Slim d'Hermès is based on Vaucher's now established ultra-thin movement – it's an everyday watch rather than a trophy, so it needs to work reliably.
Conventional however does not mean dull, this design is now a staple of the manufacture thanks to the character imbued into the watch by creative director Philippe Delhotal, whose commission of a contemporary font from Philippe Apeloig was a touch of genius (Apeloig, who has taught typography in both the US and Europe, had worked with Hermès before, producing the posters for the Saut Hermès at the Grand Palais -think Olympia Horse show, but more chic). Apeloig likes to break the lines of his fonts for added emphasis and this is used to great effect on the watches, resulting in a distinctive and well-weighted typography.
The just-launched Slim d'Hermès GMT (£15,285, available from September) could seem at first sight to be just more of the same but, look a little closer and you'll see how cleverly the GMT indication has been integrated, shown via the sub-dial at 9 with its eccentric layout and day/night indicators for home and local time.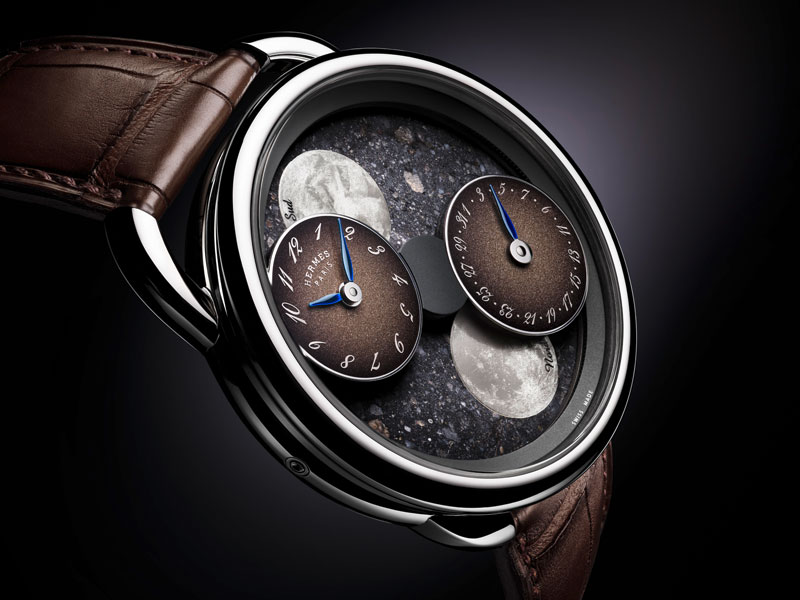 More pyrotechnic is the new version of the L'Heure de la Lune which was first seen last year, with a super-sophisticated take on what is often the most boring of complications, the Moonphase. Sitting above a clever module produced by Chronode (one of those specialist houses), the time and date dials move over discs showing the moon as seen from the Northern and Southern hemispheres, waxing and waning over a 59 day period. A clever piece of kit that scooped a prestigious GPHG prize in 2019.
The new versions of the 43mm white gold watches have dials with meteorite from the moon (£33,400, limited edition of 36) and the Sahara (£42,000, limited edition of 36). There will also be two platinum watches with meteorite from Mars on the dial.