Beautiful, alluring and with blue eyes that sparkle like crystals, Sian Brooke exudes star quality. And a star she certainly is. Since graduating from drama school RADA in 2002, she has been in constant demand, bringing to life the most diverse array of characters, from Sherlock Holmes's evil little sister Eurus (opposite Benedict Cumberbatch) in BBC series Sherlock, to the queen consort of the Seven Kingdoms in HBO's House of Dragons, to Ophelia in Hamlet at The Barbican Hall.
Her latest project is Blue Lights, a six-part BBC One police drama that sees Sian take the lead role as Grace, a rookie officer serving with the Police Service of Northern Ireland. Created and written by Declan Lawn and Adam Patterson (The Salisbury Poisonings), Blue Lights is expected to garner the plaudits enjoyed by successful police dramas Line of Duty and Bodyguard.
Grace, a mother of a teenage boy who leaves the comfort of her steady job as a social worker to join the police, is immediately thrust into the frontline, and finds facing the many pressures and dangers that this brings anything but easy. Sian is joined in the cast by Katherine Devlin (The Dig) and newcomer Nathan Braniff. "The moment I read the script, I felt I knew Grace," Sian shares, "because the script is simply brilliant." Patterson and Lawn, who both hail from Belfast, have written Blue Lights with humour and compassion, making its characters profoundly human and immediately recognisable.
"As a kid, I'd sit in front of the telly with my sister watching black and white movies… I was hooked, absolutely mesmerised by this other world…"

 –  Sian Brooke
But it wasn't police dramas or fantasy sagas that inspired Sian to become an actor. She was drawn in by the divas from Hollywood's golden age. "I was always mesmerised by film," she recalls. "As a kid, I'd sit in front of the telly with my sister watching black and white movies. They were all that was shown on Saturday afternoons and I was hooked, absolutely mesmerised by this other world. The total escapism of that glitz and glam." At the age of 10, Sian watched a friend perform in a local amateur musical and from that moment she was hooked. "I thought, 'Oh my God! I love this,' and realised that this was what I wanted to do when I grew up; it made me feel so alive."
Nowadays it is not just actresses from Hollywood's golden age era that inspire Sian, but also those working now. She is particularly fond – as I am – of American actresses Susan Sarandon and Frances McDormand. "These are very strong women who have influenced other actresses and built a legacy that passes woman to woman."
Working in theatre has also helped develop Sian's ability to build her characters. "I believe theatre is an actor's medium, whilst TV is more a director's medium. In theatre, you have the luxury of four weeks of rehearsals so you can mess around with your character, make mistakes and through all that process, find out what is right. In TV, you can't rehearse so much but on the other hand, you live with your character for nearly 12 hours every day, and you are there as the character develops with every episode."
Sian as rookie police officer Grace in the BBC One police drama, Blue Lights.
This is how it worked for Grace working on Blue Lights. "For the four months we were filming in Belfast, I spent more time as Grace and dressed in the police uniform than out of it so, over time, you sit with that character and start to feel comfortable in their skin." Modestly, she gives all the credit to the series' quality to its writers and the director, Gilles Bannier. "Gilles loves working with actors, appreciates what everybody brings to the table and is a true collaborator."
What differentiates Blue Lights from other police dramas we've seen on TV before is the fact that if follows the everyday life of fledgling officers. As they learn the basics of their profession, they all struggle during the probation period and start wondering about the wisdom of taking such a pressurised job. "We don't often see them at the very start of their career on TV," Sian comments. "We don't realise they are just ordinary people, learning on the job. We don't think of how nervous they may be when they make their first arrest, or how scary some situations may be, when things get heated and how they fear for their safety." In other words, this show pulls back the curtain on what it is really like to be a police officer.
"It has become bluntly obvious that we need to do something before the worlds changes irreparably, but the whole issue may be too big for many people to comprehend."

 –  Sian Brooke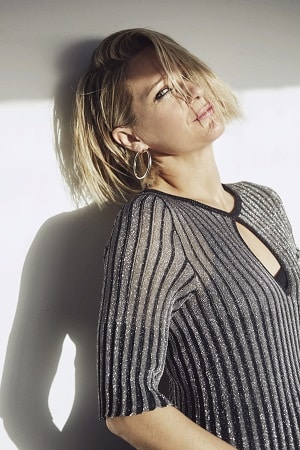 The entire series was filmed in Belfast over a four-month period. Sian describes it as "Declan and Adam's love letter to their city and its people". It's a love that Sian grew to share and she describes the experience of making Blue Lights as simply delightful. "It was such a brilliant and easy project," she shares, "everybody knew what they had to do, we all appreciated each other's work and the whole atmosphere was fabulous."
But with this series completed, Sian is not resting on her laurels. She has just finished filming a superhero series for Netflix. "Unfortunately, I can't say anymore," she says of the project with an enigmatic smile.
When she is not working or with her family, Sian lends her time to the Glacier Trust, a charity devoted to working with locals in the Himalayan countryside to limit the damage caused by climate change on the landscape. Monitoring and sharing their research on glaciers helps mitigate the effects of landslides. The charity also supports farmers in this region and provides education and training to empower the population there.
"It has become bluntly obvious that we need to do something before the worlds changes irreparably, but I think that maybe the whole issue is too big for many people to comprehend," says Sian, "In some parts of the world that damage has already happened, the problem is that these tragedies seem too far away from us. I come from a farming background, so I feel compelled to try to protect the lives of entire communities who are suffering for the abuse we have inflicted on the planet."
As mother of two kids, she is very aware of the role that education has in ensuring the younger generations don't repeat the mistakes of her own. "I grew up in the outdoors, appreciating nature, and this is what I try to pass on to my kids. And in school, it is part of their daily education." Sian is not the only member of her family with an eco-warrior streak. Her brother works at the Department for Environment, Food and Rural Affairs. "We all love the countryside. I try to go back as often as I can and sometimes, I dream of settling down there at some point in my life, grow a few vegetables, maybe even have some chickens."
I look forward to speaking to Sian Brooke again soon. I've been mesmerised by her charm and her infectious energy. To me, she is as magnetic as those iconic actresses from Hollywood she admired so much as a kid.
Blue Lights is coming soon to BBC One.