I must confess I don't like shopping at all, so when I was proposed to spend a whole day doing just that in what is considered the busiest shopping outlet in the UK, I felt quite dismayed. However, Bicester Village has a VIP programme that will convince even the most reluctant of shoppers and make your day a true luxurious experience.
If you travel from London, the journey is as easy as pie. Trains go to and from Bicester Village every 30 minutes. At the station, there is a Bicester Village booth where you can comfortably wait for your train and where they'll answer any questions you may have. Upon arrival at Bicester Village station, VIP guests walk straight into the Guest Service Hub, from where a buggy will pick them up and drive to the Village (five minutes). Our driver, Stephen, took us straight to The Apartment, a townhouse offering VIP guest experiences for a memorable visit and a place to relax and unwind during the day. Access to this oasis is by invitation only, so even if you are a VIP, you need to contact them ahead and inform them of your visit (also, if you don't do so, there won't be a buggy waiting for you at the station).
A private shopping service can be booked at The Apartment in Bicester Village for the ultimate stress-free shopping experience.
There is a whole hospitality team at Bicester Village led by Bence and Claire. At The Apartment, we were welcomed by Burak, who checked us in and offered to make appointments for us in the busiest stores, such as Gucci, YSL and Prada, where long queues form on busy days; so it pays off to book in advance. While Burak did that, our hostess Sandy showed us around the private shopping rooms. This is a new service similar to personal shopping, but with the added bonus that anything you want is brought to you, while you sip champagne while comfortably sitting on a plush sofa. If you are not sure what you want, have a chat with your personal shopper and they'll bring you a wide selection from which to choose.
The Apartment has been designed by the London-based studio, Carden Cunietti, famous for their dramatic, artful style emphasised with luxurious textures and accessories.
Upstairs, The Apartment has several living spaces, all designed by London-based Carden Cunietti, with bespoke wallpaper by De Gournay. We visited in early December, so fires were lit in every room and the place looked magical. There is also a balcony all around which must be absolutely delightful in summer. At any time of the day, you are welcome to come in and have a drink and a bite to restore your energy and give a break to your credit card.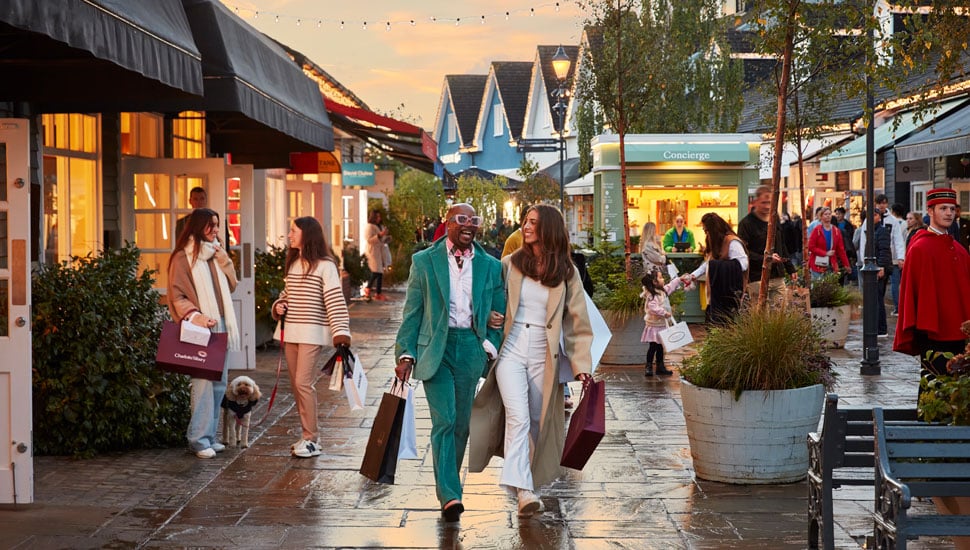 Bicester Village looks more like a charming village than a shopping mall. Maybe that's why more than six million people visit it every year. 
There are more than 150 stores here with fabulous savings all year-round in designer and lifestyle brands so honestly, you could come away with anything you may need or want for yourself, your beloved or your home. As a VIP, you get a code with an extra 10 percent discount and a "hands-free" service, so you don't have to carry your bags around with you as you shop; they are sent back to The Apartment and you simply pick them up upon your return. This is one more detail that makes shopping here so painless.
We took our lunchbreak at the recently opened Cecconi's, which seems to be as popular in Bicester as it is in Mayfair. They operate as a walk-in service so you can't book in advance. If you can't get in, don't despair, there are several other places to enjoy good food at the Village, such as the Farmshop, La Tua Pasta or Shan Sui. After lunch, we proved our resilience by shopping for another couple of hours before going back to The Apartment for a restorative glass of champagne and a bit of a rest. In the meantime, the hospitality team had prepared our luggage and our shopping, ready to be loaded in a MINI Electric that they kindly loaned to us for the duration of our trip. Those of you who follow us on Instagram will know that I love MINI. Aesthetically, their cars are as cute as they get and they drive like little demons. The Electric is no different. You'll be surprised at how quick this car is off the pedal and how agile. In terms of specs, there are four different levels, with the first one starting at £29,000 which already includes a sophisticated navigation system with an 8.8" display, Apple Car Play, digital cockpit and the possibility of customising your car with a selection of different paints and wheels.
The MINI Electric presents many design touches that will delight long term fans and new customers alike. 
We chose to stay overnight nearby, at the Old Parsonage Hotel (Oxford) which is just 20 minutes from Bicester. The building dates back to the 17th century, combining original charm and character with the amenities and technology you'd expect in any luxury hotel. The labyrinth of staircases and corridors lead to 35 rooms and suites, all of them gorgeous, an excellent example of what can be done with small spaces when you put love into the job. Each of them has been individually designed and feature handmade beds, natural fabrics, unique Oxford sketches and beautiful marble bathrooms. 
Oxford's 17th century Old Parsonage is best known for its eclectic country house charm. 
The history of the place is quite interesting. The land was, and still is, owned by University College. The original part of the building started construction as early as 1640, and in 1660, Edward Selwood, the prosperous chef of nearby St John's College, bought it and finished it. It seems that good food has been a constant here for six centuries. The Parsonage Grill is a favourite among locals and visitors alike. They use the best local produce to create classic British dishes with a contemporary twist. Of special interest is their collection of oil paintings, mainly portraits of well-known authors and artists. 
Each of the 35 rooms and suites at The Old Parsonage is individually designed combining classic charm with all the amenities of a modern five-star hotel.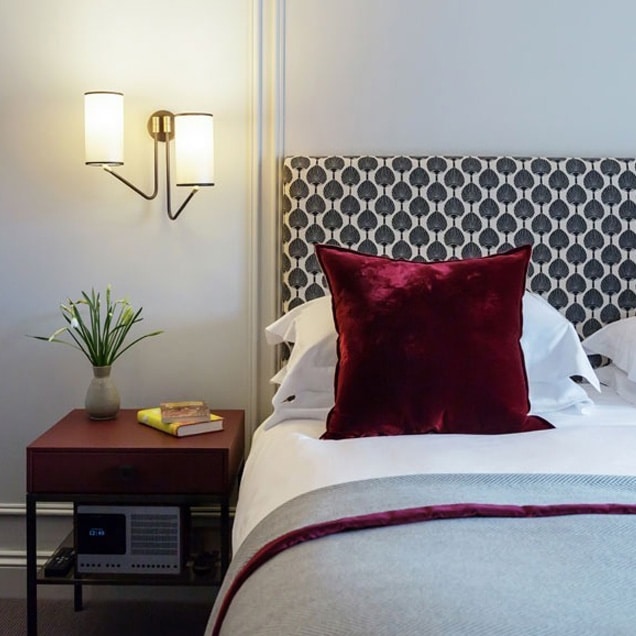 The Old Parsonage also offers its guests vintage-style bicycles to explore Oxford the traditional way. After an invigorating ride, we had a drink and a snack in the library, a calm and inviting space where to chill, surrounded by a wonderful collection of books and of photographs of 1960s Oxford by Paddy Summerfield, known for his personal approach to documentary photography in black and white, using 35mm film.
In the morning, we went back to Bicester Village for a bit of last-minute shopping… which inevitably ended taking a couple of hours as the offers there are simply too tempting. One last glass of champagne at The Apartment and it was time for Stephen to take us in the buggy to the station and back to London… with a suitcase full of new designer clothing and accessories. My opinion about shopping has definitely changed. I can't wait to have an excuse to do it all over again.
Plan your visit to Bicester Village HERE.
Book The Old Parsonage HERE.