Situated in a privileged location on the rooftop terrace of the INNSiDE Calviá Beach by Meliá, Mallorca, Shallow Sun Club presents fresh, poolside-friendly bites by Michelin-starred chef Manuel Berganza to go with a selection of premium cocktails by celebrated mixologist Luca Anastasio.
The 2,400 square metres of the new Shallow Sun Club terrace includes a restaurant, lounge area and an infinity pool with bali beds and hammocks (pre-booking available on the website). The views are spectacular so no wonder it has becoming THE place to be, especially in those lazy days where you just want to hang by the pool cocktail in hand, listening to cool music and enjoying gorgeous food in an informal setting.
The Shallow Sun Club's hanging pool is an attraction in itself.
Anastasio is known for having made cocktails for celebrities, presidents and even the Spanish Royal Family. His recipes are immortalized in many cocktail books and his consulting services solicited from New York to Bali. Berganza is the youngest Spanish chef to receive a Michelin star outside Spain (at Andanada 141, a tapas restaurant in Manhattan) with an experience that spans three continents. Together, they have created a combination of food and cocktails that will make the delights of even the most demanding guests.
Berganza's menu offers a selection of tapas dishes that will meet the expectations of even the most demanding foodies.
The menu boasts a vast selection of refreshing, summer-suited dishes that honour local, Mediterranean cuisine and ingredients. As the idea is to chill out and share, Berganza and his team have created a few different foodboxes depending on mood and appetite. For example the Tapas Box comes with Hummus, crudités and pita bread, Tomato salad with tuna belly and a ginger vinaigrette, Crispy-fried puntillitas (baby squid) with a black pepper emulsion, Ham croquetas, Chicken wrap and Caesar salad. Mouth watering, right? Another option is the sophisticated Raw Box, with Oysters and Bloody Mary, Guacamole with pico de gallo and chips, Tuna tartare with truffle vinaigrette and spring garlic and Peruvian seabass ceviche. There is also a Fruit Box for the super health conscious.
If you prefer to eat at the restaurant, most of the dishes in the boxes are also available here, plus others like the Boston-style lobster rolls and the Tuna poke for fish lovers and for the carnivores among you, options such as the Angus sirloin steak with chimichurri sauce.
Berganza's full menu is available at the restaurant of the Shallow Sun Club, with delicious fresh summe dishes like Peruvian seabass ceviche or Tuna Poke.
The place is incredibly popular so I'd recommend you to book ahead. Whether for two or for 12, this is the best way to secure a prime position by the pool and take advantage of a wide range of "Sun Packs", such as two cocktails and a bali bed or a more premium option including a bottle of champagne. Sun Packs also include a raw box and a fruit box to enjoy throughout the day. Music by resident DJs plays every day Music by resident DJs plays every day from 12pm to 10pm and the themed parties on Sundays, Wednesdays and Thursdays with special DJ guests give life to an unforgettable ambience
Fiesta On Board. Every Wednesday from 1pm to 10pm. With resident DJs Cristian Girón and Tommy, as well as other artists throughout summer. Fresh, fun and dance-based music with a maritime scenography.
Fiesta Afrika. Every thursday from 1pm to 10pm. With resident DJs Cristian Girón and Tommy, as well as other artists throughout summer. Organic music with tribal sounds against an African backdrop.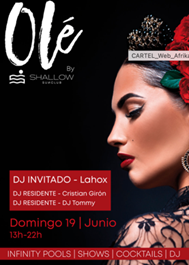 Fiesta OLÉ. Every Sunday from 1pm to 10pm. With resident DJs Cristian Girón and Tommy, as well as other artists throughout summer. Electronic music blending with the rhythms of pure Spanish tradition.
Open Monday to Sunday:
Bar: 10am – 10pm Kitchen: 12pm – 8pm Pool: 10am – 8pm
For additional information and reservations: www.shallow.es
SHALLOW SUN CLUB
Tel: 971 597 676
Avinguda de l'Olivera, 6
Calviá, Majorca