Around this time of the year, everywhere smells of cinnamon, nutmeg, frankincense and cloves. While this is a scent that definitely inspires good old Christmas nostalgia, when it comes to choosing fragrances for ourselves or to gift, maybe we should look somewhere else. I've done a little selection of parfums ideal as presents and may also tempt you to change yours. Just ask yourself how long you've been using the same.
I would start with Fiole's Fragrance Finder. This is a great way to find the scents that you truly like. The method takes a couple of steps and is quite entertaining. First you fill in a short questionnaire to work out a bit your preference and then you are sent a personalised sample box with six fragrances based on your answers. Then you follow the instructions to compare them two by two and when you make your final choice and order, the cost of the sample box (£29.95) is deduced from your bill.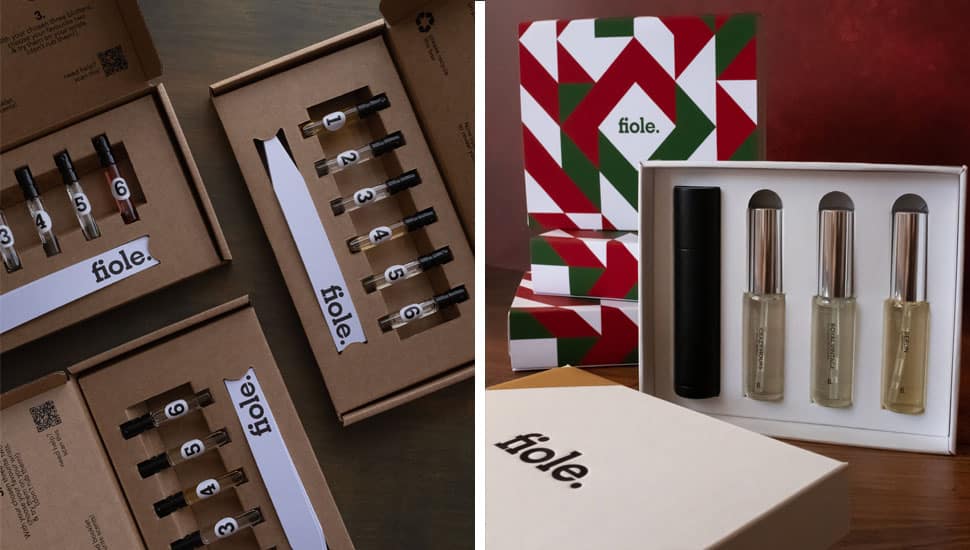 Fiole's test box (left) helps you identify the best fragrances for you. On the right, the Unisex Gift Set with three of their best-loved fragrances.
This Christmas they have different gift sets with their most popular fragrances. My pick is the Unisex Gift Set (£120) which contains a refill of Sydney Rock Pool by Arquistre, one of Gdansk by Gallivant and one of Verveine D'Été by Le Jardin Retrouvé. Included is a Marcel Franck Black Aluminium Travel Container and a gift card (worth £29.95) for a a personalised sample box. Start your journey with Fiole.
My next choice is Jo Malone's White Moss & Snowdrop Cologne (£115). I love the contrast between the fragrance of snowdrop petals peeking through powdery snow and forest-fresh moss, finished with a touch of golden amber and cardamom.
White Moss & Snowdrop by Jo Malone is a limited edition ideal as a Christmas gift. The smooth and romantic scent comes in a new festive round frosted bottle…
This fresh and uplifting cologne blends different flowers to recreate the soft delicate accents of snowdrop and a sappy green note that brings radiance to the fragrance. The base note is white moss, which brings the woodiness and earthiness of the forest to it with a fresh mineral touch to complement the cardamom spicey finish. You can buy it directly from Jo Malone or at other retailers such as John Lewis.
Creed 3- Piece Discovery Set (£135) for men is ideal as a gift. Presented in an elegant gift box with the brand's signature Fleur de Lis, the set features three of the house's signature scents: Aventus, Silver Mountain Water and Green Irish Tweed.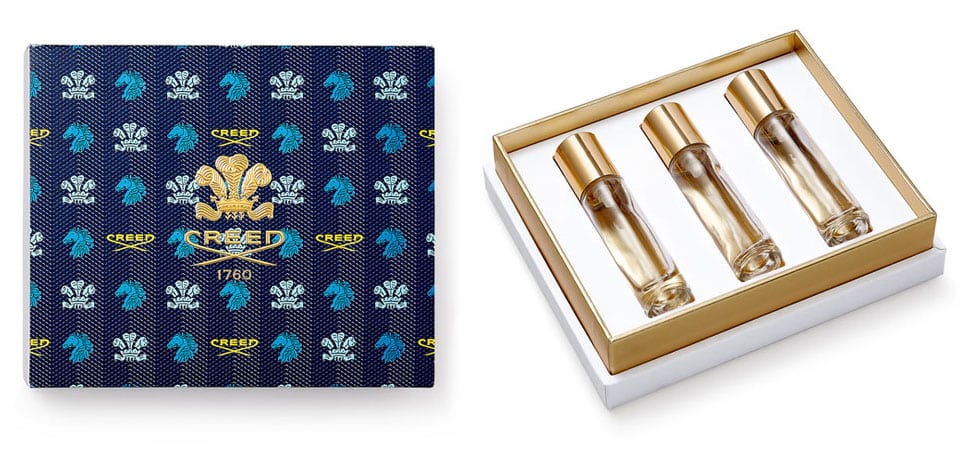 Designed to create scented memories, the signature pattern is a nod to Creed's love of horses which inspires the full Festive collection. Buy it from Creed or from Harvey Nichols.
If you are searching for a truly seductive parfum, look no further thanBabylonia Eau de Parfum by Ormonde Jayne (135). Part of The Silk Road collection, the new Babylonia is a soft powdery perfume that speaks of exotic flowers and spices, with facets of iris, sweet violets and siam benzoin that evoke tales of legendary travels.
Babylonia by Ormonde Jayne brings a sense of romance and seductions to your Christmas. The caps of the bottles can be engraved for the ultimate personal touch.
Babylonia Eau de Parfum begins with a quartet of luscious gourmand notes – blackcurrant, pink pepper, davana and bergamot, followed by the warmth of soft musk, sweet resins, vanilla and praline. You can buy it at Ormonde Jayne and several luxury retailers such as Harrods.
We will finish our our exotic journey to the East with Matsukita by Clive Christian (£400). The original was created in 1892 and was inspired by a fabled Japanese princess who awed the Victorian royal court with her elegance and grace. Today, Matsukita has been reimagined to capture this illusive elegance.
Matsukita by Clive Christian encapsulates the mystery and grace of ancient Japan.
The ambers, whispering musks and woods build the warm based of this fragrance, which follows with a heart of chinese imperial jasmine and smokey black tea, complemented with a fresh and invigorating top of green bergamot, pink pep- per and a hint of nutmeg delving into a sensual finish. Buy directly from Clive Christian, or from Fortnum & Mason.
Opening picture by © Valeria Boltneva.