The day of love is traditionally feted with a romantic dinner, a bouquet of red roses, and maybe even a proposal. It is a celebration of the heart, mind and soul, an occasion to dial up the romance to full force and show your partner just how much you love and cherish them. Sometimes you want to embrace the occasion with a gift that is as enduring and timeless as your precious love for each other, perhaps some meaningful jewellery. If you are looking for something special to express your feelings, here are some suggestions.
This romantic heart-shaped pink sapphire pendant by Garrard has extra special significance this year because the design from the Aloria collection, launched in 2020, is based on the silhouette of the setting for the magnificent 530.20-carat Cullinan I diamond that rests on the top of the Sovereign's Sceptre.
Contrasting a smooth surface of pink sapphires, set with delicate scintillation, the calibré cut stones are framed by a row of pavé diamonds and diamond accents on the chain.
In 1910 King George V commissioned Garrard to set the diamond in the sceptre, which has been used at the coronation of every monarch since Charles II in 1661 and will so again on the 6th of May for Charles III. Known as the Sovereign motif, Aloria's heart-shape pendant symbolises love but also carries the romance of history. £13,500. Buy it HERE.
A bouquet of red roses is a popular choice for Valentine's Day, but what about demonstrating your love with a bouquet of bejewelled flowers? The Swiss jewellery house has turned to the famous Tivoli Gardens in Copenhagen for inspiration for its eponymous collection, including these enchanting earrings in 18kt rose gold featuring two pear-shaped rubellites (4.49cts), four morganites (1.02cts), seven pink tourmalines (1.59cts), four spessartites (1.17cts), three spinels (0.55cts) and 10 diamonds (0.28cts) all those pretty pink gemstones including rubellites, morganites, tourmalines and spinels, which look so feminine.
Adler's Tivoli earrings, set in warm 18kt rose gold with a variety of pink precious stones, look ever so feminine and romantic.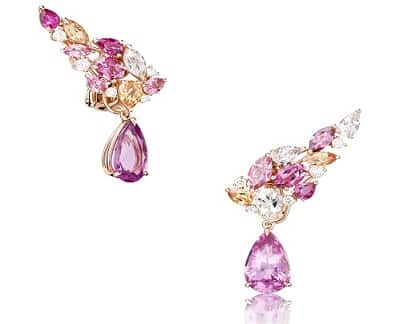 What's more, these sparkling flowers will last a lifetime, long after the fresh blooms have faded, and so what better to express your feelings than with precious gems. CHF14,350. Buy them HERE.
Harry Winston Sunflower Pendants
Mr Winston was a man of marvellous secrets, and such was his obsession with diamonds that he would walk the streets of New York with some hidden deep inside his pockets, for the pleasure of having them nearby. A perfect way to spring a surprise on your loved one would be to fish one of these sparkling Harry Winston diamond and ruby pendants from the depths of your pocket when the moment is right.
On the left, the central ruby (0.46cts) is encircled by eight round brilliant diamonds (0.44cts); on the right, a one carat diamond is surrounded by eight round brilliant diamonds weighing approximately 1.24 carats.
Set in platinum, both pendants are from the Sunflower collection, a motif that has been in the Harry Winston collection since 1950 when the "King of Diamonds" began wielding real star power and became immortalised in that hit song "Diamonds are a Girl's Best Friend". Both £POA. You can enquiry about the ruby and diamond pendant HERE. And about the diamond-only version HERE.
Elizabeth Gage Caesar Molten Ring
Valentine gift-giving is a two-way street between couples, with both sharing the joy of giving and receiving. So, treat him to something special and truly distinctive, like a ring from Elizabeth Gage's Molten Gold collection featuring the bust of Emperor Caesar.
This stylish 18kt yellow molten gold ring by Elizabeth Gage features a gold bust of Caesar, with a rich red enamel over finely engraved radiating lines.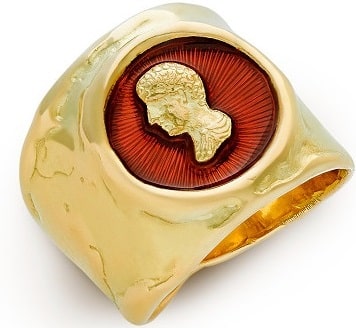 Gage's ring designs are rich with history inspired by the bravery of the medieval knights of Agincourt and Charlemagne and later, by the Renaissance; her bold, strong muscular styles crafted by highly skilled goldsmiths. Elizabeth Gage is regarded as one of the great British designers and a master goldsmith, creating jewellery for over 50 years, pieces that can be regarded as future heirlooms, rich with meaning. £4,800. You can buy it HERE.
Vrai Signet Ring and Tennis Bracelet
A typical option for a gift to the man in your life might be an aftershave or his favourite tipple, but they don't last forever. Jewellery, which is becoming increasingly popular amongst men, however, is a timeless gift that can be treasured for a lifetime.
Vrai's signet ring and tennis bracelet are interpretations of classics with a modern twist in their design and using sustainable lab diamonds.
Signet rings and diamond tennis bracelets are particularly stylish accessories, yet still look quite subtle. Vrai is making its name as a sustainable fine jewellery brand using lab-grown diamonds, which are chemically identical to natural diamonds, and would appeal to a man who feels passionately about the environment. Signet ring £1,547. You can buy it HERE. Tennis bracelet £10,412. You can buy it HERE.
Gemfields x Donna Hourani To Womenhood Earrings
The quote by the Persian poet Rumi "Love is the bridge between you and everything" is the mantra that inspired Dubai-based Donna Hourani's Bridge collection collaboration with Gemfields, the responsibly sourced emerald and ruby mining specialists.
These enchanting, mismatched earrings start with diamonds on top (representing you), followed by emeralds (the bridge of love) and lead up to multicoloured sapphires.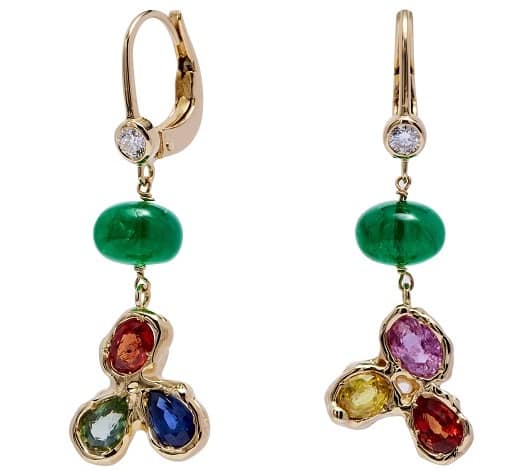 Hourani believes emeralds allow the wearer to operate from the heart, with love, compassion and at harmony with nature. The multi-coloured sapphires meanwhile symbolise femininity, emotional healing, courage and good fortune. A beautiful gift to a loved one of these mismatched drop earrings shares that heart-felt message. £5,830.90. You can buy it HERE
Fabergé x Gemfields Colours of Love Ring
Ruby, sensuous and talismanic, inspires devotion and faithfulness within a romantic relationship, which explains why red has come to symbolise Valentine's Day. French jewellers in the 18th century referred to the ruby as the "dearly loved stone" and in ancient times, the gemstone was believed to possess certain magical powers over wealth, wisdom and success in matters of the heart.
In keeping with its fondness for surprise and discovery, Fabergé has concealed a matching ruby on the inside of the band.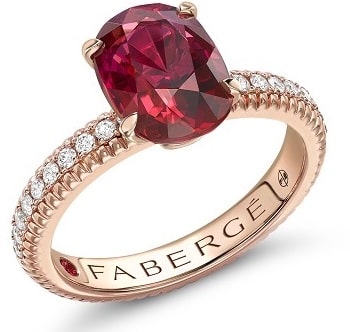 Therefore, Fabergé's vibrant Gemfields Mozambican No Heat ruby ring (0.75cts) with pave-set diamond shoulders (0.21cts) makes an ideal gift, full of passion and meaning to celebrate such an auspicious day together with your lover. The ring is set in 18kt fluted Peruvian rose gold (mercury free). £7,680. Buy it HERE.