Red-coated medal-brandishing Chelsea Pensioners, some of whom fought on D-Day, vied for attention with million-pound cars at the inaugural Salon Privé London. It was held during four days of glorious sunshine on the lawn of SW3's Royal Hospital, acting as an amuse-bouche for Salon Privé's main Blenheim Palace bunfight later in the year, on 31st August to 3rd September.
April's event in the capital was on a smaller scale, with most of the cars arriving courtesy of classic car dealers – who were competing in a Concours de Vente – and prestige manufacturers. Hundreds of guests were entertained with tented hospitality each day, but the menu we really care about is the four-wheeled one, and there were a number of rarely-seen motors which caught our eye, both new and old, gas-guzzling and electric.
The hand-built electric Mustang by Charge Cars enchanted the visitors at Salon Privé London.
One such machine that mixes these different worlds was the hand-built Electric Mustang by Charge Cars, which made a real splash in Chelsea. It uses the latest battery and motor technology to redefine the revered 1967 Fastback model – like the one Steve McQueen drove in Bullitt. The body has been cleverly refined to give 2022 sharpness to the details, and lightweight materials have been used to aid its 536 horses in galloping from 0-62mph in just 3.9 seconds.
The Barnato-Hassan Bentley raced from 1934 till 1938, breaking all kinds of speed records at Brooklands, ultimately with an unofficial lap of 143.6mph in September 1938.
The blue 1934 Barnato-Hassan Bentley was brought along; a record-breaking car at pre-war Brooklands capable of over 143mph. Built for the legendary Bentley boy Woolf Barnato by the equally esteemed engineer Wally Hassan, its sole purpose was to speed around the Surrey banking, which it did in 25 races. It retains its original chassis and 8-litre engine.
Rod Stewart's yellow Lamborghini Diablo VT – one of many raging bulls the rocker has owned – was among the supercars on show, with its black leather and yellow piped seats. This was one of only 20 right hand drive models ever made, and one of only four with fixed headlights.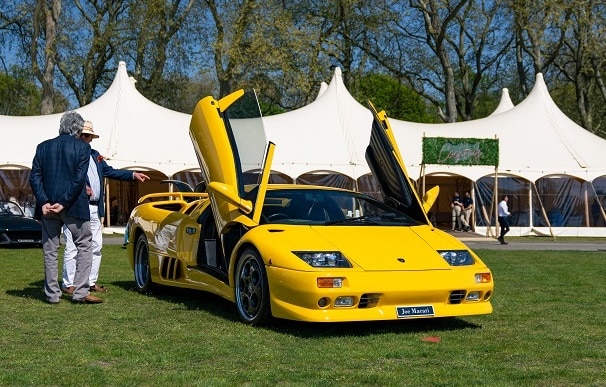 Rod Stewart is known for his love of Lamborghini, having owned several raging bulls over the years.
A recreation of that quintessential British roadster, the Austin-Healey 100, was debuted by new Coventry-based firm Caton and fuses traditional craftsmanship and 1950s style with OEM-grade design and engineering, bringing the Healey bang up to date like a digitally de-aged Sophia Loren.
The Austin-Healey 100 by Caton is built around an all new chassis rather than being built from an original car. Only 25 cars will be made.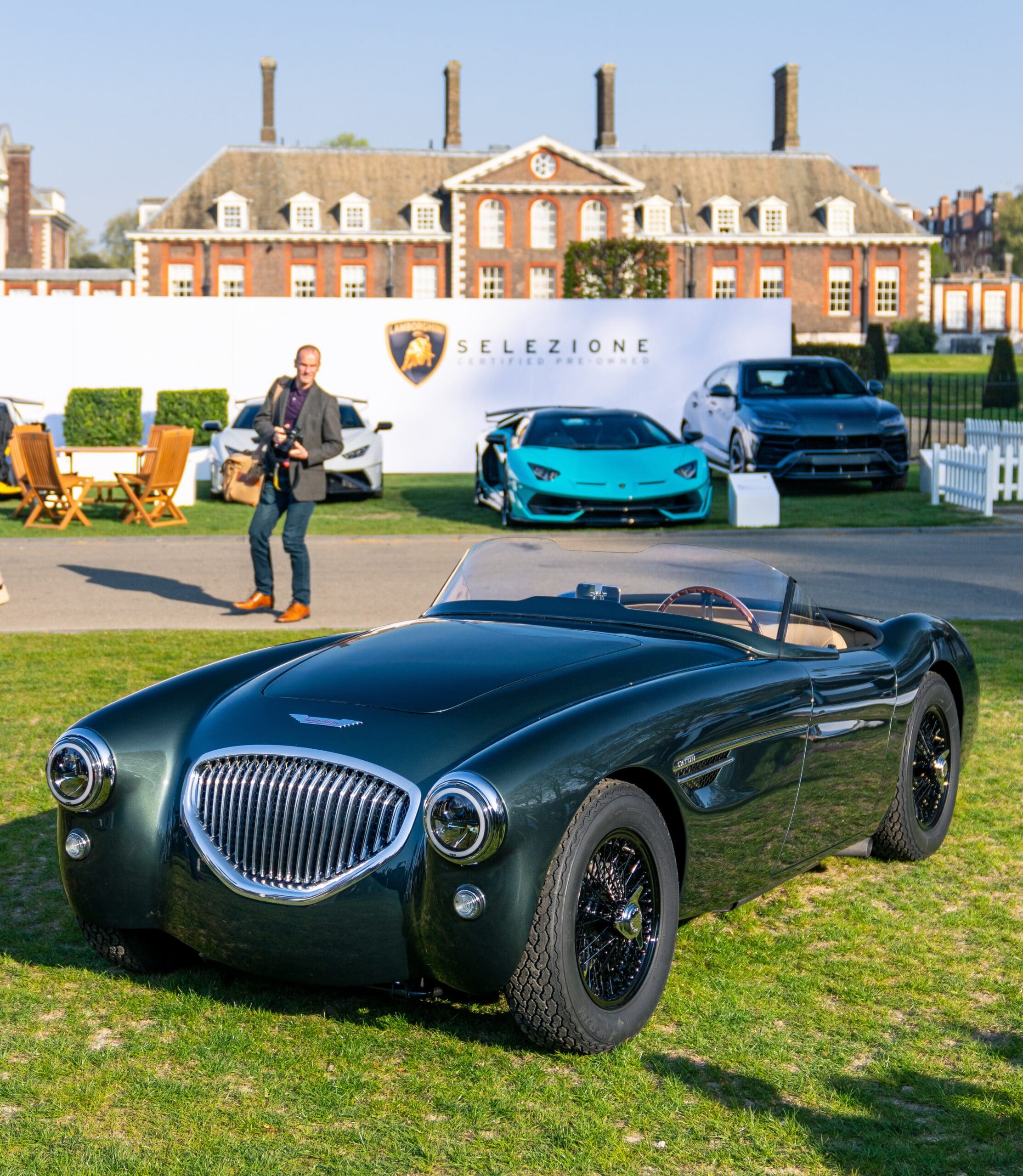 The Ferrari Daytona SP3 made its UK debut, alongside the new 296 GTB. One of the most beautiful bespoke designs to leave Maranello this century, the Daytona SP3 is the third car in chief designer Flavio Manzoni's limited-edition Icona series. It pays homage to the mid-rear-engined Ferrari V12 sports prototypes that wowed the crowds at Le Mans in the 1960s.
Ferrari chose Salon Privé London to present the new Daytona SP3 and the new 296 GTB in the UK.
Prodrive brought its Hunter – an all-terrain hypercar the rally firm has built on the specific orders of the Crown Prince of Bahrain. It's based on nine-time WRC champ Sebastien Loeb's Raid Xtreme competition car, has some hints of Jaguar about it and is the colour of a hearing aid.
Amelia Island Concours d'Elegance winner, the unique showed up. This is among the most mysterious and elusive British GT sports cars. It was designed by a former MIG aircraft engineer and was way ahead of its time, with a space frame chassis, F1-style front suspension and inboard rear discs. The convertible's body was aluminium and slab-sided, and the chairman of AC – Derek Hurlock – used it as his company car for several years. It was very contemporary, but for reasons that have never really come to light it never got past the prototype stage and remains a one-off.
This 1963 AC MA200 prototype may very well have been envisioned to be the second Shelby Cobra.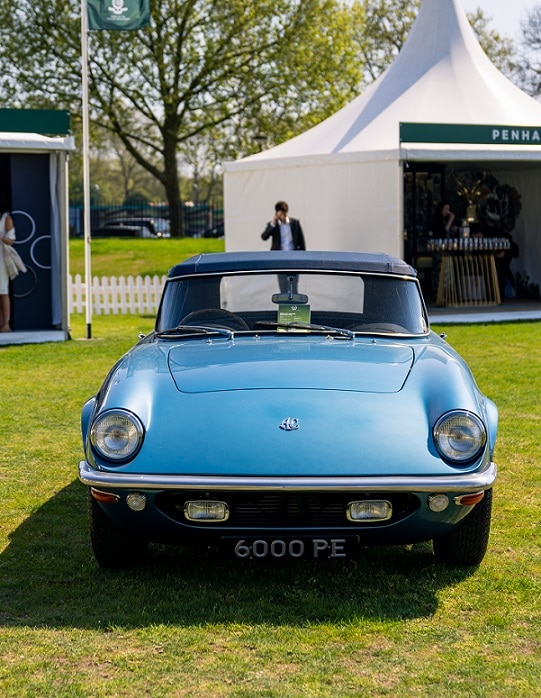 The winner of the inaugural Concours de Vente Prix d'Honneur was a 1954 Italian sports racer, the OSCA MT4, which led its class at the 24 Heures du Mans before crashing out, and went on to win its category in the 1956 Mille Miglia. Meanwhile the People's Choice award went to a red 2004 Ferrari Enzo, signed by key figures from the Scuderia's F1 campaign that year – including Michael Schumacher, Rubens Barrichello, Ross Brawn, Jean Todt and Luca di Montezemolo.
The winner of the Prix d'Honneur was a 1954 OSCA MT4.
The oldest car to make its debut, 81 years after it was first conceived, was the long-lost Alfa Romeo 12C prototype. This historically significant Alfa Romeo, which also connects Ferrari and Porsche, was completed decades after the project was abandoned, with its major components reunited and the car restored.
Morgan delighted visitors with its new three-wheeler, the Super 3.
That most traditional of motoring marques, Morgan, showed off its new Super 3, the Malvern factory's new three-wheeler. Just as the model it replaces transplanted 1920s visceral motoring in our lifetime, the Super 3 brings a similar adventurousness through late 1940s Jet Age-inspired design. We're hoping to pack its side-mounted panniers with survival tweed and don our goggles for an old-school jaunt to the Highlands very soon. Watch this space!
All of which sets us up for a Summer filled with tyre-kicking events. The automotive social scene is truly back and firing on all cylinders once again.
Opening picture: Prize winners of Salon Privé London 2022.
All pictures courtesy of Salon Privé.