By Lavinia Dickson-Robinson
Not even a cold grey morning can take away the beauty and magnificence of Rushton Hall. With its drive lined with thousands of golden daffodils, this is not so much a country house hotel but a stately home experience. Seeped in history, at first sight Rushton Hall is breathtakingly beautiful. It has been described as a princely residence and I could not agree more.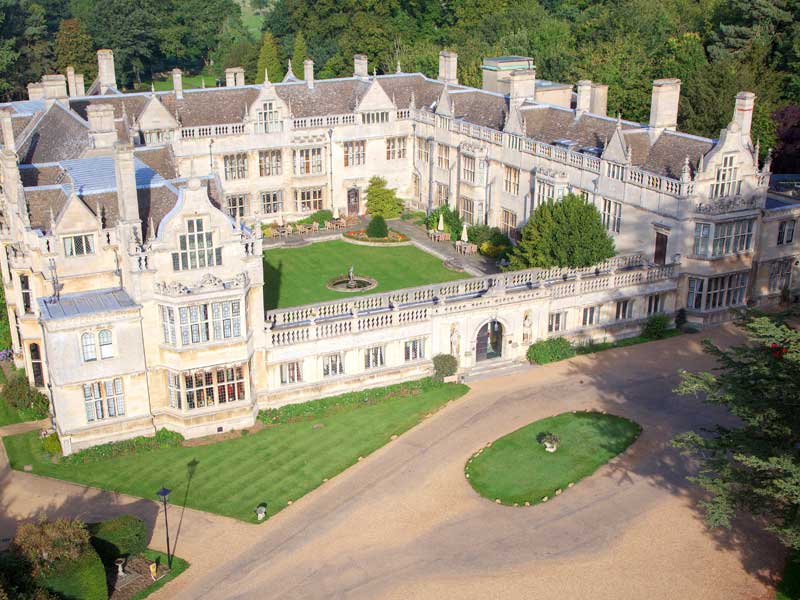 The original owners, the Tresham's, date back to the time of Henry V and Henry IV. Their connection to the gun powder plot, priest holes, Queen Elizabeth I, James I, Charles I and the Hope Diamond – which if rumour is to be believed once belonged to King Louis XIV of France- make Rushton Hall a place of huge historical significance.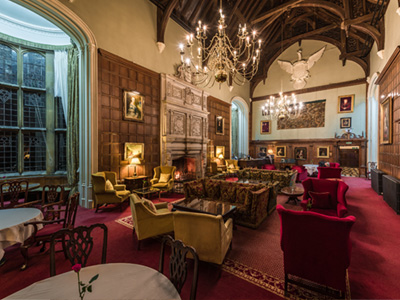 Indeed, you can almost hear the rustle of silk skirts, the whispers in the corridors, and wonder what secrets these ancient and beautiful walls conceal. Now back to the present day. Valerie Hazelton and her family bought Rushton Hall in 2003. They lived there while restoring it to its exquisite grandeur before it was opened as a 4-star hotel by HRH The Duke of Gloucester on 26th September 2006. The entrance is gracefully elegant; and the moment you walk through you get a sense of walking into luxury and history. We arrived a little early for our rooms to be ready so we were shown into the show-stopping Great Hall, where we waited sipping champagne and admiring the detail in the hand-carved ceiling, the imposing fire place, the family portraits and the stunning stained-glass windows which had once been in the family chapel. The Hazelton family have not only beautifully restored Rushton Hall, but have followed in the footsteps of previous owners and sympathetically extended. One of these extensions is the beautiful Orangery fit for the wedding of a French Queen!
I was told that one of Valerie's daughters painstakingly put the chandeliers together crystal by crystal. Wow!
Having had a light but delicious lunch, we were shown to our rooms. I almost twirled with delight we were shown into the Georgian Room. It is so beautifully decorated! Four-poster bed, walk-in wardrobe, and a gorgeous view over the gardens. The bathroom is so large that you could have a cocktail party in it.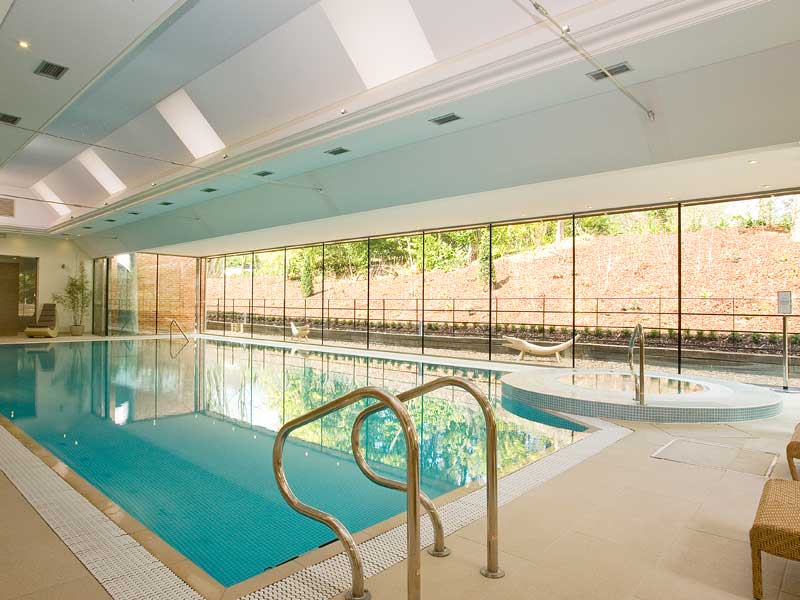 If this was not enough Rushton Hall has a superb Spa known as the Stable Yard, with its own indoor swimming pool, gym and nail bar. I spent 2 blissful hours soothing away my weary London bones and having my skin restored with the Stable Yard Spa Signature Treatment. Having been salt scrubbed, wrapped, and then massaged with Frangipani and lime I floated off back to our suite, passing the great hall wishing I had eaten a little less at lunch, as I saw huge cake stands laden with sandwiches, cakes and scones. Next time the afternoon tea will be a must! After a wonderful dinner and a very deep sleep, we woke up to a superb breakfast. I decided it was time to explore and burn some of the extra calories I had been piling since arriving to Rushton Hall. There was so much to see! Each room so different; one of the most interesting is the Elizabethan wood panelled room … Apparently Queen Elizabeth I slept in this room.
Like the Hall itself, the park and gardens have evolved and been added to over many generations and families. The Park at Rushton hall was originally enclosed in the late 16th Century by Sir Thomas Tresham and it was here that he built The Triangular Lodge -now owned by English Heritage. The Cullan Family created extensive formal gardens during the 18th- century, which may have been based on an earlier layout.  They include walled gardens, canal, a formal wilderness and a viewing mount. The designed landscape was made more informal in the 19th century.  In the early 20th-century Thomas Mawson was commissioned to design a formal garden, which followed the layout of the earlier one. So, if you want to get Married in an Orangery fit for a Queen, indulge in afternoon tea or have a romantic weekend away. I cannot think of anywhere lovelier to stay.