There is a reason why the best things in life are called "The Rolls-Royce of …" Self-declared "the world's most customer-centric company," when asked about the second edition of Ghost, the feedback from customers was quite clear: "We want more, but we want less."
This is a company that sells around 5,000 cars per year, so there was no room for error. Designers and engineers joined efforts to interpret this message, following what they call a "Post-Opulent design philosophy" and built upon the architecture of luxury. The triumphant result is New Ghost. This is a car that turns heads for the right reasons: it is elegant, flawlessly designed, and utterly luxurious.
In line with the message from their customers, the minimalist design character of Ghost was preserved. On the outside, various design features were rubbed out, including any embellishments on the bonnet (all but the spirit of ecstasy of course, which now gracefully emerges through the car's bonnet instead of sitting atop the grill) and all sharp lines have disappeared. A single, sculpted shoulder line extends from the front to the back, creating a continuous silhouette and a fluid flow from the roof to the trunk. The grill is slightly smaller, made of polished stainless steel, and subtly illuminated.
Despite its considerable size, once in the driving seat, the car seems to shrink around you; it drives with agility and confidence even around the tightest of turns. I'd dare to say that it feels as gracious as a ballerina.
Ghost offers more legroom than any other four-seat sedan except for Phantom. Two new contemporary wood finishes have been introduced: Obsidian Ayous, inspired by the colours of igneous rocks; and Dark Amber, with veins of fine aluminium particles running through the wood. Both are available in open pore finish. The combination of Arctic White leather with Obsidian Ayous wood finish on hard surfaces is incredibly elegant and one that I plan to copy in my own home.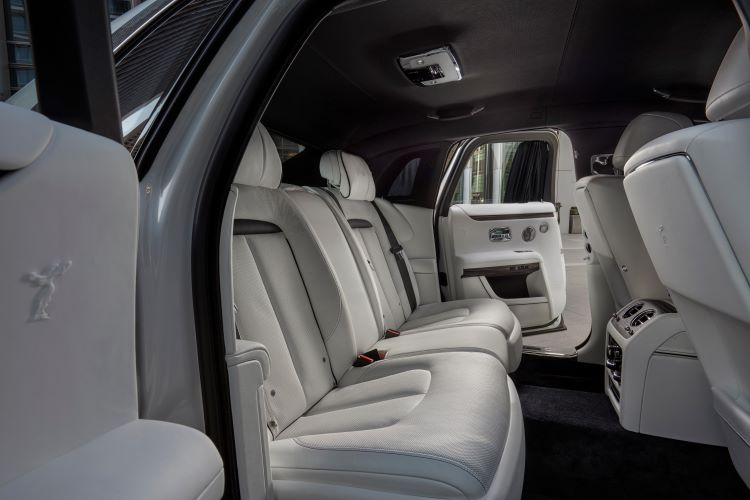 The rear cabin is further enhanced with a Champagne fridge, for those moments when one transitions from business to pleasure. The fridge operates two temperatures, six degrees for non-vintage and eleven degrees for vintage Champagne. Combined with an inside roof that resembles a starry sky at night, you have the most romantic setting you could ever dream of in a car.
Technology is not amiss in New Ghost … just invisible, reflecting customer demand for a serene environment and as few buttons and screens as possible. My favourite has to be the new air purification system for the cabin that gets rid of any impurities coming from the outside in under two minutes. Other technology enhancements include laser lights with more than 600 metres of illuminated range, vision assist, 360° camera system (with helicopter view), active cruise control, and all kind of collision warnings and other driving aids.
Furthermore, the proprietary sound system gifts occupants with the purest sound. Whether you are listening to Holst's Planets or 50 Cent's latest hip-hop album, you'll feel as if the artist and orchestra are in the car with you.
Ghost is built on the all aluminium frame that underpins every new Rolls-Royce model. The marque's hallmark Magic Carpet Ride is delivered by a new Planar Suspension System that seems to level the road ahead of you. Honestly, this is the smoothest ride I've ever experienced. The car also benefits from all-wheel drive and steering. Power comes courtesy of a 6.75 litre twin-turbocharged engine delivering 563bhp and 850Nm of torque. Now, if you think it's going to be noisy, think again. I've never been in a cabin quieter than that of this car. You can hear a pin drop, well, not really, because of the plush carpet, but you know what I mean. In these conditions, you could easily drive from London to Scotland without stopping once. In case you are worried about your back, please don't. The back of your seat comes with a massage feature to safeguard your precious vertebrae.
The universe of Rolls-Royce is one of luxury and wonder, a universe that makes the few who have access to it feel very special indeed. If you can, you must.