If you are a British celebrity, you kind of haven't made it until you are photographed by Rankin. A star in his own right, Rankin took a bit of a serendipitous way to becoming a photographer, having tried first his hand at accounting (don't ask) before realising that being behind a camera is what he wanted to do for a living and that he was pretty good at it.
Rankin's fame is the result of his unique talent to bring out the soul of his subjects in his portraits. Kate Moss, Jay Z, Gigi Hadid… even Her Majesty the Queen have posed for him. "When I am photographing someone," Rankin explains, "I believe it is a collaboration, we are making something together. I don't want them to feel I'm totally in control." In some of his work, this complicity between photographer and subject is so powerful, it feels almost haunting. Rankin mentions the picture he took of Richard Ashcroft as one he is particularly proud of. "I think I got something unique there, something no one else would have captured." On the other hand, the other people he believes he gets the best out of are those he often works with, such as Heidi Klum, or his wife Tuuli Shipster. "My wife has given me pictures in which she has revealed aspects of her personality I had never seen before," Rankin shares, "that is very special." Robert Downey Jr is another favourite of his. "He is one of the best people that I've ever photographed. He shows you a different part of himself all the time and he's genuinely someone who I've enjoyed meeting and spending time with."
"I actually enjoy
getting under the
bonnet of social norms
and challenging them."

– Rankin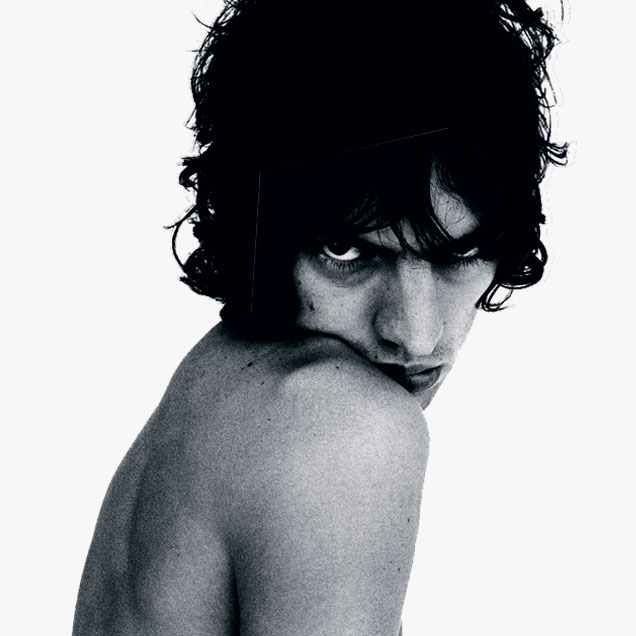 This appetite for collaborating and creating things with others was present even when he was at university, where he launched a magazine called Untitled, which served as a base to later launch the internationally acclaimed Dazed & Confused in 1991, AnOther Magazine in 2001 and in 2011, Hunger. "When I started, magazines were the best form of communication for photography," explains Rankin, "so we did our own, I suppose as a way to keep some kind of control over our destiny." Launching Dazed & Confused was a brave decision, as the world was still in recession, but Rankin just shrugs his shoulders and adds, "We did it because we could, and anyway, it was a bit like when you join a band, we didn't expect it to last more than a few months."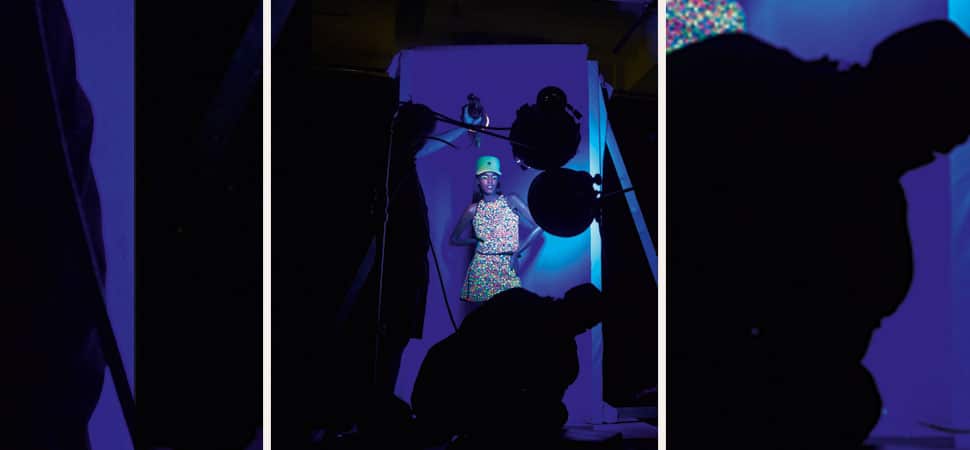 Opposite: Leila Nda being photographed for Glow, Hunger, issue 11, 2016.
But last it did. The magazine, now called Dazed, is still alive as an independent youth culture magazine. This is clearly testimony to the value of Rankin's original concept. Rankin is among those of us who love print. "I think it is a very powerful medium," he declares, "there is a place for everything but unlike social media or websites, a magazine is a self-contained medium. Printed publications are time-capsules that we put out into the world. Furthermore, I think they are implicitly more trusted because of the craft involved in making them." He has certainly mastered that craft. Apart from all the magazines he has been involved with, he has produced dozens of exquisite books such as Unfashionable: 30 years of fashion photography (2018), Play (2020) or An exploding world (2022). "It still gives me a buzz to put together a magazine or a book," he adds. He is indeed a profilic artist, always exploring, always willing to go further.
"You can only
change the world
from the inside."

– Rankin
Unfortunately, the younger generation hardly read anything but social media, which in certain way handicaps their learning potential and subjects them to biased information, as cookies and algorithms pretty much decide what is put in front of their eyes. "I speak about this to my assistants," Rankin comments, "those who are digital natives don't have the same appreciation for the history of photography, for print magazines and books. Unless they are ready to go out of their way, they won't use them to learn. I think it's more a consequence of Google than of their own intent." Paradoxically, the overall effect in the learning by the young is somehow limiting. "When I was studying I wanted to learn about other photographers and film directors," shares Rankin, "I would have been the laughing stock of my peer group if I hadn't, so I avidly researched books and magazines to learn about them, from as far back as I could find, even Edward Weston and Buster Keaton. These days, you are lucky if you ask a student and they know a director from earlier than the '90s." However, he quickly adds that he very much welcomes the digital era and the opportunities it brings to creatives, he just feels that "young artists would learn even more if they added a bit of traditional learning to their overall mix."
Read the whole interview with Rankin in our Summer issue available HERE.