Just over a year ago, the luxury watchmaking Swiss brand Vacheron Constantin opened its first boutique in Edinburgh, just a stone-throw from the castle. To celebrate its first anniversary, the Maison has commissioned five local artisans to create a collection of unique items to celebrate traditional crafts by exploring the themes of place, time and heritage and celebrating traditional crafts. Eight of these works would be permanently on display at the boutique.
From the beginning of its journey more than two hundred and sixty years ago, Vacheron Constantin has championed artistry and craftmanship. From the unrivalled dexterity of its master watchmakers to the highly skilled of its artisans, the Maison has been passing on all the knowledge for nearly three centuries through the different generations. The constant values that have permeated through could be crystallised in very few words: One of Not Many. It was this idea that was shared with the five artists commissioned to create bespoke works for its Edinburgh boutique, housed in a historic building from the 18th– century.
The first of these artists are the husband-and-wife team known as Chalk Plaster. Ffion and Steven Blench are devoted to restoration. They work with Scagliola plaster, a medium that appeared in Europe in the 1590s and that for many years was used only for works destined to Royalty. The technique relies on just a few simple natural ingredients: gypsum plaster, pearl glue and pigments. Its simplicity is deceitful. In the skilled hands of a master craftsman, scagliola plaster can become a material as exquisite and beautiful as the most exotic of marbles.
"The Provenance project was particularly fun. Using hand processed pigments is always a bit of an adventure. They contain all sorts of impurities which can have surprising consequences in the final pieces."

– Steven Blench
For this collaboration, the artisan couple made a gorgeous scagliola side table pigmented with a roiling stracciatella of dark and light tones. Steven told me that the materials for this piece were gathered during a six-month restoration project on the Adam Dome at General register House in Edinburgh – a grand classical building designed by Robert Adam to house the treasured records of Scotland's history. "The dark is airborne soot from Edinburgh's coal fires which had accumulated on the back of the ceiling since its construction in 1785," he explains. "The fine soot produced a jet-black pigment which we contrasted with a lighter one made from old lime plaster finish which came from the interior of the dome. This material had been supplied by an Edinburgh lime merchant called William Laing during the 1780s."
The very nature of these pigments means that often, surprises come out at the very end. "In this particular piece tiny fragments of iron were present, which oxidised during the making process creating small bursts of orange within the surface," Steven explained. "In a way, the table is a kind of time capsule holding all these layers of Edinburgh's history. These materials were refined, combined, cast, and painstakingly polished. As a complement, Chalk designed is a series of bespoke coasters, inspired by the singular form of the master watchmaker's rose engine lathe. They were also cast from scagliola and pigmented with soot collected from the same source.
The second artisan commissioned by Vacheron Constantin is the young ceramist Hazel Frost. Hazel studied in Central St Martins and, upon graduating in 2013, she opened her own studio in Edinburgh. Inspired by the Scottish landscape, she works with a variety of ceramics, from locally foraged clays to fine porcelain to create tactile pieces that explore the natural elements – water, minerals, plant and animal residue – that make the clay itself over millions of years of geological evolution. "Pottery has an inherent sense of time and place," she tells me, "from the clays which are dug up from the ground beneath us to the glazes that are made from the ash of our fires. Each found material results in nuances of texture and colour that only reveal themselves once they have been fired in a kiln."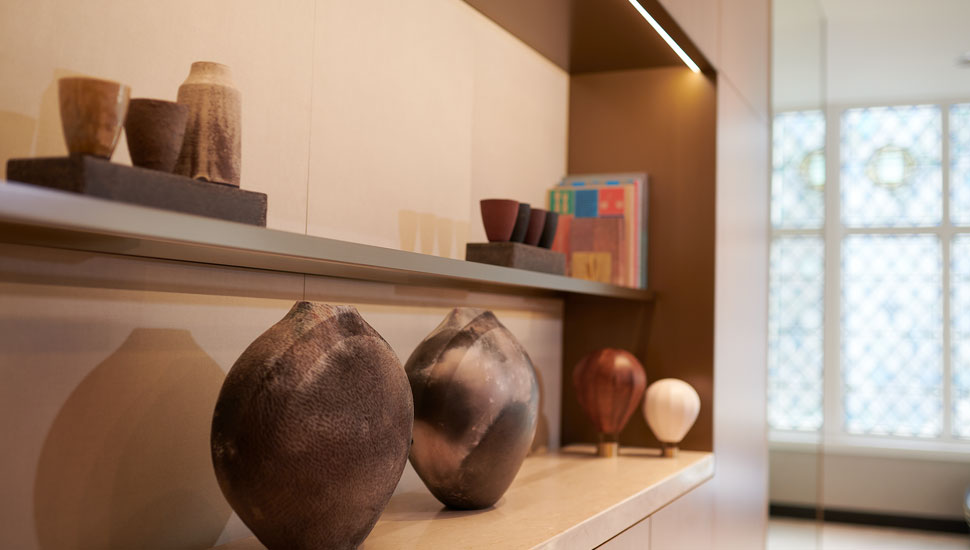 Hazel Frost's series of traditional tea bowls and carafe (top shelf) and the two coil-built vessels (bottom shelf).
Using foraged clays from six regions of Scotland, Hazel threw and glazed a series of fine traditional tea bowls and a carafe for the Provenance Collection. Each clay, dug from sites including Leith Walk and Blair Adam, brings with it a different makeup of ingredients, tones and textures, distinctively resonant of the ground in which it was found. "This collaboration allowed me the space to explore the materials around me, to compare the variations in clay from different localities. Using simple pottery techniques that have been around since the early days of humanity, is an element that connects me to the craft, to those potters who have come before me and to the land around me." She also produced a pair of dramatic coil-built vessels, which required a lot of patience and many weeks to meticulously layer and handshape. One is smooth and burnished, almost lustrous; the other, painstakingly chiselled prior to firing. The surfaces of both pieces have been smoke-glazed with burnt leaves gathered from around her home in Edinburgh.
Textiles is another media that Vacheron Constantin wanted to explore within this Provenance collection. And so they invited weaver and designer Araminta Campbell. Araminta's interest in textiles comes from her childhood, thanks to the tartan she saw at special family occasions and her love of the woodlands, glens and lochs near her home in Aberdeenshire, which have inspired her throughout her career.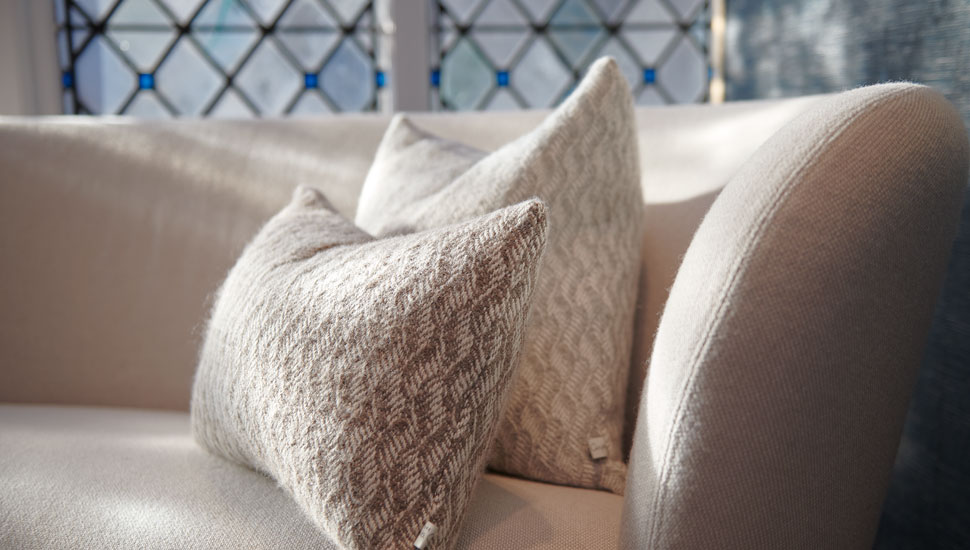 Araminta's artisans produced a stunning fabric using traditional looms and British alpaca which was used to produce soft furnishings for the boutique.
Araminta was struck by Vacheron Constantin's remarkable guilloché work, by the skill, artistry and technical mastery required to create these precise patterns and textures, the way the light plays on the finely worked surfaces of the metal. In an effort to emulate this dramatic relief, she developed a complex woven design, incorporating twenty shafts of contrasting yarn delineated by curves that arc softly through the fabric's structure. As a result, the fabric has an extraordinary depth, to the point that it almost shimmers. Using traditional looms and the finest sustainably sourced British alpaca, her artisans have woven this design into a stunning textile, used to create a unique series of soft furnishings for the boutique. "Like Vacheron Constantin guilloché work, my designs are works of art," says Araminta, "I translate stories into textiles which stand the test of time. I admire the skill and mastery that goes into each and every Vacheron Constantin timepiece and feel that we have the same ethos in creating one-off pieces using centuries old skills and traditions."
Very few materials are as tactile and evocative as wood. The scars on their bark, the knots and cracks in their trunk and branches are all a reflection of lives that are bound to a place, but which flow through time. With a lifespan of 800 years, there are few trees with more character than the Scottish oak. Methods Studio is a company of multidisciplinary creatives and craftsmen working in the hidden depths of the West Lothian woods.
The umbrella made of Scottish oak and the larger of the two Codex mirrors created by Method Studio, founded by architect Marisa Giannasi and woodworker Callum Robinson.
For this project, they showed the scope of their creativity by making two pieces. The first, an umbrella stand for the boutique, crafted from local Scottish oak. Its tapering 12-sided form drawing from the opening of an umbrella and, from deep within, its elegantly interlaced spokes. Their other contribution to the Provenance collection is influenced by Creag a' Chaisteil, or Castle Rock, seat of Edinburgh's legendary stronghold, which casts a massive and ancient shadow on the Vacheron Constantin boutique. This enduring slab of volcanic geology is the inspiration for the stratified form of Codex Mirrors created by the Method team, one large and one small. The brass threads that weave their way around the forms give the pieces their name. These find their roots in the secret codes that have for centuries passed between Scottish Royalty – for good and ill – their careful placement evoking the letters "V" and "C" in binary.
Another geological wonderous material that couldn't be amiss in the Provenance collection is glass. Although volcanic magma, meteor and lightning strike can form glass in nature, the vast majority of it is industrially made. Sand, soda ash, limestone, and extreme heat. For nearly four thousand years, glassmaking is about as close to alchemy as we have come. It is estimated, however, that a single glass bottle would take over a million years to decompose in the environment. This, in turn, means there is a lot of lonely, discarded glass out there waiting for a second life. Vacheron Constantin went to Costa Rican born artist and designer Juli Bolaños-Durman to create a glass piece to complete this unprecedented collection.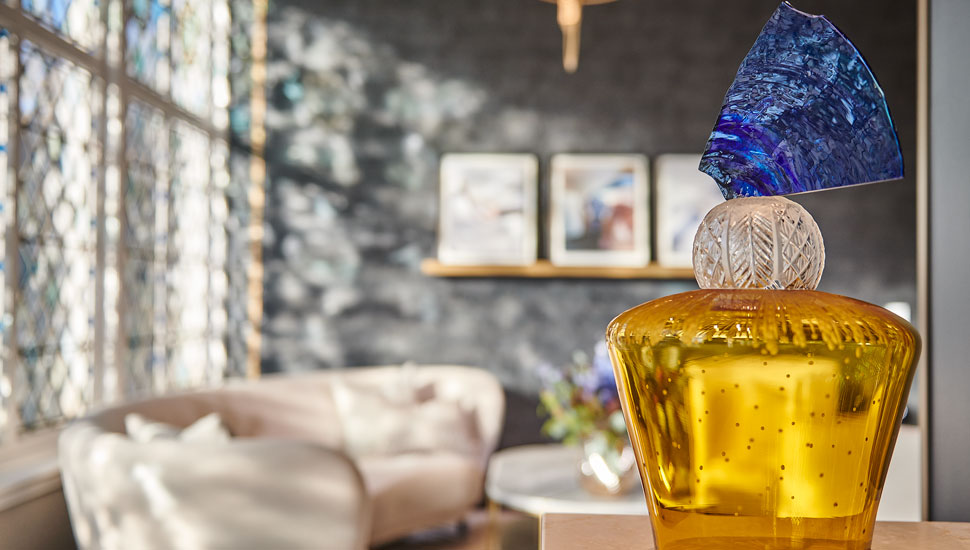 Juli's sculptural piece, made of reclaimed glass, is a reflection of her love for colour.
After studying in San José, New York and Venice, Juli chose Edinburgh as the location for her studio. Like in any other city, she realised she could find here as much discarded glass as she could dream of. By collecting, modifying and repurposing these found objects, Juli found a means to give them new lives, creating precious, sustainable, charismatic objects which each tell a story of redemption. For this commission, she produced a unique sculptural piece that displays her characteristic Costa Rican love of vibrant colour, composed of just three tones and three fragments of abandoned Edinburgh glass. The work draws inspiration from the original stained-glass windows in Vacheron Constantin's boutique and the elegant city beyond. Speaking to you Juli, she shared with me some of her notes, showing how her methodology aligned with the Maison's "Past, Present & Future" depicted metaphorically. "Its heritage and respect for tradition are the values I took from Vacheron's past. From the present, I took the optimism and the idea of working with what we have to make it beautiful. For the future, I wanted to reflect its sense of innovation and the idea of leaving a better Earth than we found, as a good ancestor would do."
Juli also kindly explained to me the creative process for this beautiful piece, "After visiting the boutique and researching the values of Vacheron Constantin, I decided to create a glass sculpture that visualises the passage of time, using found glass collected from the community and embellished by using heritage hand-cutting techniques local to the area. The markings on the glass and the colour combination are directly linked to the boutique's stained-glass windows dating back almost 200 years."
The artists had the chance to meet and learn a bit about what the others were making. "We were all creating something new from our usual practice, so it was a great surprise to see how all the objects came together."
Discover the Provenance Collection at the Vacheron Constantin boutique in Edinburgh.
Vacheron Constantin
3 Frederick Street, Edinburgh, EH2 2EY
Tel. 0131 322 1980
To visit the boutique's website, click HERE.
Monday – Saturday 9am – 6.30pm
Sunday 11am – 5pm