The Côte d'Azur is long established as an area for residential investment and second-home ownership. One of the first modern resorts, it can trace its origins back to its days as a winter retreat for the British upper class, European aristocracy and American captains of industry at the end of the 18th century.
Life on the Côte d'Azur has always been glamorous and desirable, part of an international network of second-home hotspots, but the downturn experienced by the French property market over the last few years, also affected this region and the property sector went through a bit of a slump. However, because demand comes from a global marketplace, its prime residential markets have more in common with other top-tier global city markets than the rest of France.
As John Caudwell puts it, "There has been no better time in the past 10 years to invest in the French Riviera. The hyperinflation that characterised the early 2000s has subsided and market prices have now adjusted representing value for money. The property market could be even more attractive to investors, and the French government could and should take steps to encourage investment from high net worth individuals to support the future growth of the Riviera.
Nowhere else in the world can you enjoy both the chic glamour of the Riviera and the unspoilt mountain ranges virtually on your door-step. It is the only way to combine high-living on the coast, with simple living in the breath-taking mountains where you can ski, cycle and enjoy the unbelievable scenery. The location also sets the Riviera apart, with a huge catchment area of holiday makers that can enjoy the unrivalled beauty of the region in just four or five hours travel. It would be one of most people's favourite holiday destinations, including one of my own."
So, why the slump? Demand began to slow after 2012 with the election of François Hollande and, after 2014, fell again due to falling commodity prices, sanctions on countries such as Russia and the stalling French economy. After a few years of low transactions, the market is now adjusting to changing buyer demands, a new tax environment and growing global competition.
Currently, supply is high, but conditions are improving. Macron's government has brought stability and improved international standing and the demand for euro-denominated assets is fuelling interest in the region's real estate. High levels of prime stock mean a buyer's market. Discounts on asking prices range between 10% and 30%.
"Comparing to other Mediterranean destinations, The Côte d'Azur is less of a resort and holiday location than Greece, Spain or Italy," says Jean Claude Caputo, Director of the Savills Private Office in the Riviera region, "in fact, more people come to live permanently and commute with major cities for work. As regards real estate, the area commands higher prices than these other locations but for good reasons and low-interest rates allow attractive purchasing solutions at present."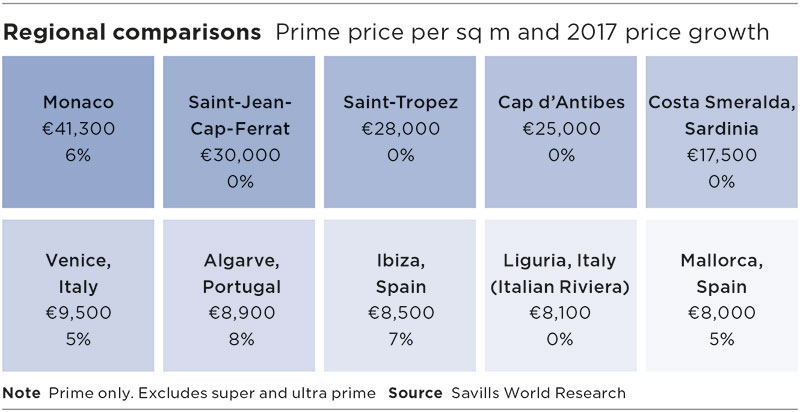 Richard Bosson, Director at the luxury property developers Caudwell collection explains the current market: "The French property market in general has suffered considerably over the last few years, and this has also affected the Côte d'Azur despite its enduring appeal to buyers the world over. We are now seeing a very real recovery which has been particularly pronounced within our portfolio where first class quality, combined with all the facilities necessary for luxury 'lock up and leave' living, have driven sales way in excess of the underlying market."
Caputo shares Bosson's view: "The Côte d'Azur is the most stable value wise and attractive location in the Southern part of Europe. It gathers multiple lifestyle opportunities for second home purchasers, this combined with very easy access through Nice international airport to any major city in Europe, the Middle East or even the USA. Historically attracting the wealthy and cultured Northern European, Russians and Americans, we now have purchasers from all over the planet spending time in their homes not only in the summer period but all-year. The variety of locations offer multiple lifestyle opportunities to sojourn in a secluded environment, enjoy outstanding views, and take part in more lively lifestyles in one of the towns or sample the extensive shopping venues as well."
The most active prime segment seems to be that between €3-8million. A younger, international set is emerging and changing the shape of demand in the region. This rising group are aged between 35 and 45, globally mobile, time-sensitive and demand the best, favouring high-specification, ready-to-move-into properties.
Russians and Eastern Europeans are returning to the market, but with lower budgets for purchase, and are increasingly present in the rental markets. Belgians and Scandinavians are important new and fast-growing purchaser groups. British buyers are still present and Middle Easterners remain a force. The French, now largely absent from the top tiers, account for around half of transactions between €2 and €5 million.
Russell Meadows, Commercial Director at Caudwell Collection confirms this trend: "Our buyers' nationalities are mainly British, French and Russian but we have made sales to Scandinavian and Benelux buyers as well. There is considerable interest emanating from the UK and we expect this trend to continue."
Despite the desirability of the region as a whole, when looking at investing in real state, there are factors to be considered, as Savill's Caputo explains: "One needs to target the best locations which are very stable in value, very bankable and allowing as well opportunities to rent seasonally. The risk is to buy in an overlooked environment, near road noise and far from sought after locations, as in this case, the resale and financing could be as well more difficult. It is important when purchasing to be well advised about the tax environment and having the property title checked into details."
We have analysed one particular enclave in Côte d'Azur, Cap d'Antibes, a peninsula of 1,200 properties, offering resident privacy, sea views and easy access to Cannes and Nice. Prices range from €2 million to more than €100 million. The most desirable location is the southern tip, known as Billionaire's Bay, offering bigger plots (some waterfront), with sea views toward Cannes. Prices for villas here exceed €50,000 per sq m. New development is bringing fresh product to Cap d'Antibes, a market otherwise characterised by villas.
In this sought-after area lies Parc du Cap, an upscale gated development of 88 apartments acquired by Caudwell, and listed by Savills French Riviera, which offers residents a range of amenities (including pools, a spa and a tennis court), 24-hour concierge, and private terraces/gardens. It reflects the type of product many buyers seek today: low-maintenance, lock-up-and-leave luxury apartments, within easy walking distance to restaurants and beaches.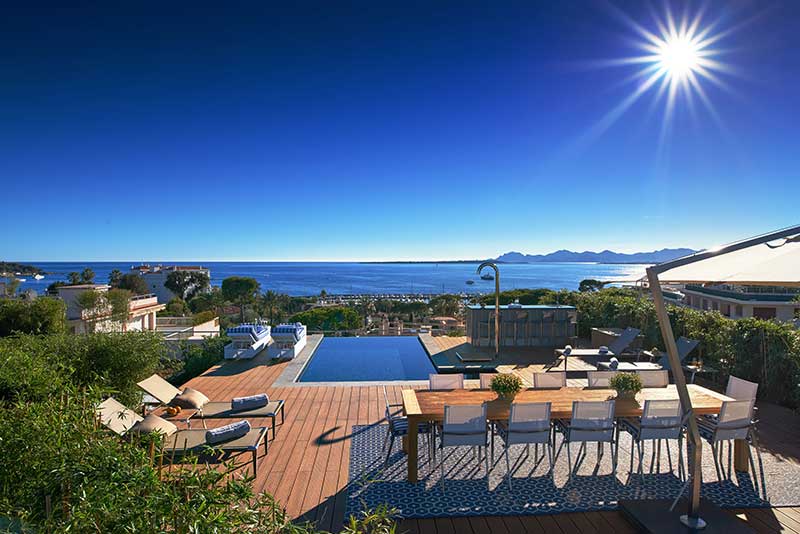 Another example of all- year- round homes on offer in the €2-5million segment of the market in Cap d'Antibes is Les Oliviers, a development by Caudwell Collection. The site of Les Oliviers belongs to the former attendants' quarters of Le Provencal, the once glamorous hotel which hosted the likes of the Kennedys, Coco Chanel, Joan Collins and Charlie Chaplin from the 1920s to 1970s. Positioned in a peaceful, secluded enclave of Cap d'Antibes, the original building has been transformed into six exclusive residences, comprised of four two- and three-bedroom apartments, a four-bedroom Duplex with a private pool, and a three bedroom penthouse. The development includes a series of beautifully manicured Provençal style gardens, a shared sundeck and heated outdoor swimming pool.
In response to the high spec demanded by buyers in the prime segment of the market, all the apartments are equipped with high tech features including programmable 'Lutron Homeworks system' controls for mood lighting and security shutters, as well as contemporary interiors, open style French country kitchens and Carrara marble mosaic walled bathrooms. There is 24-hour security and private underground parking.
Russell Meadows, Commercial Director at Caudwell collection establishes the difference between these two "lock & leave" property propositions: "Les Oliviers has similar "lock & leave" characteristics to Parc du Cap as it benefits from 24 hours' security so residents can feel content that their property will be safe and secure while not in residence. The main difference is the size of the apartments starting from a generous 150 m2 for a 2 bedroom units and their large volumes which create a homely environment suitable for all year round living."