Princess has always strived to deliver voyages of endless possibility to each and every customer, and continue to do so by building yachts to international acclaim in their shipyards in Plymouth, the oldest of which dates back to the 17th century. With a detail-oriented culture of innovation, these yachts are internationally recognised for their technology, performance and beauty.
During my visit, I had the chance to witness first hand the exciting process that takes a boat from the moment of conception, to the moment it goes on the water. Founded by ex-Naval Officer David King in a small industrial unit in Plymouth in 1965, Princess has developed into one of the most successful motor yacht builders in the world, employing over 2,000 people across 6 factories in and around Plymouth and building over 300 yachts per year. Whilst benefiting from its rich heritage, Princess Yachts International are committed to a culture of constant innovation. Every aspect of the conception, design, build, and ultimately use of every Princess Yacht is at the very frontier of what is technically possible today. Even construction techniques are at the very forefront of technology, almost completely eliminating styrene gas emissions in the workplace and for the local environment.
80% of every Princess Yacht is constructed in-house. Cutting edge precision composite construction and resin infusion technology reduce weight increasing fuel efficiency and performance whilst maximising interior volume. Stiffer, stronger superstructures grant larger glazed areas gifting the interiors more light and panoramic views. Princess deep 'V' hulls deliver the finest sea keeping and ride, ensuring guests and crew are kept comfortable and safe. On the water, Princess Yachts are instantly recognisable for their elegant and graceful lines. Clean, uncluttered lines and a muscular deep-V hull give Princess yachts an undeniable presence. Dashing across the water in a Princess yacht is a truly luxurious and exhilarating experience!
In fact, they have received innumerable awards for both design and performance. To give you some idea, at the Motor Boat Awards this year, the Princess V58 Open won the Motor Boat award in the category for "Sportscruisers over 45ft", for "delivering a truly intoxicating mix of style, sophistication and speed, with a party boat deck layout" and the Princess 75 came top in the category for "Flybridges over 55ft".
Kiran Hasslam, Marketing Director and Member of the Executive Committee Board explained what makes Princess Yachts different: "Our approach to manufacturing and our philosophy sets us apart. We have developed over 52 years to become the leading British luxury yacht manufacturer, having produced over 17,000 yachts, and we continue to set the standard in luxury yachts for performance, design, sea keeping, safety and innovation. We resin-infuse every hull, whether that be 40ft or 40 metres, and we have 24 yachts in our range, which are continuously in development cycles."
Once the team of naval architects, designers and engineers have determined a design, it is the job of the craftspeople to bring it to life. Every detail is crafted and finished within their Plymouth shipyards. Not only this enables Princess to monitor quality throughout each build but it provides invaluable employment to the area and secures the survival of crafts that otherwise will be probably lost. Actually
on my visit I noticed that there were many very young people among the crafts team. It was explained to me that Princess have over 100 apprentices undertaking intermediate and Advanced Apprenticeship and NVQ programmes as well as operating graduate development schemes.
Antony Sheriff, Executive Chairman, Princess Yachts Limited, added: "Princess is a true luxury brand that combines technology with traditional craftsmanship. The city of Plymouth plays a fundamental role in the achievement of our goals. Much of our team is local and, in creating a continual demand for the latest technological skills and traditional artisanal techniques, we hope to continue to build both the local skills base and the city for generations to come. We are Plymouth and Plymouth is us."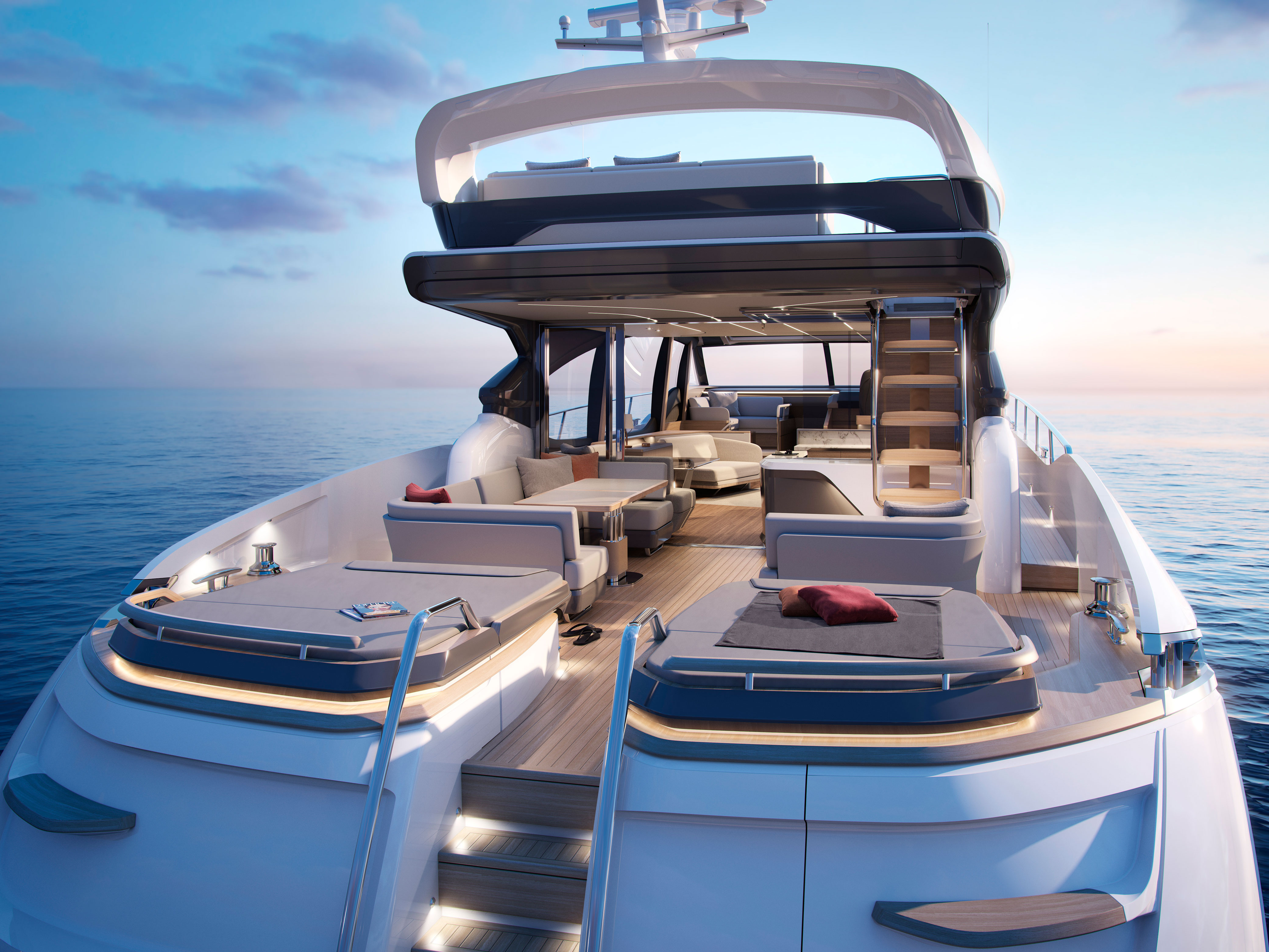 Despite the huge size of the 7 yards, and the 2,500 people working there, it really feels like one big family, as though every- one at Princess really belong there, right down to the end customer. I wondered if that is how any customer feels when they come to the Princess yard, so I asked Kiran Hasslam. He smiled and said "Our customers are all really exceptional people. Primarily, this is about family and friends. A princess customer is like no other yacht brand customer, and we are totally committed to developing products that compliment their priorities in life. We strive to look after our customers above and beyond any other brand they may engage with, which is why every owner of a new Princess receives 2-years of complimentary cover with Princess Lifeline. A service powered by MedAIRE and SOS International, delivering 24/7 round the globe medical response as well as security information and call centre services for you, your family and friends, whilst going to, being on, or leaving from, your Princess Yacht. That's just one element from many in regards to our approach to customer care. We have a network of over 60 distributors all across the world, covering over 100 countries, and most owners frequently visit us in Plymouth, which really brings out that family feel. We are a very close-knit and personable company, and we try to do everything with integrity in an organic and measured manner."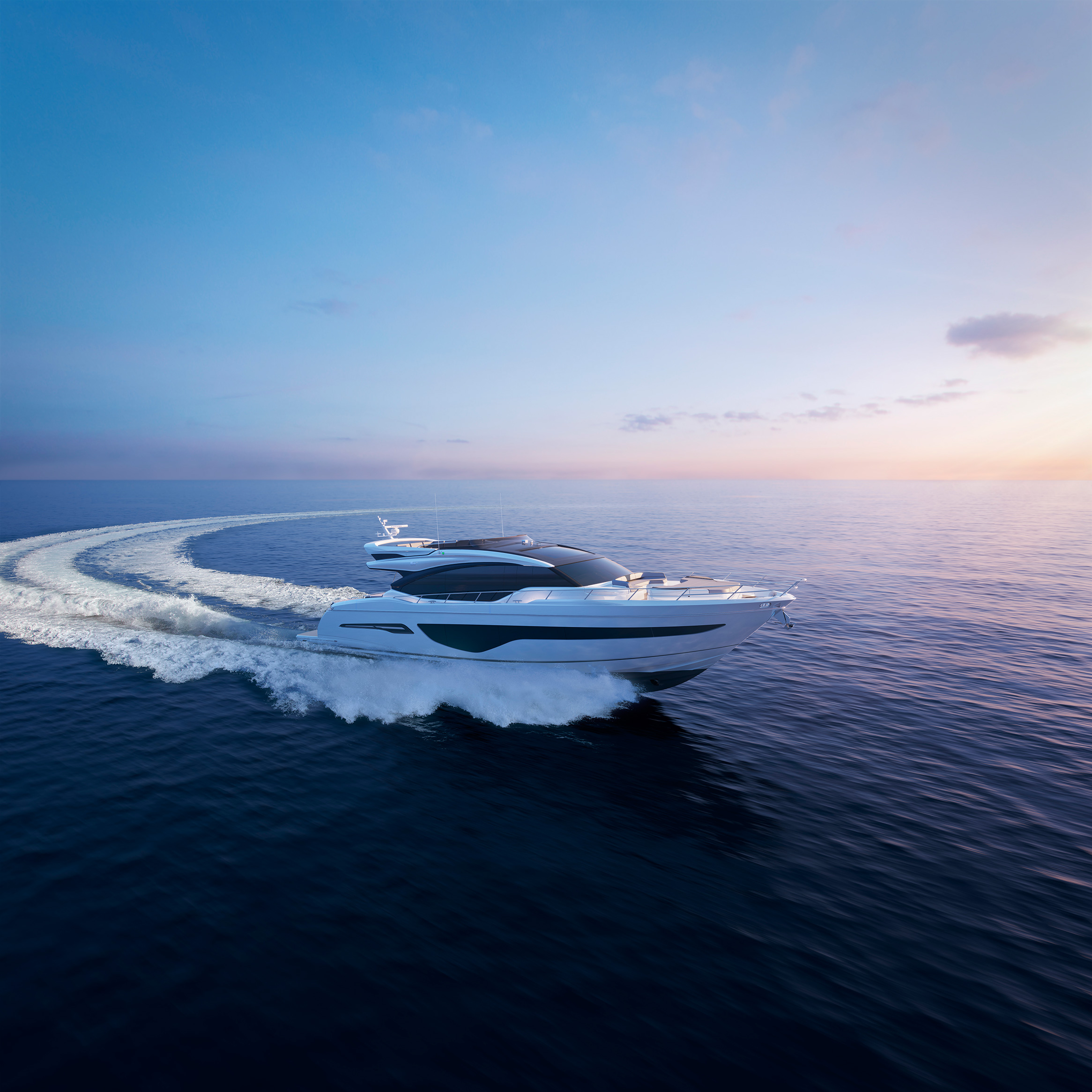 To read similar articles and reserve your copy email us at subscribe@i-m-magazine.com