Our fashion director Sascha Lilic guides us through his vision of a post-COVID spring.
As we are slowly emerging out of a long hard winter into a post-pandemic world, we welcome spring with open arms. We want to celebrate the first rays of sunshine and being able to go everywhere by dressing up again. We feel exuberant, we want it all: colours, prints, patterns, volumes, layers… FUN! Positivity is the magic word that will take us from spring into summer and beyond.
The vast choice that fashion has in store for us this season gives us a massive playing field. From casual streetwear inspired looks, quirky designs, demure silhouettes down to glamorous cocktail and evening wear. Last year's escapism has been replaced by a joyous party mood that is energising us all.
Photography by Luis Monteiro
Concept & Styling by Sascha Lilic
Hair & Make up by Hamilton Stansfield / SLR
Model: Olivia Arben
Location: The Adria hotel, London
Always wear beautiful nightwear, you never know who you'll meet in your dreams…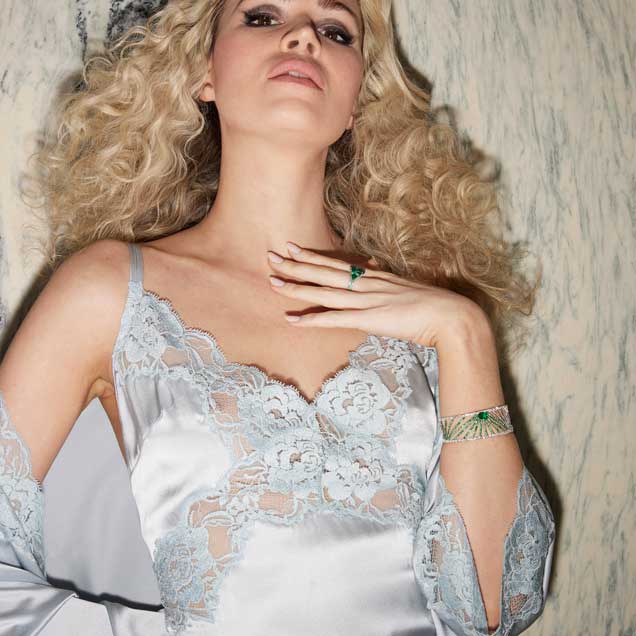 1. Dress by Stella McCartney. Watch by Vertex. Shoes by Casadei. 2. Jacket & Hat by Stine Goya. Watch by Vertex. Shoes by Gina London. 3. Top & Trousers by Taller Marmo. Shoes by Baudoin & Lange. 4. Total look by Lanvin.
If I may end up being a mess, I might as well be
a hot mess…
We'd like to thank The Adria Hotel for their hospitality.
The Adria Hotel. 88 Queen's Gate, South Kensington, London SW7 5AB.
Phone: +44 20 7118 8988 www.theadria.com