Conservation is at the heart of what we do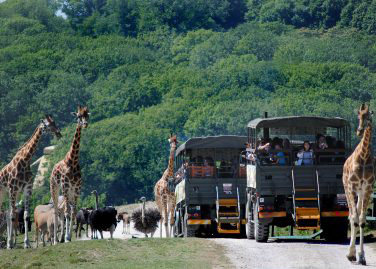 Home to the best safari experience in the Uk, Port Lympne Reserve offers an extraordinary family adventure like no other. From hand feeding giraffes to being within almost touch distance of powerful gorillas, the whole experience is absolutely hypnotic.
Set in over 600 acres of beautiful Kent landscape, Port Lympne Reserve was founded in 1976 by John Aspinall and today it hosts over 700 animals across 80 different species. Being part of the Aspinall Foundation, an internationally renowned animal conservation charity, Port Lympne's raison d'être is the breeding and conservation of endangered species.
In 1984 John Aspinall founded the Aspinall Foundation, with the purpose of reintroducing gorillas bred in captivity back to the wild. 30 years later, the dream lives on, led by his son Damian Aspinall, Chairman of the foundation, which keeps being fully committed to conservation through captive breeding, education and reintroduction. They work with some of the world's most fragile environments to save endangered animals and return them to the wild.
The foundation works in 3 main fronts: Reintroducing animals and developing sustainable conservation activities; providing economic benefits to local communities and helping manage wilderness areas.
Port Lympne and its sister park Howletts provide the most natural environment possible for animals and are world leaders in animal husbandry and breeding programmes. Their work has helped considerably to increase public understanding of animal welfare and how we can all act to protect animals in their natural environments. For too long humans have threatened and destroyed the forests, plains and rivers that animals live in. We have a responsibility, a duty, to tackle this destruction and rebuild the population of the many endangered animals.
As Damian Aspinall says: "I do not believe that keeping and breeding animals in captivity can or should be the end game of conservation in the 21st Century. The end game has to be, wherever possible, the safe return of these wonderful animals to their ancestral homelands…"
The Foundation protects a million acres of natural jungle in Gabon and Congo, and over the past few years alone, they have released back to the wild a range of animals including 8 black rhino, 11 Przewalski's horses, 49 Javan langurs, 9 Javan gibbon, 11 European bison and over 60 western lowland gorillas. Their work in Madagascar has led to the greater bamboo lemur being removed from the top 25 most endangered primates list.
STAYING AT PORT LYMPNE
Although the park is open for day visitors, I strongly recommend you stay over, for at least one night. When the park closes down to the daily visitors, overnight guests have the freedom to roam around in their golf buggies exploring the park by themselves. Once you're done exploring the park, Port Lympne offers great dining options. My favourite is the Italian experience at the new Babydoll's Wood Fired Pizza. Start with a glass of prosecco under the olive trees or on the rustic veranda before moving onto one of the best pizzas I have ever eaten. The restaurant is named after their much-loved gorilla, Babydoll, who at the grand old age of 55, is the last surviving original Howlett's gorilla. Having been brought up from infancy in the cottage at Howletts, she is adored by the Aspinall family who run the park.
There is an incredible variety of accommodation available, each offering its own unique twist on the Port Lympne experience. The Treehouse hotel suites showcase extraordinary views that reach down to the English Channel and interior décor that belongs in a Taschen book; the Tiger Lodge is set within the tiger enclosure, allowing you to come face to face with these impressive creatures separated by only a glass floor to ceiling window; the Giraffe Lodge offers the most stunning glamping experience, next to the African safari area of the park, with wild animals including giraffes strolling by just a few meters away… and the recently opened Rhino Lodge has black rhino and red lechwe as neighbours, just over the fence from your cottage's garden.  I myself hope to go back time and again until I have stayed in all 8 different accommodation options on offer.
Be ready for an early start in the morning. It is worth planning in advance and booking an Animal Encounter and a Private Safari. You'll be transported to the plains of Africa and Asia to see animals roaming freely, then explore on foot to see primates, gorillas, lions, big and small cats, and many more! Nothing compares to the feeling of being in such close proximity to these majestic creatures.