South Africa's Kwandwe Private Game Reserve is a true conservation victory. Situated in the diverse and scenic Great Fish River valley of the Eastern Cape, its 22,000 hectares of pristine wilderness stretch either side of the river, which meanders for 30 kilometres through the rugged landscape of the reserve.
The Great Fish River is of great historical significance in South Africa, having been one of the most hotly contested frontiers during the Settler-Xhosa wars. There had once been an abundance of wildlife, with large numbers of elephant and black rhino, leopard, cheetah and lion. This fact was well documented in local San rock art as well as in the diaries of elephant hunters and in detailed accounts of Frontier explorers such as Barrow, Paterson and Baines, who traversed the region recording the terrain, its wildlife and people.
The arrival of the Dutch and English settlers to the area in the 1800s saw wildlife both hunted and driven off these lands in favour of goat and ostrich farming which became widely practiced. Heatherton Towers was one of the first Ostrich farms in South Africa. Built in 1836, it hosted distinguished guests such as Lord Milner and Cecil Rhodes and today is Kwandwe's reception house. Languishing under the strain of small stock farming and cultivation during the hundred years that followed, the landscape became neglected and impoverished.
In 2001, American Entrepreneur Carl DeSantis and Erika Stewart along with South African naturalist-guide Angus Sholto-Douglas and his wife Tracy -who continue the work together with the new owners, shared the dream of returning a piece of this land in South Africa's almost forgotten Eastern Cape to its former glory and rehabilitate it with wildlife. That was how the Kwandwe Private Game Reserve was conceived.
In order to undertake this ambitious project, they purchased a number of flagging farms and unified them into the 22,000 hectares reserve. Once again, it became home to thousands of animals which now freely roam the Valley Thicket including lion, cheetah, elephant, and buffalo; threatened species such as Black and White Rhino, the Knysna Woodpecker, Cape Grysbok, Black Wildebeest, Crowned Eagle, Black-Footed Cat and South Africa's national bird, the endangered Blue Crane, from which the reserve gets its name – "Kwandwe" means "Place of the Blue Crane" in Xhosa.
Meanwhile, wildlife such as the Greater Kudu and Cape Grysbok which were already in existence when the reserve was formed, along with smaller creatures such as Aardwolf, Aardvark and Caracal became free from persecution at the hands of stock farmers and today are thriving. Kwandwe also affords protection to a variety of birds: the Knysna turaco, bokmakierie, southern-black korhaan, black harrier, malachite sunbird, eastern clapper lark and South African shellduck, -all endemic species that are seen regularly here. Before the arrival of the first cheetah in 2000, it's sobering to know that the last two of these magnificent animals living in the area were killed in 1888. The enormity of the task to reinstate threatened and endangered wildlife back into the Eastern Cape becomes apparent.
The reserve's diverse landscape, from vegetated mountainous areas to the open Karoid plains makes it a veritable biological melting pot of plant species, from euphorbia forests and spectacular displays of winter-flowering aloes to thicket vegetation, one of the most nutritious to be found in Africa. Native to the Eastern Cape, Portulacaria afra, also known as the dwarf jade plant or spekboom, is a remarkable succulent tree that has an exceptional ability to store carbon in particular. It is perhaps one of the most significant carbon sink plants in South Africa, taking big quantities of carbon dioxide out of the air and converting it to oxygen. Ongoing research shows that 1ha of spekboom can convert carbon dioxide to an average of 4.2t of oxygen per year. In other words, 10 hectares of spekboom is equivalent to taking 26 cars off the road for a year. This has earned it the nickname "The Carbon Sponge". As part of an on-going rehabilitation project, areas of the reserve that were once overgrazed by goats and disturbed by previous farming practices have been rehabilitated with the reestablishment of spekboom. In the process, Kwandwe has created and continues to invest in, a fantastic carbon-neutral protected area.
From the beginning, Kwandwe has worked with Rhodes University to make sure that all management decisions were based on sound research. The scientific team provided invaluable insight when it came to decisions about prey numbers, predator relocations, and habitat usage.
An important issue tackled by Kwandwe is the human-wildlife conflict, in particular with leopards, which occur in the Great Fish River Valley, persecuted for their reputation as stock killers. A model of the Kwandwe population was drawn up, to predict the leopard carrying capacity of the reserve using existing territories in the higher density areas and thus build a census of the species. It is worth mentioning the project with Rhodes and Leeds Universities that studied the Brown Hyena's biology in the Great Fish River Valley. This long misunderstood scavenger is a protected species in South Africa, classified as "threatened". Three subject animals were fitted with satellite tracking devices and monitored remotely to observe their use of habitat. On-the-ground studies monitored their diet and interaction with other predators. Home range size was also understood, assisting with the future management of this population. More recently, a relocation project from Kwandwe to the Kalahari has helped boost populations of these animals there.
Kwandwe currently supports healthy populations of several species, the most famous of which is probably the highly endangered black rhino since its successful introduction to the reserve in 2001. The succulent thicket provides black rhino with ideal nutrition and here, their reproduction is amongst the highest level in Africa. The lion population has thrived since their reintroduction to the area and has contributed to the start and/or supplementation of many populations in South Africa including at Madikwe Game Reserve and in the Karoo region. In 2019, Kwandwe collaborated with other private game reserves to help commence a new lion population in Majete National Park in Malawi. Kwandwe's elephant populations has also helped to repopulate a private game reserve in the Karoo region, which last saw elephants roaming the area 150 years ago. The founder herd comprises a small family group of 6 individuals from Kwandwe.
Black rhinos can charge up to 35mph and are more aggressive than whites.
More than a dozen cheetah have been relocated to other conservation areas within South Africa as Kwandwe actively participates in the management of the meta-population of these endangered animals in the wild. Genetic diversity is key to the overall sustainability of these big cats and by introducing new populations and swapping genetics with like-minded reserves, the genetic health of the species can be maximized. The Blue Crane deserves a special mention. These magnificent birds use this wilderness as a refuge, returning each year to breed, thereby also assuring guests a high chance of observing their unique rituals every September to April. Whether by 4×4, on foot, or whilst on nocturnal drives, guests may also be lucky enough to spot the lesser-known Black-Footed Cat or get a glimpse of a Honeybadger.
By operating luxurious lodges and safari villas with eco-sensitive practices, Kwandwe can afford to keep playing an important role in the on-going conservation of threatened species. Angus Sholto-Douglas, Wildlife & Managing Director of Kwandwe Private Game Reserve explained how "the promotion of biodiversity through privately owned initiatives is key to the overall success of South African conservation efforts. As the pressure on vulnerable and endangered species rise, the need for strong, ethical conservation projects carried out in conjunction with meaningful community engagement increases. It is my belief that the model adopted by Kwandwe significantly improves the future for both the people and the natural wildlife of South Africa and will be key in ensuring the sustainability of our natural heritage for generations to come."
What I find most exciting is that this is not just another safari where you sit in a 4×4 and take pictures (don't take me wrong, I have nothing against this but personally, I like getting my hands dirty). Here they encourage guests to really get involved and offer a helping hand. The wide choice of specialist and conservation-focused safaris include daytime and nocturnal game drives, Big Five game walking, fishing excursions, and birding, all of which may be combined with a Campfire Cooking, Wilderness Walking & Fly Camping, or Rhino Conservation safari.
A core element of Kwandwe's guiding philosophy is to provide guests with an opportunity to not only see and learn about the wide variety of wildlife found here but also to understand the complexity of a fully functioning ecosystem where biodiversity conservation gives context to the entire experience. So at the end of your holiday, you will not just have seen the majestic big five or a number of the African species in the IUCN Red List, you will have also learned about the true complexity of the balance of nature in the reserve and even assisted to vaccinate a black rhino or tag a young cheetah.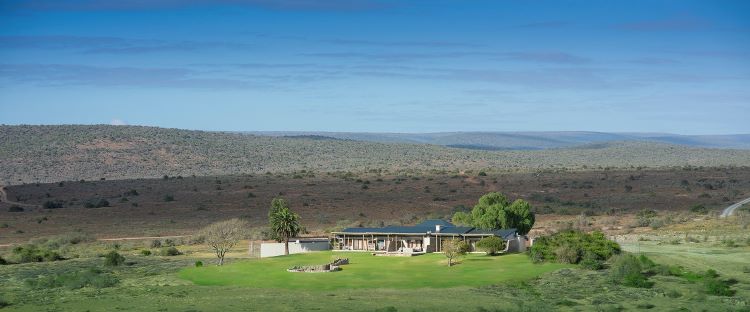 The total accommodation for guests comprises just 26 rooms split between five individual and safari lodges or villas, with one of the highest acre-to-guest ratios in South Africa.
Safari's at Kwandwe include twice-daily game drives, bush walks, big game walks, birding, luxury accommodation, all meals, and drinks. Prices from £550 per person per night staying in either Great Fish River Lodge or Ecca Lodge.
Opening picture: Blue Cranes in Kwandwe's reserve.