This is the account of how the book is being reinvented, as a direct result of lockdown.
But let me first backtrack…. If a story had been released about a worldwide pandemic at the beginning of last year, it would have probably been categorised as a fantasy film or novel and any possibility of it being a predictive tale would have likely been dismissed by most. Yet here we are in the midst of just that. The line between fantasy and fiction is more blurred than we think – and Oscar Wilde's quote, "Life imitates art more than art imitates life" has never been more poignant.
Storytelling is a tradition as old as mankind and we are absorbed in it every day of our lives. Entertainment and art, in all its forms, is not just a form of relaxation, a diversion, it's essential to who we are. Whether it be in books, TV, movies, or pictures, we see ourselves – and lose ourselves – in the stories that they tell. Often these are our light in the darkest times. Over lockdown, Netflix's subscriptions grew hugely, we spent more time online and watched more TV and movies than ever before and our thirst for stories in every form almost knew no bounds.
However, the industry that produces the stories we consume with such fervor pretty much ground to a halt. And along with it the livelihoods (which for the most part are meagre anyway) of the millions who create our entertainment. Fortunately, the creative industries are nothing if not resilient – and well, creative. So Bookstreamz came out of a desire to continue to tell stories despite the devastation. The result is the next evolution of the book. We've been able to read books for centuries, listen to them for nearly one hundred years and now, on Bookstreamz, it's possible to watch them too.
They say that necessity is the mother of invention – and this one for sure was developed out of necessity: not only the need to carry on with our stories but also the need to provide a decimated acting community with a ray of hope – a way for them to practice their art, to be valued and to do what absolutely drives them, to entertain YOU.
BookStreamz was established as a Collective, where those who benefit from the fruits of our labours- are the people who create the product. We've been working with Felix de Wolfe to develop a professional partnership with actors, they're one of the oldest and most established talent and literary agencies in London, whose CEO Caroline de Wolfe is known for her progressive approach to the development of opportunities in entertainment. We started the programme raising funds for the NHS and The Big Issue – and many well known and established actors have lined up alongside new and emerging talent from TV and theatre to champion what we're doing – Ross Kemp, Russell Brand, Jack Deam, Leslie Ash, Alexander Vlahos, Nicola Stephenson… and many faces from national TV.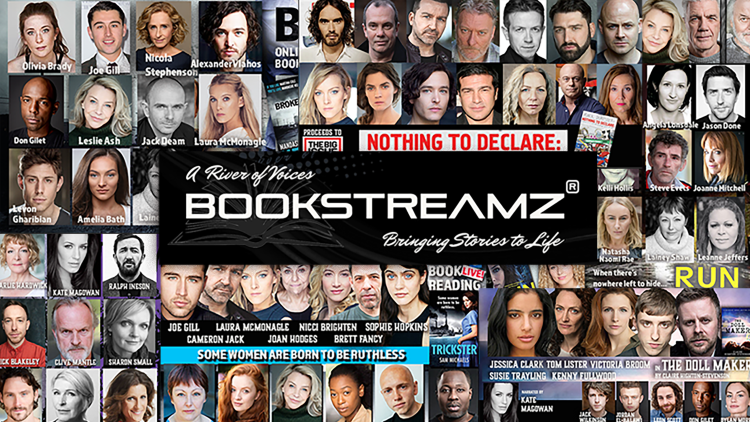 As time went on, our audience grew and it became clear that there was a big appetite for this new format that kind of sits between Audible and Netflix. It's a book performed by a narrator with a cast of actors who deliver the dialogue in character. Together they "perform" the book. A hybrid between radio and a play, for the viewer it's like having a play delivered directly to them.
From an acting point of view, there's nowhere to hide; it reveals the raw talent of the actor – which makes the performance incredibly engaging and compelling. There are no sets or fancy lighting, the bare minimum of props and it's up close and personal. When we read, the narrative stimulates our imagination. Often the reason why people are disappointed by a film adaptation is because they saw it differently when they read the book. In this format, we still get to use our imaginations, but with the characters being brought to life for us. It's a magical combination, raw, intimate and powerful.
We've started to make our library of content, performed live and recorded for streaming. The next chapter in our story is to invite you to support our project. You can do that in a number of ways: a monthly membership to bookstreamz.com is only £5 and will allow you to watch as we develop our platform of fabulous stories; and a lifetime membership which gives you access to a future of thousands of hours of entertainment will set you back the equivalent of just one theatre ticket. You can also enjoy the prestige of heartfelt thanks in our credits – or even become a credited producer with an IMDB profile, by helping back a book for development into a Bookstreamz project. Contributions start at £100. You may even want to join our collective as a private investor and benefit with us as we grow.
This is our story so far. We'd love you to join us in writing the next chapters.