Princess Orders Exceed $1 Billion
Founded by ex-Naval Officer David King in a small industrial unit in Plymouth in 1965, Princess has developed into one of the most successful motor yacht builders in the world, employing over 2,000 people across 6 factories in and around Plymouth and building over 300 yachts per year. The Princess reputation for design, engineering and manufacturing excellence has earned the company global appeal and established it as a truly international brand.
In 2017, Princess Yachts delivered a record-breaking year with a record turnover of £274.4 million (+26.6% on 2016) and an Operating Profit before Exceptionals of £7.9m (2.9% of sales), representing a turnaround of £15 million (6.1% points) on its 2016 results.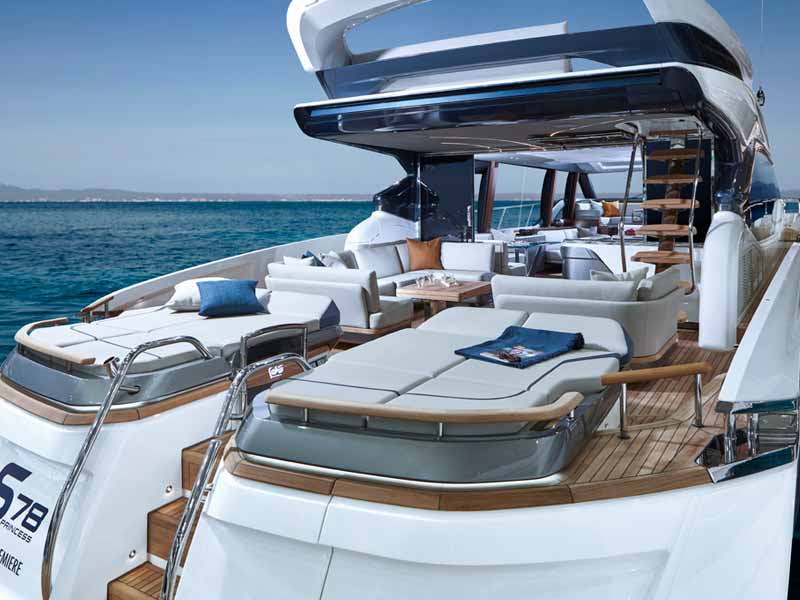 Princess' performance at the industry's three biggest global sales events – the Cannes, Fort Lauderdale and Düsseldorf boat shows, saw the company power ahead across its entire fleet. Princess' advance order book currently totals in excess of $1 billion, 20% higher than the previous year. Princess is poised for an even more successful year in 2018. The year began with the launch of the V50, V65 and S78 models and will see an additional 6 launches by year-end, including the revolutionary carbon fibre R35 sports boat which will feature the innovative Active Foil System for world class performance, efficiency and stability. About the S78 in particular, Mr Anthony Sheriff, Executive Chairman of Princess Yachts said,
"The S78 Sports bridge represents a massive step ahead in the level of design in all aspects of the boat"
To support this growth, Princess has increased its workforce by over 500 team members in the last year and implemented a very aggressive investment strategy, with 3-4% of our annual sales revenue going to R+D. At the presentation of the year's results in London, Mr Sheriff proudly announced, "This has been a landmark year in the history of Princess. We have a clear vision to be the highest quality, most innovative and best luxury yacht producer in the world and it is gratifying to our highly skilled and dedicated 2,700-strong team that the market has responded in tune with our efforts. With our exciting launch plan this year of unique and exceptional yachts, coupled with our unprecedented $1 billion order book which stretches well into 2019, 2018 is set to be another record year in sales and profits for Princess Yachts."
The demand is clearly overcoming supply. Actually, 66% of the 2019 production was already sold by February this year. Princess yachts are difficult to find. As Mr Sheriff said, "Elusiveness is very good for a luxury brand."
The UK market has been rock steady for Princess, and together with the rest of Europe, it represents around 50% of the Plymouth based company sales; the Middle East and Asia account for 30% of the orders and the Americas, for 20%. Brexit doesn't seem to be a worry. When asked about it, Mr Sheriff comfortably answered, "We don't expect any draconian changes. We believe people have already adjusted mentally to the post-Brexit scenario."